The latest Creative Distillation podcast delivers a spirited discussion on Hoosier state sours and the unorthodox actions entrepreneurs take to address organizational challenges.
---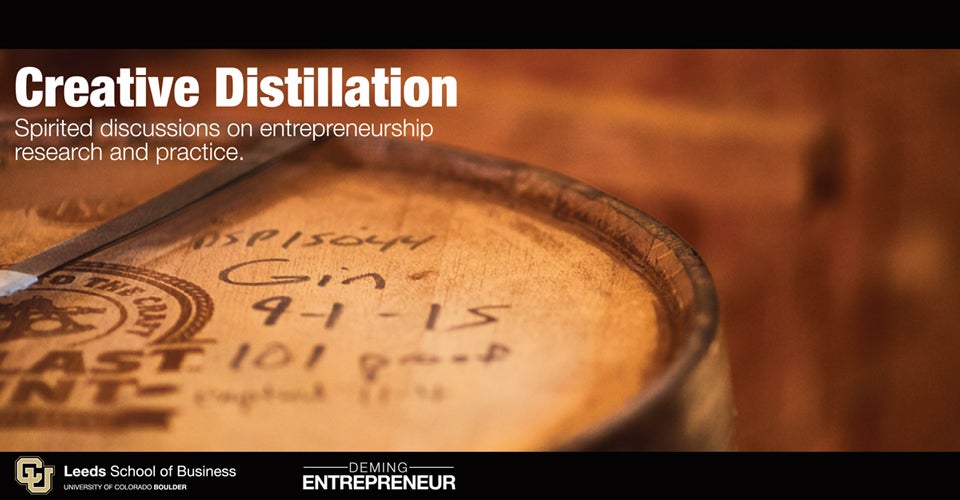 Aggressive deadlines, emails at 4am and a sense of fearlessness. How do you make sense of the often-unnerving behaviors entrepreneurs exhibit for the success of their start-up or venture? In Episode 15 of the Creative Distillation research podcast hosts Brad Werner and Jeff York discuss this issue with Associate Professor Greg Fisher from the Kelley School of Business at Indiana University. Professor Fisher is the lead author of the study "Entrepreneurial hustle: Navigating uncertainty and enrolling venture stakeholders through urgent and unorthodox action" and an expert on entrepreneurship.
According to the study's abstract, the research focuses on the types of action entrepreneurs take to navigate uncertainty. And it is centered on the analysis of 48 interviews with entrepreneurs to "inductively identify an action‐oriented construct we labelled as entrepreneurial hustle – an entrepreneur's urgent, unorthodox actions that are intended to be useful in addressing immediate challenges and opportunities under conditions of uncertainty."

"One of the things I thought about was what do entrepreneurs actually do? And does their action on a day to day basis make any kind of difference?"
says Fisher.
According to Werner the hustle is real. And with a proven track-record of profitable ventures and start-ups he knows first-hand what it takes to be successful including having a passion, drive and willingness to do whatever it takes.
"It's not by taking an interest. It's, it's something that becomes all-consuming to you. And you'll do anything that you have to do to keep moving forward. That's how I look at it," offers Werner.
Fisher also suggests the hustle also requires flexibility and adaptability. According to York these traits often run counter to what business students learn on prediction and certainty. And while teaching electives to second year MBA students he often challenges them to be prepared for uncertainty.
"I teach entrepreneurship electives to second year (MBAs), I'm like, No, no, you don't know the answers. And you're not going to either, but you still need to do things."
Summarizing the concept about entrepreneurs, Fisher offered, "Hence they hustle, which in this case means they operate with a sense of an orthodoxy and urgency...The unorthodoxy is they do things that surprise most people. And the urgency is that they're not willing to wait a week to get it done. They go and make it happen now."
In recognition of Professor Fisher's joining from the Hoosier state, episode 15 features Indiana's Upland Brewing Company sours and IPAs and a discussion of the growth in Indiana's craft beer industry over the past two-decades. However, the conversation quickly pivots into a deeper discussion on the background of Professor Fisher's research.
Creative Distillation Background
Creative Distillation is a podcast co-hosted by Associate Professor Jeff York, Research Director, and Instructor Brad Werner, Teaching Director for the Deming Center for Entrepreneurship. Each episode distills academic research on entrepreneurship into actionable insights. This season, Jeff and Brad also connect with researchers from around the globe to discuss sustainability, yoga, cannabis, food trucks, university entrepreneurship programs and accelerators.
Our thanks to Greg Fisher, Larry and Barbara Sharpf Professor of Entrepreneurship at the Kelley School of Business, Indiana University for joining the podcast.
Listen to more episodes of Creative Distillation at: