Leeds' Center for Ethics and Social Responsibility turned a challenge presented by COVID-19 into a mentorship opportunity for up-and-coming social responsibility professionals.
---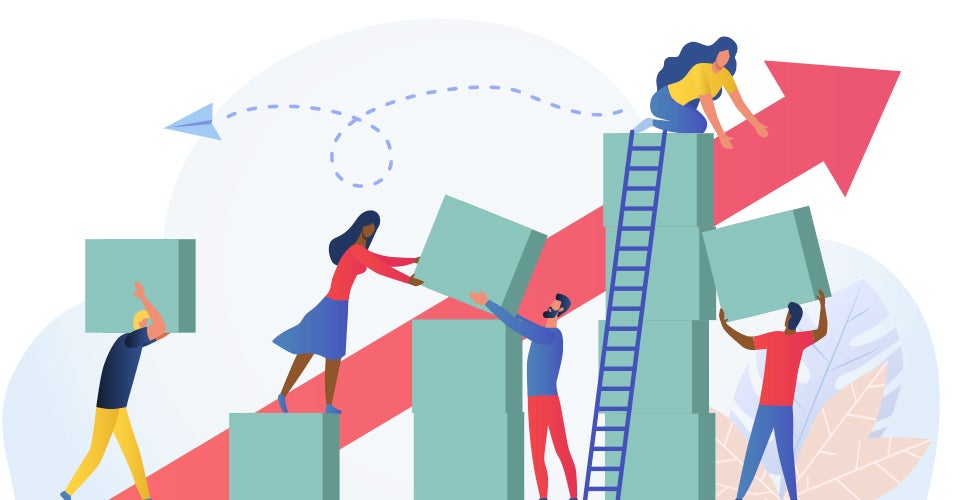 Each fall, the Center for Ethics and Social Responsibility (CESR) offers a comprehensive day-long consulting skills workshop for the Leeds Social Impact Consultants (LSIC), an MBA student club for those interested in pursuing impact consulting. The in-person workshop provides access to experts and resources for hands-on projects the students complete with local businesses during the semester.
Then, COVID-19 disrupted everything.
CESR realized that students faced packed schedules with online learning and finding time for a remote annual workshop would be challenging. Yet, this "problem" created an opportunity: The Center could provide the LSIC with even more meaningful support than what they would typically receive in one day by pairing the students with mentors who would be available to help throughout the length of their project.

"Instead of a one-time high-dose workshop up front, mentors could be just-in-time resources for whatever questions students had as they worked on their projects,"
says Justine Roberts, sustainability community engagement coordinator for CESR.
Since the projects focus on helping companies find impact driven solutions for particular issues, the opportunity to work alongside mentors with experience in this field allowed students to gain a deeper understanding of the implications of their work.
CESR recruited Leeds alumni as mentors because a number of them work in impact consulting field, and they are well trained and highly skilled. They also worked with Good Business Colorado, B:Civic and Naturally Boulder to identify possible mentors.
Nine companies signed up to partner with LSIC on projects, all of them social impact driven. LSIC co-presidents Thaala Loper and Jenny Swonger, both second-year MBA students, helped to recruit these companies by identifying impact-driven businesses with project needs.
The companies included: Bridget's Botanicals, LLC; Eco-Products, PBC; Helping Habit, PBC; InClover Research; Meati Foods; POINT380; CoPeace; University of Colorado Volunteer Resource Center; and Mammoth Water.
"Providing mentors to each project team provided tremendous value," said Loper. "Students were able to form supportive relationships and receive guidance to navigate challenges and deliver to a higher standard. We appreciate CESR's help with this."
At the end of the semester, the students gave a final presentation that brought all of company leads and mentors together. It was a chance for students to share their work with one another, for companies to give feedback and input, and to thank mentors and companies for their engagement with Leeds.
Perhaps the most important thing the students gained from participating was the opportunity to use their newfound business knowledge from Leeds in a real-world setting. The projects not only expand students' networks but also teach them valuable project management skills.
The Leeds Social Impact Consulting group is part of the larger Net Impact family with the goal of providing another meaningful opportunity for experiential learning in sustainability consulting. Many of Leeds' students are interested in consulting and are often recruited by Bain and McKinsey and other big firms. However, for students specifically interested in impact and social responsibility, the LSIC provides real-world experience in consulting for good—one of the differentiators for Leeds.
While CESR's decision to pivot the one-day workshop to a semester-long project may have stemmed from a challenge presented by COVID-19, the experience the LSIC received this year may have been the best yet. And as these MBA candidates prepare for impact-driven careers after graduation, they will have the skills, experience and network to succeed.
A special thanks to the mentors who helped make this year's projects possible:
Connor Merrigan – (MURD./MUP'07 and BS Engineering'98)
Nicole Reed Fry – (MBA'14)
Margaret Mondlane – Certificate CSR
Magenta Freeman (Master's UCD)
Jackie Fleming – (MBA'17)
Randy Welsch
Katie Eisenbrown – (MBA'16)
Jana Sanchez
K.J. McCory