A novel program emboldens business and engineering students to crack the hi-tech ceiling.
---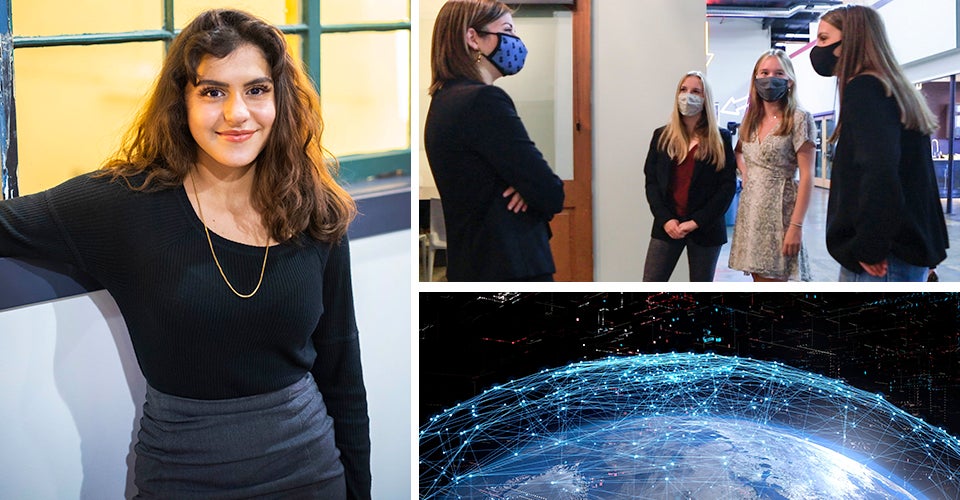 Just 25% of tech jobs in the U.S. are held by women. Despite ongoing conversations about the need to increase the number of women in its ranks, the tech world continues to be a sector where gender equality is sorely lagging.  
Still, more and more women are steadily managing to break into high tech—and a group of 50 bright young women at the University of Colorado Boulder is preparing to join them.
They're the inaugural class of the Business + Engineering Technology Scholars program at the Leeds School of Business, also known as 'BE Tech Scholars'—a program for women from the business and engineering schools that equips them with the technical skills, action-based learning, professional development and extensive network needed to become influential leaders in technology.
BE Tech Scholars is a result of the partnership between Leeds School of Business and the College of Engineering and Applied Science—a marriage between disciplines that signals a new era of collaboration and innovation, breaking down traditional boundaries to foster cross-functional skills in business and engineering students.
One issue the partnership addresses is the vision of both schools to reach gender parity in enrollment; BE Tech Scholars was created to help close this gap.
A women's advancement incubator
When applications for the program opened in 2020, the volume of interest generated among highly-qualified applicants was much more than expected. As a result, the initial cohort was expanded from 40 to 50 students—with 25 women from business and 25 from engineering.
As BE Tech scholars, they reap significant benefits from the program that will embolden them as future leaders of tech. Support includes a $2,000 scholarship, leadership development, action-based learning, mentorships with tech leaders, intensive tech training, strategic career coaching and the chance to build their own tech network.

"In addition to digital skills, tech experience and career strategy, women have a community of support to help them break down any barriers in their way."
Tanya Barnett, Founder and Director of BE Tech Scholars and Director of the Leeds Office of Career Strategy
Business, engineering and belonging
The inaugural class started this fall. But even before the scholars started their first day of classes, they were already entrenched in the program.
One scholar, in fact, had already completed her first-ever professional assignment. Ava Barnett, a BE Tech scholar pursuing a dual area of finance and strategy &  entrepreneurship, spent two weeks in a consulting immersion with a top-five national pediatric hospital, thanks to being awarded the project from Beacon Fellows Consulting on behalf of BE Tech Scholars.
"It's amazing that I had access to an experiential learning opportunity before my freshman year at CU," said Barnett. "It is apparent that the BE Tech Scholars Program is dedicated to the professional development of its inaugural cohort."
Over the summer, scholars met compelling guest speakers like Laura Vogel, a Leeds alumna and entrepreneur who told her story about starting Vogelle Handbags. Leeds Professor Kai Larsen shared his research on AI and analytics and recommended the key skills needed for tech careers.
The women also participated in a book club led by Professor Stefanie K. Johnson, Leeds' renowned expert on gender, diversity, and leadership and author of the best-selling book, "Inclusify." The group dove into diversity, inclusivity and the basic human desire to stand out while also fitting in.
Paige Burns, a business major with an emphasis in marketing and an integration in computer science, shared her own struggles with fitting in.

"As a woman in both business and STEM, it is intimidating to enter a room full of men and feel as though you deserve to be there."
Paige Burns, BE Tech Scholar
Anjali Velamala, an environmental engineering major, was moved by the book's message, noting, "It inspired me to become an 'inclusifier' and think about different ways to become a better leader."
At the start of fall semester, presenting partner Western Digital threw a welcome party for the scholars. The uniqueness of the program has captured the attention of enthusiastic supporters including Dan and Cindy Caruso, Deloitte, Accenture, Iterate.ai, LinkedIn, Deloitte, Zayo and DISH. 
"To make the world a better place, women need to inspire technical advancement across multiple disciplines and domains," said program partner Jon Nordmark, a CU alumnus and co-founder and CEO of Iterate.ai. "Because BE Tech Scholars is on the cutting-edge of training young women, we support the program and believe that inclusivity drives better innovation and business outcomes."
The power of vulnerable leadership
BE Tech Scholars students benefit from a variety of academic enrichment over four years, including  internships with industry partners, an Innovation and Collaboration Challenge, a global consulting trek, ongoing immersive technology enrichment, and automatic enrollment in the popular Women in Business class taught by Johnson. The class covers leadership topics and brings in women leaders to share their own stories of failure and success.
Clil Phillips, a mechanical engineering BE Tech scholar, said, "I am learning things from women's real experiences, women who I hope to one day be like."
Monthly women's leadership forums are a class favorite. Students in small groups develop 'vulnerable circles of support' and build a sense of community with one another—a prime goal of the BE Tech Scholars program. 
The inaugural Women's Leadership Symposium in October made a strong statement about courage and inclusion for women striving to be successful in business. Scholars received priceless advice from women leaders on how to compete in the tech industry, how to get ahead in non-inclusive workplaces, and how to have courageous conversations that elevate your career.
"They all had different stories and viewpoints and they used those to bring each other up rather than tear each other down. Seeing women uplift each other with such boldness was honestly so cool," reflected Velamala.
In November, scholars gleaned wisdom from Rob Chesnut, the former chief ethics officer at AirBnB and author of "Intentional Integrity," and CU alumnus William Kim, the EVP of Samsung Mobile and former CEO of AllSaints.
Still to come in the near future: custom-designed tech immersion sessions for scholars.
BE Tech is the future
Recently, the BE Tech Scholars program entered the Equality Can't Wait Challenge, a competition that will award $40 million to help increase women's power and influence in the U.S. by 2030.  Iterate.ai created a custom website to collect innovative solutions from BE Tech scholars.
"Our solution offers a transformative approach to modern education, maximizing the intersections between business, engineering and technology. Women who upskill in tech can earn 28% more. We're so excited to carve out this space at Leeds and continue cracking the hi-tech ceiling," said Mak Olaker, program manager of the newly created area Women's and Leadership Programs.
Students agree that BE Tech Scholars is unlike any other program they have ever known. Supporters, partners and leaders alike believe this groundbreaking initiative has the power to impact gender parity in predominantly male fields—one woman at a time.