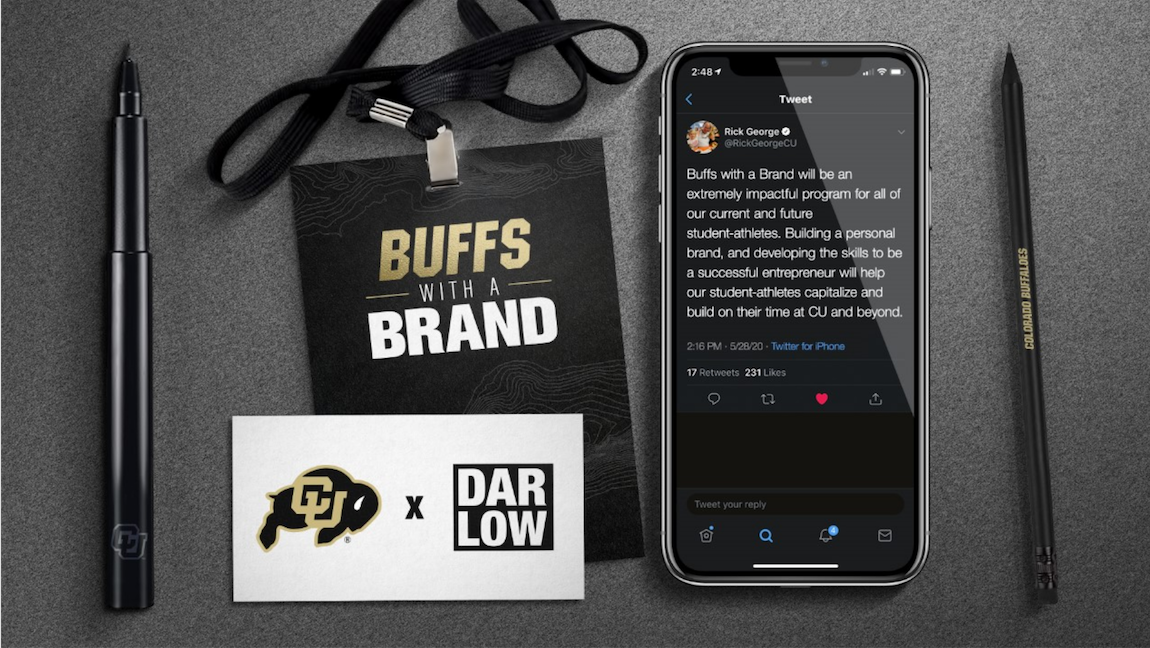 The University of Colorado Boulder's Athletics program is launching a new initiative in September to support and prepare current student-athletes to capitalize on their name, image, and likeness ahead of pending NCAA legislation approval in January 2021.
Spearheaded by Athletic Director Rick George, "Buffs With a Brand" brings together industry professionals, academic units, and CU athletics to educate student-athletes on managing their personal brands, being entrepreneurial, and financial planning through workshops, videos, meetings, and mentoring.
Erick Mueller, adjunct professor and executive director of Leeds' Deming Center for Entrepreneurship, has agreed to work with student-athletes and help them develop an entrepreneurial mindset.
"I'm thrilled to help empower student-athletes to think and act entrepreneurially and develop practical and tangible skills," says Mueller.
Buffs with a Brand focuses on three key pillars to support student-athletes in the program:
Personal brand management: A hired consultant will teach personal brand management and how to create a marketing plan
Entrepreneurship: The Deming Center for Entrepreneurship will provide education and resources on starting a business
Financial literacy: Workshops and videos to teach and develop essential financial management skills
Mueller's involvement will help participants to create a real or fictional company, conduct mock pitch nights, and network with industry professionals.
"This is a value add and a differentiator for the university and the students," adds Mueller. "We want them to gain practical tools and leverage themselves for a better life and career."
Coordinating the overall effort for "Buffs with a Brand" is Lauren Unrein, assistant director of CU athletics Scripps Leadership and Career Development team.
"We know that working with a top-tier business school with a top entrepreneurship center will set us apart as we work with Erick Mueller and industry experts to deliver the best programming to student-athletes," says Unrein.
As the only program of its kind in the PAC-12, Lauren is hopeful that this differentiator can be helpful in coaches' recruiting pitches.
"Our coaches care about student-athletes off the playing surface more than on," Unrein explains. "We want to build out the resources to support the entrepreneurship ventures of student-athletes."
The initial cohort will tailor the experience to the number of students interested and can expand to accommodate all student-athletes with an interest. The program will start accepting applications in July and kicks off on September 2.
Leeds also supports those who are interested in a career in the sports industry with the Business of Sports Certificate, which allows students to learn what it is like to work in various areas of professional sports from industry experts. "Buffs With a Brand" is another great opportunity for Leeds to help students leverage their own assets and develop solid business skills they will benefit from—whether they pursue careers in sports or not.