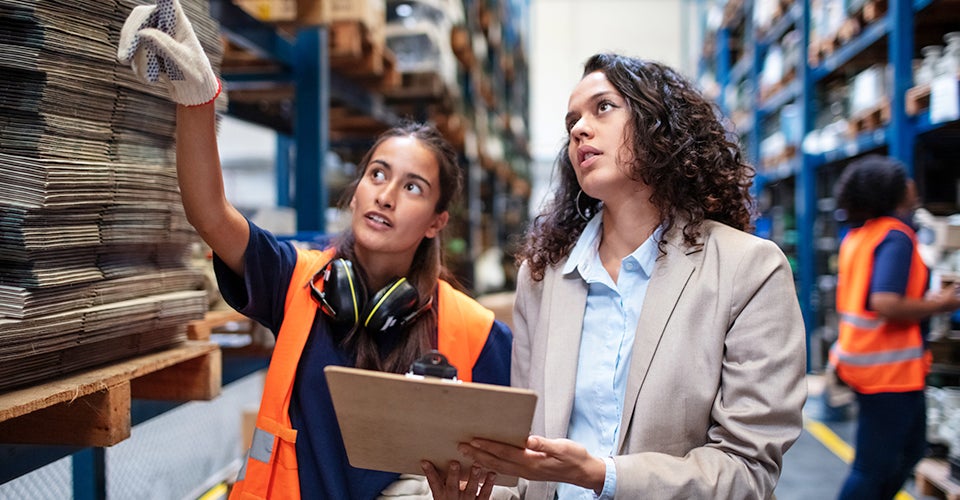 A Master's in Supply Chain Management (MSSC) provides individuals with a unique and desirable skill set that combines operational oversight, business analytics and data visualization within the context of global supply chains. Bridging strategy and tactics, the Leeds MSSC degree has ranked among the top 25 Supply Chain Graduate Programs in North America by Gartner, Inc. After graduating with a master's in this specialized field, you'll find a variety of lucrative, data-driven career opportunities that ensure you never have a boring day at work again. 
Below are a few of the many types of supply chain management jobs that are applicable for individuals with this advanced degree.
Sample job titles with a Master's in Supply Chain Management:
Process Analyst, Operations Analyst, Logistics Analyst, Project Manager, Demand Planner, Quality Control Analyst, Inventory Specialist, Supply Chain Analyst, Procurement Agent
Sample functional areas in Supply Chain Management:
Planning, Quality Control, Logistics & Distribution, Inventory & Procurement
Innovate supply chains as a supply chain manager
A natural fit for this degree, new grads can pursue a role in supply chain management that utilizes skills developed within the MS program to direct and coordinate supply chain processes. Professionals in this field employ data visualization techniques to monitor forecasts and quotas while also developing procedures to coordinate supply chain efforts. This position's everyday responsibilities combine strategy, planning, production, procurement, logistics and distribution skills. Experts in supply chain manager roles exercise an understanding of cost management and sustainability in order to ultimately limit costs and improve accuracy, customer service and safety. 
If your multitasking skills can handle these responsibilities, you'll find yourself excelling in a supply chain manager role and earning a worthwhile wage, as high-end salaries for supply chain managers are around $85K on average.
Negotiate as a purchasing manager
If your strengths include negotiation, data analysis, decision making and communication, a career in purchasing management may be a great fit for you. Purchasing managers are responsible for buying the best equipment, supplies and services for their company at competitive costs, all while managing the complexities of global supply chain risks. This position requires the ability to plan and direct activities of buyers and officers involved in purchasing processes in an innovative and efficient way. Through the Leeds MS in Supply Chain Management program, you'll gain the communication skills needed to successfully negotiate contracts and policies with suppliers and other collaborators. 
With purchasing managers playing a significant role in an organization's success and earning an average salary around $70K, individuals pursuing this profession will find themselves in a rewarding, engaging and interactive position. 
Coordinate as a logistics manager
Coordination and organization are the main foci of logistics managers. They are typically involved in the international coordination of freight and inventory management in order to delight customers while minimizing risk and optimizing availability. Their day-to-day functions include coordinating a company's purchasing, distribution, customer service and planning efforts as well as managing the personnel and systems involved in daily logistics. Since these managers are the experts of facilitating daily warehouse activities, they will also wear many different hats to ensure processes are on schedule. Key courses in a supply chain management master's program, such as Transportation and Logistics and Planning and Production, provide the skills to succeed within the planning and process facilitation of this job.
Oil and gas extraction is one of the best-paying industries for logistics managers, with a mean annual salary that is more than $150K.
Command warehouse activities as a storage and distribution manager
Storage and distribution managers oversee a facility's storage and/or distribution operations. Here is where MS in Supply Chain Management graduates can shine by applying their in-depth knowledge of how to innovate within supply chains. From there, these managers are responsible for interviewing, hiring and training personnel to ensure the most efficient workday operations. With an attention to detail and data, MSSCM degree-holders also develop and implement warehouse safety and security activities. Thus, these managers hold the key to assuring that warehouses operate properly, which is critical for successful business operations.
The median salary of the command warehouse activities as a storage and distribution manager is also more than $90K.
Improve performance as an operations manager
If you would prefer to have more interactions within the overall operations of an organization, consider becoming an operations manager. These managers direct and coordinate activities dealing with production, pricing, sales and distribution. The communication skills developed with an MS in Supply Chain Management help individuals excel in working across multiple departments and teams, resulting in a more efficient organization as a whole. Operations managers can also put their newly mastered data visualization skills to work in reviewing performance data and identifying areas needing cost reductions or process improvements. According to the Bureau of Labor Statistics, the median salary for an operations manager is more than $100K.
Be a pioneer in the growing field of sales and operations planning
A supply chain role in increasing demand is a sales and operations planning (S&OP) leader. S&OP leaders serve as the nexus for balancing supply and demand and effectively manage a firms' assets and its customer requirements. An entire growing career path exists in sales and operations planning, from analyst through S&OP regional manager to worldwide director, with responsibilities including millions of dollars of assets monthly. Starting salaries for sales and operations planning analysts are typically over $80K.
Supply Chain Management is a broad field that provides opportunities for decision making at the top ranks of a company. An MS in supply chain management prepares graduates for career success within multiple business fields due to its wide array of applications. Whether you already work in a supply chain management job or are interested in pivoting your career into planning, logistics, procurement and the like, an MSSCM degree will help you accelerate in a short period of time with specialized, in-demand skills.
Key job skills required: 
Ability to build relationships, collaborate and work with cross functional teams
Strong communication, presentation, negotiating, and influencing skills
Excellent written and verbal communication skills
Ability to understand, assess, & problem solve by leveraging technical and analytical skills
Advanced Excel skills•Analyze and report out on measures/metrics
Ability to manage time and workload effectively (may include planning, organizing, and prioritizing with attention to detail)
Understanding of supply chain management tools, processes and workflows
STEM designation and work eligbility:
STEM designated programs including the Leeds Master's in Supply Chain Management program gives international students the benefit of being work eligible for up to three years post-graduation.
Job search timeline:  
Corporations have varying recruiting timelines and start as early as August. Therefore, we strongly encourage you to set up an appointment with a Graduate Career Management team member soon after orientation concludes to discuss strategy and create an individualized timeline.
Learn more about the Leeds School of Business MS in Supply Chain Management and our graduates' career success.