Executive Director, Kobu Foundation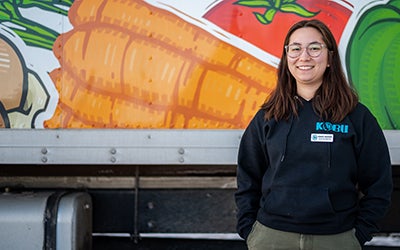 Letting go can be hard to do. Grace Vaughn knows all about it. 
Grace started volunteering with the Kobu Foundation—a food donation and distribution nonprofit created by Leeds alumni during the pandemic—as a sophomore, and when its founders graduated, they handed things off to her. 
While she wasn't exactly creating a business from scratch, Grace had to figure out how to turn an all-volunteer charity designed to operate amid lockdown into something that was a substantial part of the community—food donations, yes, but also other kinds of help, like newsletters containing resources, to help people feel seen and supported. 
And now, as she prepares to graduate, she has to hand Kobu off to the next generation—ideally, someone who can grow it beyond Leeds and the Diverse Scholars Program, which has provided a strong set of regular volunteers. For her, passing that baton is the ultimate lesson in leadership. 
"I didn't realize how much of a doer I have become through Kobu," Grace said. "As much as I've had the freedom to take initiative and make things happen, I've had to provide a lot of structure and motivation for our executive team and volunteers—most of whom haven't been in this kind of startup environment, including myself. It's been interesting learning that, as a leader, it's not always about the big ideas, but how the little things get done." 

"As a leader, it's not always about the big ideas, but how the little things get done."
Grace Vaughn (Entrep, Strat'23)
The opportunity to be a leader was an important consideration for Grace as she made the adjustment to college life. She chose Leeds in part for the mentorship programs it offered, including the Peer2Peer program that matches first-years with older students to help them get the most out of their Leeds experiences. Through Peer2Peer, Grace made a lifelong friend; the two of them will be relocating to New York to pursue work after graduation. 
Mentorship matters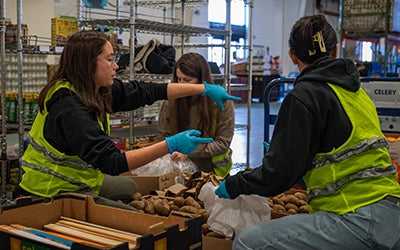 "Mentorship at Leeds really has lived up to my expectations," she said. "When I would talk to my other friends at other schools, they wouldn't even have something as simple as a four-year plan, whereas I had the next three years lined up. It played a big role in deciding to graduate a year early and making sure I was on track."
Knowing what's coming down the road has helped Grace be comfortable spending a lot of her time volunteering, with Kobu and SWAP—the Student-Worker Alliance Program—which pairs students with campus employees seeking assistance in mastering English. 
"Part of this whole new business world is bringing empathy and compassion back into organizations—and volunteering is an important part of that," Grace said. "So much of charity work today is funneling money to a place you'll never see. The tangible impact of volunteering, of seeing the good you're contributing to your community, is important for any business student. Doing that really hands-on work has a much bigger impact than just hitting a donate button online." 
Creating impact
It's probably no surprise that when it comes to her career, Grace is less interested in a particular industry and more keen on finding ways to make an impact on people. 
"The most important impact you can have is within the 30, 60, 100 people around you," she said. "I want to find ways to change business within one company—within one floor of one company—through caring about people." 
As she figures out exactly what that looks like, she'll lean on experiences from Leeds—especially from her mentor and professors, who challenged her to find her voice and stand up for herself and others—to find the best way to create meaningful impact in business. 
"When I was a kid, and people would ask me what I wanted to go when I grew up, my goal was always to be a good boss, a good manager, and Kobu was my first real opportunity to do that," Grace said. "So it wasn't just about growing the team, but about making sure volunteers are prioritized, that the community feels valued, and that we establish Kobu as a real, visible presence in the community."
More Faces of Leeds  Undergraduate programs  Diverse Scholars Program