Co-founders, Kobu Foundation
Ironically, Kai Suematsu and Samariddin Meliboev realized they had good chemistry when they met in a high-school chemistry class in Denver's George Washington High School.
Since then, the friends and recent Leeds graduates have been a force for change in helping Colorado's less-fortunate population through several initiatives focused on food donations and delivery.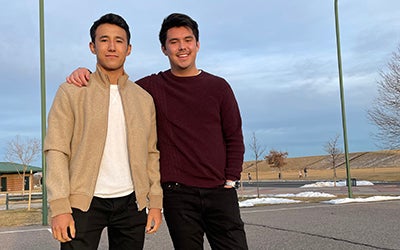 "When people say, 'What do you do for fun?' and you say, 'I volunteer,' people think it's weird," Kai said. "But it's really just hanging out with friends, and volunteering while you do it."
Kai and Samariddin created Denver Club of Humanities, a food pantry, in high school with classmate Kelly Trang, also a CU Boulder student. Because of their different schedules in college, Kelly and Jamal Giornazi—another CU Boulder student and Washington alumnus—have not been as involved with Kobu, "but Kelly had such a big influence on how we run Kobu, especially in terms of how she helped us create a culture at Denver Club," Samariddin said. 
The friends started Kobu after searching for ways to pick up the threads of Denver Club of Humanities, and found their answer when pandemic-related quarantine measures made it harder to get food donations to the people who needed them. Since then, Kobu has delivered some 150,000 meals, powered by both donations and the volunteer efforts of CU Boulder students who help prepare donations for delivery. On top of that, Kobu has awarded more than $15,000 in scholarships to students—the founders' acknowledgment of the scholarships they received and their role in making an education affordable.  

"Business classes taught us how to network with the community, which helped us quickly get started when the pandemic hit."
Samariddin Meliboev (Info Mgmt, Bus Analytics'21)
In turn, their education has given Kai and Samariddin invaluable perspective on how to build a better, more sustainable vision for their volunteerism.
"Business classes taught us how to network with the community, which helped us quickly get started when the pandemic hit," Samariddin said. 
Learning when to pivot
Kai, who also completed a certificate in entrepreneurship as part of his Leeds studies, said the ability to iterate and shift is core to almost every class he's taken. 
"Knowing when to pivot, knowing what the big idea is and figuring out how to fill a needed role is something we learned about a lot," he said. 
Their business skills are especially important now, as the pair decide what to do with the nonprofit they've built. Both have started work after graduating early (Samariddin at Kaiser Permanente, Kai at Accenture) and are now weighing an acquisition offer from a larger, more established organization.
"We'd like to see Kobu get to the next level, and this organization has the systems, grant money and scale to do that," Kai said. "But there's also value in having it stay with CU students." 
More Faces of Leeds  Why Leeds  Undergraduate Business Programs