Intern, HoneyBee Robotics 
As the oldest of four children, Jasmine Fabela Sanchez is in some ways already her own boss. Helping her parents keep house was all part of growing up, alongside being a full-time student, working part-time in high school and even attempting her own eyelash business.
"When I got into Leeds, it was a calling—an affirmation of what I wanted to do," said Jasmine, a first-generation college student. "I've always been very independent and I know I want to be my own boss someday."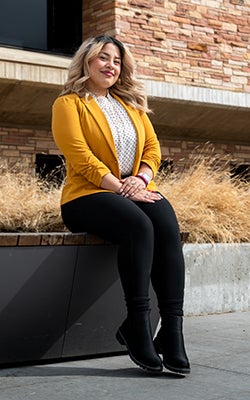 She's still figuring out what form that may take—perhaps starting an accounting business or brokerage' maybe even getting into real estate—and is using her time at Leeds to explore as much as possible. 
"I'm trying to be as involved as I can," Jasmine said. "I've met so many incredible people in all these clubs, whether it's Women in Business or the Multicultural Business Students Association." She also is a mentor in the Diverse Scholars Program and is a student assistant for CU's Business and Engineering Women in Technology program; this summer, she'll be working in the finance department at HoneyBee Robotics, where she'll have opportunities to interact with the spacecraft technology company's engineering and accounting teams. 
Testing her limits
The possibilities for exploration have already extended to global travel, through the First-Year Global Experience, which sent her to Barcelona last year; she's eagerly anticipating studying abroad in Madrid as a junior. The opportunity to test her boundaries helped bring her to Leeds, along with the sense of values that are part of the curriculum and the culture. 
"Coming to Leeds opened my eyes to a whole new world—both how many people go here and how different their backgrounds all are," she said. 
A North Boulder native, Jasmine originally thought she'd attend school out of state, "but when COVID hit, I got really close to my family," she said. "And Leeds turned out to be the perfect fit, especially once I got involved with the EXCEL Scholars Program."
The EXCEL program, part of Leeds' Office of Diversity Affairs, helps first-year students orient to college life ahead of Leeds Launch. Jasmine said that program, and ODA generally, helped her form a community and be a better student.

"Coming to Leeds opened my eyes to a whole new world—both how many people go here and how different their backgrounds all are."
Jasmine Fabela Sanchez (Fin, Acct'25)
"When you're a first-generation student, you don't have someone who's been there before who can hold your hand and help you know the deadlines, know how to get financial aid, fill out a FAFSA form," she said. It's why she's a regular speaker in AVID—Achievement Via Individual Determination—which gives her opportunities to encourage other first-generation students to see the process through. 
"I hope I can pave the way for my sister and younger brothers, so they'll have someone to help them," she said. "If I can be that asset, and help them and their friends get degrees that change their lives, that would be awesome."
More Faces of Leeds  Undergraduate programs  Diverse Scholars Program