Founder, Silk By Laura and program manager, Diverse Scholars Program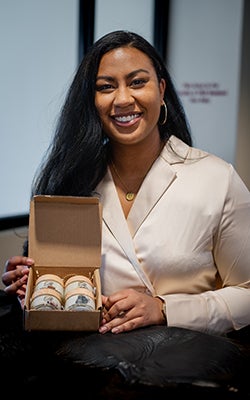 Silk by Laura is the story of a growing small business that very nearly wasn't. 
Like some success stories, the business started almost by accident; in this case, Laura Moore's friends and family telling her how much they loved her homemade shea butter, convincing her to set up shop as an LLC despite not having a business plan.
"I didn't have a financial plan, or a website—I was using a Google form for orders," Laura said.  
She paused the business after the holiday rush to put a plan in place, build a site, restock her inventory—and when she reopened, her customers were gone. Feeling defeated, she prepared to close out the business, attending one final event that she'd committed to—"but that one day, I made $800 in sales," she said. "That was the push I needed to keep going forward." 
That's not the only nudge she's needed—she was accepted to the selective Catalyze CU accelerator, but turned it down before being talked into it by the program's director—but those little pushes have changed her outlook on her business.
"When I have conversations with many people about Silk, they'll tell me, 'Your story is unique, and it doesn't just happen like that,'" Laura said. "So, I'm now taking every opportunity I can, because they're presenting themselves to me."
Her homemade body butter is actually Laura's side hustle. She's better known for her work supporting students through their academic journeys as a member of the Office of Diversity Affairs at Leeds. She was a high-school student serving as president of the International Baccalaureate Black Organization when she discovered her passion for DEI issues and helping students feel a sense of belonging. 
But being a part of the business school has helped her think about her own enterprise while making her an approachable expert for entrepreneurially minded students.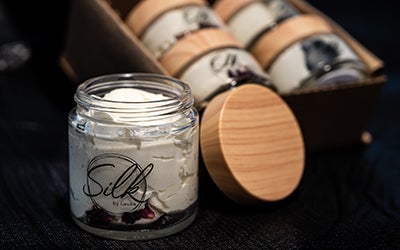 "Obviously, my background is more in education," said Laura, who also owns a master's in counseling from CU Denver, which she completed in 2021. She had a strong sense of business ethics from watching her father, who owned his own insurance agency with Allstate, "but I didn't have a set financial plan, or speak the business lingo." 
"Catalyze helped me grow tremendously, and gave me confidence in my pitch and in talking to investors, because I was very intimidated by those kinds of conversations."
Inspiring student entrepreneurs
And Leeds students are taking notice—both those she advises as well as those whom she teaches, especially in the required Design Your Leeds course all first-years take. She also started teaching a course called Dynamics of Leadership and Power this spring. 
"Having Silk be a part of my life while being in the business school has been amazing," Laura said, adding that Silk was accepted into CU's entrepreneurship law clinic in the fall. "As a small-business owner, I've really seen firsthand the lack of diversity, especially among women, in this space—and I'm seeing how impactful it is for a lot of my female students, who feel they can learn from me and the example I'm trying to set." 

"I'm now taking every opportunity I can, because they're presenting themselves to me."
Laura Moore (Psy'15)
In her day job, Laura supports students in the Diverse Scholars Program as they navigate college life. Many of these students complete one of Leeds' precollege programs in the summer, so she's building relationships with the incoming class well before they start taking classes—the big reason she almost turned down Catalyze, though money from the program helped her hire an intern for the summer.
Her near-term plans for Silk include moving into B2B, so that other retailers stock her products, and developing philanthropic goals for the business, especially in the area of supporting people with disabilities. But she's not planning to leave the Office of Diversity Affairs anytime soon. 
"I truly enjoy teaching—working with the students, providing workshops, and offering learning and professional development opportunities," she said. "And being a co-advisor to the Women  in Business group has been an incredible opportunity, as well."