The Latest Creative Distillation Research Podcast Asks "Does Autonomy and Self-Selection Impact How Teams Perform?"
You are here
Listen to a spirited discussion on how levels of autonomy and group structure impact organizational outcomes as a serial entrepreneur and leading academic share their perspectives on research published in Organization Science.
---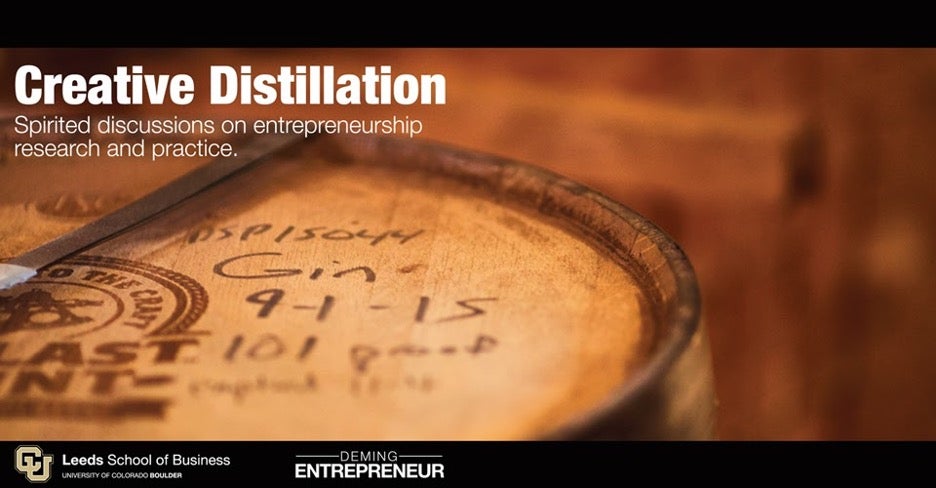 Is there a formula or model that works best when it comes to creating teams for new ideas or ventures? Hosts Jeff York and Brad Werner, from the Deming Center for Entrepreneurship at the Leeds School of Business, address that question after an informative conversation over a curated flight of ales with Sanitas Brewing co-founder Michael Memsic.
Michael is a CU Boulder alum and has a variety of connections back to campus, the Leeds School and the Deming Center. According to Memsic, "I found ways to engage back with CU, which has been great and I take a lot of pride in it." And there is no shortage of examples listeners can leverage for their own as their conversation delves into business opportunities through campus events, mentoring opportunities with students, and utilizing student perspectives to idenfity opportunities.
Hosts Werner and York expand the conversation into Memsic's deep experience operating in the highly competitive Boulder and Denver craft-beer markets. Listeners are taken into an immersive and revealing discussion on strategies Sanitas Brewing has implemented to stay competitive and profitable. 
These discussions between a business owner, a leading researcher, and a serial entrepreneur addressing a real-world business challenge are part of what makes Creative Distillation stand out. Then, after sharing a few closing thoughts, the hosts begin the process of distilling research.
Autonomy, methodology and "start-up" studios
In episode 24 hosts York and Werner offer their take on how entrepreneurs and academics can benefit from the study titled  "Organizing Entrepreneurial Teams: A Field Experiment on Autonomy over Choosing Teams and Ideas" that was authored by Viktoria Boss (TUHH Institute of Entrepreneurship), Linus Dahlander (ESMT Berlin), Christoph Ihl (Hamburg University of Technology) and Rajshri Jayaraman (University of Toronto).
The core issue being studied is what is better for entrepreneurs: 1) autonomy over teams 2) autonomy over ideas or 3) autonomy over both. The question is important because educators, accelerators, and investors all exert some influence on these questions.

"They've got two types of autonomy, autonomy of ideas and autonomy of teams. Are the people that get autonomy going to outperform the people that don't get it?"
asks York.
The results may surprise you (they surprised Brad). The conversation weighs the dangers of overconfidence and echo chambers against the benefits of creating a company culture that questions every decision they make, the unique efficacy of "startup studios", and how knowledge plus passion equate to a higher likelihood of success.
Takeaways and insights
Episode 24 of the Creative Distillation Research Podcast offers listeners the opportunity to take a closer look at research through relaxed discussion of quality research. York shared that "Make no mistake, this is a well-executed study, very interesting and a very creative way to take the entrepreneurship classroom and do something unique and valuable." And Werner underscored the importance of avoiding groupthink and focus on attracting diverse groups around the idea.

"Here's the credible takeaway for any entrepreneur listening out there is that you have to have people on your team that will actually challenge you."
says Werner.
In a closing thought York offered "And if you're trying to get more creativity in your business, make sure you give people at least the autonomy of the team they work with, better yet, give them autonomy about the ideas they're going to work with, but don't necessarily give them both because they're all just going to look at each other and say, we got a great idea."
Learn more by listening to the entire episode: 
Creative Distillation · EPISODE 24: Sanitas Brewing and Autonomy Over Choosing Teams and Ideas
Creative Distillation background
Creative Distillation is a research podcast co-hosted by Associate Professor Jeff York, Research Director, and Instructor Brad Werner, Teaching Director for the Deming Center for Entrepreneurship. Each episode distills academic research on entrepreneurship into actionable insights. This season, Jeff and Brad connect with researchers from around the globe to discuss sustainability, yoga, cannabis, Food Trucks, university entrepreneurship programs and accelerators.
Comments/criticism/suggestions/feedback? We'd love to hear it. Drop us a note at CDpodcast@colorado.edu.