The latest Creative Distillation research podcast delivers a spirited discussion with the entrepreneur Alastair Brogan.
---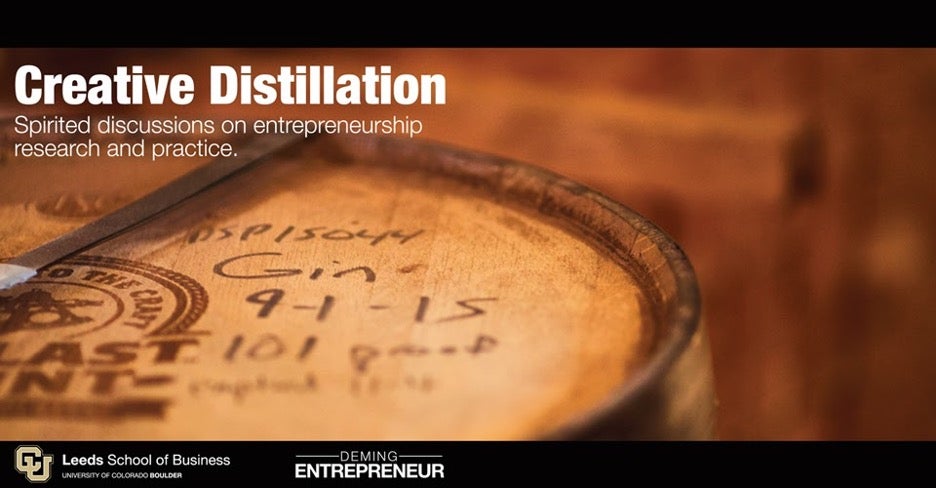 In Episode 20 of the Creative Distillation research podcast, hosts Brad Werner and Jeff York join Alastair Brogan, owner of Boulder Spirits at his distillery in Boulder, Colorado.
According to podcast Producer Joel Davis this episode can best be described as "Alistair's delectable offerings and a flair for storytelling revealed through a seven-flight tasting...and illuminating conversation about the art of distillation and entrepreneurship."
Alastair Brogan is described as a Royal Air Force veteran, Vice President of the family business, 'voted off' reality TV star (internet it!) and world traveler. His worldly experiences, along with a deep passion for craft spirits, are catalysts for a dynamic conversation on business ventures and pursuing a passion.
In Episode 20 Brogan delivers a curated tour through several Boulder Spirits offerings, an entrepreneur's perspective on the state of the craft industry and lessons learned from past experiences. Paired with the samplings of Single Malt American Whiskeys, a Sherry Cask Bourbon and straight Bourbons, Jeff and Brad also discuss how Boulder Spirits is finding unique ways to grow in a niche market.
Simple Approaches to Fostering Growth for Craft Distillers
For Brogan the opportunity is simply education.

"I think there's 1,200 liquor stores in Colorado. And there's a percentage of them that we all know who they are [so we are] really focused on the education of their salespeople."
This approach is counter to what is being done by the leading distillers in Europe, according to Brogan, and an opportunity where craft distillers can stand out and gain their own following.
Staying in Touch With Market Demand
Another perspective that Brogan, York and Werner shared was being sensitive to changing consumer tastes. And while the craft market is relatively small, comprising an estimated 3% of the total spirits market, it is even more critical to understand consumers' preferences.
For craft distillers this means looking at basic whiskeys, and as the hosts pointed out, for craft beer brewers it currently is the current trend is brewing the less-than-challenging hazy IPAs.
While these broader offerings are not the products of their founders' dreams, they are profitable and create stability for an organization supporting creative exploration and growth.
Takeaways for Entrepreneurs and Organizations
Episode 20 of the Creative Distillation Podcast delivers a deep discussion on craft distillation. For those interested in learning more about the American Single Malt movement this is a near expert-level guide to navigating the complexities and nuances.
Woven into the tasting is the sharing of how to apply years of business experience to the pursuit of a passion business. For this Brogan suggests that if you are going to pursue your passion in business, build up the skills to run a business first.
Creative Distillation Background
Creative Distillation is a research podcast co-hosted by Associate Professor Jeff York, Research Director, and Instructor Brad Werner, Teaching Director for the Deming Center for Entrepreneurship. Each episode distills academic research on entrepreneurship into actionable insights. This season, Jeff and Brad connect with researchers from around the globe to discuss sustainability, yoga, cannabis, Food Trucks, university entrepreneurship programs and accelerators.
Learn more about Boulder Spirits at https://boulder-spirits.com/
Thanks to Alistair and the entire Boulder Spirits crew for the warm welcome and consummate hosting.
Comments/criticism/suggestions/feedback? We'd love to hear it. Drop us a note at CDpodcast@colorado.edu.