Podcast: Part Two of Executive MBAs Night Out Features a Private Q&A Session With Successful Entrepreneurs and Leeds' Faculty.
You are here
"And the upper cut was a 45% price increase." Leading entrepreneur Matt Cutter shares more of his personal experiences on the latest Creative Distillation research podcast.
---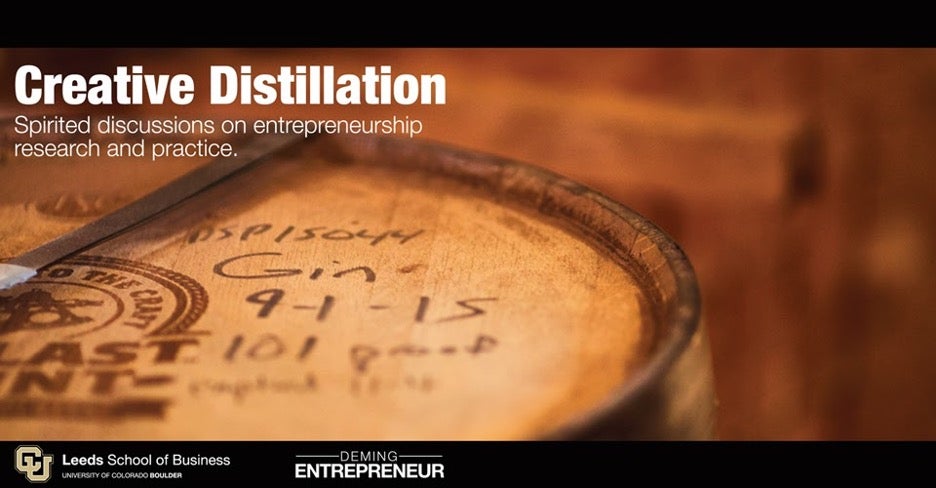 Continuing with their slightly different approach to the Creative Distillation research podcast, hosts Brad Werner and Jeff York are again joined by Upslope Brewing Company founder Matt Cutter for a Q&A session with students from the inaugural Executive MBA Program at CU Boulder's Leeds School of Business.
Set against the backdrop of Upslope Brewing's grain auger churning in the background,  Leeds' Executive MBAs continued to pose challenging questions, such as: what are York and Warner's perspectives about the importance of values and support systems when starting an organization; the supply chain challenges and changes Cutter faced during COVID; and then delving into York's research-focused and Werner's investor-based perspectives on taking an organization from bootstrap to exit in 10 years.
Highlighting aspects of the discussions, the hosts addressed the challenges and opportunities that arise when starting an organization. Specifically, focusing on building a team, including finding the right people. This is where York and Werner differed on approaches but agreed on the importance of values.

"Incorporate your values from day one…and be open to advice."
Werner said.
While addressing a question about supply chain management, Cutter offered an impactful story around industry wide challenges faced during COVID.
"We got to notice at the end of November that we would have to go with five truckload minimums, which is a million cans. [That's] for one SKU; we have nine SKUs that we run year-round plus our limited releases, like the German pils[ner]. And the upper cut was a 45% price increase. Oh, wow." Cutter said.
Listen to episode 27 of the Creative Distillation research podcast and learn more about the hosts' different perspectives.
About the podcast
Creative Distillation is a research podcast co-hosted by Jeff York and Brad Werner, both of the Deming Center for Entrepreneurship at CU Boulder's Leeds School of Business. Each episode distills academic research on entrepreneurship into actionable insights. This season, the hosts connect with researchers from around the globe to discuss sustainability, yoga, cannabis, food trucks, entrepreneurship programs and accelerators.
Comments/criticism/suggestions/feedback? We'd love to hear it. Drop us a note at CDpodcast@colorado.edu.