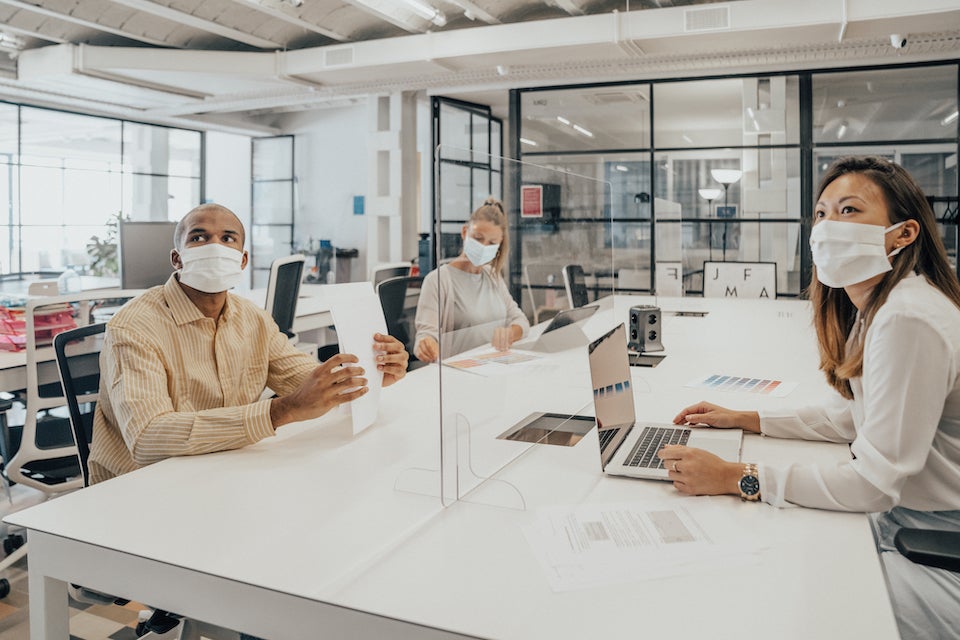 Boston Properties' Leadership Discuss How the Future of the Office Market is Uncertain but Anything but Obsolete: A Panel Discussion with Boston Properties' CEO and CFO
The World Health Organization (W.H.O.) formally declared the then-novel Coronavirus COVID-19 a global pandemic on March 11, 2020. By March 4, 2021 the CEO, Owen Thomas, and the CFO, Mike LaBelle, of Boston Properties (the largest publicly held owner/developer of Class A office properties in the US) discussed how office is poised for a comeback in the near term. Upon reflection on their discussion, I will say that if anyone has an incentive to be optimistic on the office market it is Mr. LaBelle and Mr. Thomas, and perhaps with good reason.
At this year's CU Annual Real Estate Forum, the discussion around the future of office was centered on when and how the market will rebound and evolve, not if it will return. Supporting Mr. LaBelle's and Mr. Thomas's optimistic predictions was an announcement made by the keynote speaker of the event, Governor Jared Polis. That morning Governor Polis announced a new wave of vaccine access that included higher education. In addition, he stated that everyone in Colorado who would like a vaccine will have access by the end of May. The following week the CDC announced that individuals who have been vaccinated may gather without masks. Furthermore, the WSJ has claimed the US's current rate of vaccination should yield herd immunity by April. In fact, anecdotally the Denver office where I am currently interning re-opened at 50% capacity on March 1st.
The two presenters acknowledge the unique headwinds experienced in the market, in which the evolution to a remote workforce and shared, environment-centric office culture will be the future. It has been generally observed that one impact of COVID on the commercial real estate industry is the acceleration of pre-COVID trends and the adoption of technology-centric, sub-market focused trends. The speakers identified five key trends including an accelerated adoption of technologies, a renewed focus on workplaces contributing to corporate culture and environment, bifurcated recoveries across regions and product quality, and an accelerated adoption of flexible work-from-home schedules leading to wide-spread adoption of shared workspace models by operators such as WeWork.
1. Companies and Landlord are investing in Workplaces to Reflect and Enhance Culture
Given increasing vacancies and decreasing rental rates across central business districts in the US, the office market has been transitioning to a tenant-dominated space across formerly landlord-dominated markets. As a result, tenant improvement investment is being co-funded by landlords as a concession in order to secure long term leases and endear tenants to incentivize them to stay long term. In Colorado alone, companies from Crocs to The Partners Group have invested in a physical campus or customized, culture-centric office environment.
The result is that companies interested in attracting and retaining talent need to create environments that facilitate wellness, collaboration and a desire by employees to come in and enjoy the amenities.  The speakers also noted that Class A offices with strong credit tenants and highly personalized spaces have continued to perform well throughout the pandemic. This co-investment strategy allows landlord to add-value to the building while tempering the risk of lease terminations.
2. Bifurcated Recovery Across Regions
Mr. Thomas noted that while markets like San Francisco and New York have experienced office market distress, returns have been inconsistent across regions and product types. Areas of outperformance were realized in suburban office, alternative products types like datacenters and life science spaces, and in infill and Class A industrial. This widely known, but underpublicized evolution, is the rise of suburban office markets, parallel to multi-family in markets like Austin, Las Vegas, Nashville, Charlotte, Phoenix and Seattle.
Regionally, different industries, which have been impacted differently by COVID, have been witnessed different outcomes. For example, Florida, which relies heavily on the tourism industry and initially saw massive unemployment, has recovered as San Francisco tech companies have seen their employees depart for Florida's lower cost of living. On the converse, Boston has witnessed a surge in investment in office outfitted for life sciences tenants.
3. Bifurcated Recovery Across Product Quality​
In major central business districts one trend that has remained consistent is the Class A office product. In many cases those properties, backed by well-funded investment groups, were able to invest in innovations like digital tours in order to reduce the impact of COVID on their operations. Landlords have taken the lead to invest in innovations that will attract tenants to return to the office including increased sanitization, HVAC systems, touchless entry, etc.
Bifurcation was also experienced across companies that were in good financial standing before the pandemic and were a position to continue paying rents while also allowing their employees to efficiently continue working at work. They also happen to occupy Class A locations.
4. Accelerated Adoption of Collaboration, Touchless and Work-from-Home Technology
Since the arrival of COVID-19 leading technology companies like Twitter have announced their employees will be allowed to work from home "forever" if they choose. Facebook has made similar remarks albeit with some verbiage surrounding pay cuts if employees move to cheaper housing markets. Yet during their discussion the speakers also discussed that Facebook recently leased 730,000 sq. ft of transit-oriented office space in central Manhattan. They noted that the drops in Manhattan rent have encouraged longer-term leases and tenant improvement investment from the landlords.
Another observation was that if employees are working from home permanently or partially, there will be a surge in demand for single-family-rentals (SFR) and built-for-rent (BFR) with enhanced office spaces and technological improvements.  Clearly this will this impact the larger construction and architecture sectors.
5. Wide-spread adoption of the shared workspace model by operators beyond WeWork
The rise and fall of WeWork has arguably been one of the most engaging business stories of the last decade. No matter how the WeWork saga concludes, it is certain that the model of shared office space is here to stay. Companies, including Boston Properties and CBRE, have invested in shared and short-term offices programs.
In fact, the panelists discussed Boston Properties' new platform FLEX by BXP. In today's digital world the premium of flexibility has led to the emergence of flexible workspace. These new properties are equipped with the same amenities as traditional offices and allow for collaboration, but don't required the long-term lease commitments of typical office contracts. Despite optimism from the vaccine, the long-term impact of COVID on flexible and shared office space is still unknown.
In conclusion… what does all of this mean?
The future demand, shape and location of office space is anything but certain. What Mr. Labelle and Mr. Thomas are certain of is that companies' employees will continue to need to collaborate and bond. They are also certain that offices are a manifestation of an "office culture" and that central business districts will rebound in parallel with the economy. There is no doubt that office requirements in a post-COVID world will evolve. Some argue that COVID will "kill cubicles and shared spaces" and encourage even more space per employee. On the opposite side of the spectrum others are saying downsizing will occur in exchange for flexible workspaces and part-time-at-home work arrangements.
In reality, the panel highlighted the fact that even industry thought leaders don't have all the answers of what the future of the office market hold. COVID has shown that high-functioning employees can work from home and that the digital environment is a strong way for companies to save money and reduce their carbon footprint.
The economic impacts of COVID-19 on the office sector will be felt for years to come. There is no doubt that different regions, socioeconomic statuses and education levels have been unevenly impacted. Regardless, the value of community and collaboration can't be underestimated. Companies need culture and offices are the places where ethos is built. The Boston Properties' executive team, logically, is bullish on the offices' return as vaccines roll out and the economy recovers.
The author Lily Colley is second year MBA Candidate at the University of Colorado's Leeds School of Business focused in real estate and finance. She serves as the co-President of the Graduate Real Estate Association and is a member of the University of Colorado Real Estate Center's International Advisory Board.
---
More Featured Insights and News From CUREC
In his nine years, Michael Kercheval helped connect academics to industry.