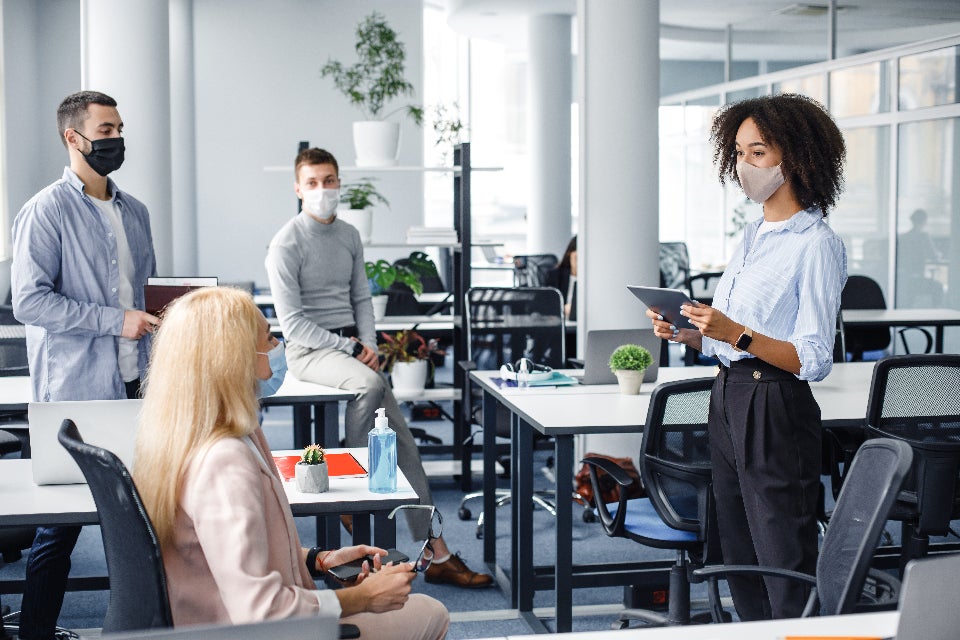 Spencer Levy, CBRE Chairman of Research & Senior Economic Advisor, joined the 24th annual Real Estate Forum at the Leeds School of Business to discuss the changes in the world of commercial real estate as a result of the pandemic and evolving labor trends.
Levy began his presentation on an optimistic note, stating that "the world is a lot better than it feels in your gut right now," at least from a macroeconomic viewpoint. CBRE, as well as many other business leaders, are anticipating the "mother of all comebacks" in the second half of 2021 due to the enormous amounts of fiscal and monetary stimulus from the US and around the world. CBRE predicts that the US economy will grow 5% this year and 5% next year, figures that are even less bullish than Goldman Sachs' estimate of 6% growth.
Due to federal support, Americans have more savings than they did before the pandemic, and this, combined with pent-up demand ("revenge retail," according to Levy), will fuel the comeback. In fact, the "green shoots" of a comeback are already in the works in the form of advanced transaction volume of real estate in the fourth quarter as well as stronger consumer business confidence. However, the economy will not show material improvements until the majority of people get back to normal, which consists of freedom of movement in town, in the air, and in offices.
From a microeconomic perspective, Levy is "optimistic, but not as optimistic." While most of the current activity is on the capital markets front, the leasing side, especially in multi-tenanted offices, is holding back the market. What saved commercial real estate in the fourth quarter of 2020 were industrials, multi-family, and operational real estate (which includes cold storage, data centers, life sciences, as well as single-family rental). Operational real estate, although it used to be considered an afterthought, is now on the receiving end of large inflows of institutional money. According to Levy, industrials and multi-family are "the land of milk and honey." Ecommerce, which saw hockey stick growth in 2020, contributed greatly to the success of industrials. An exception to multi-family's relative success is near central business districts, which will not realize their full potential until movement is unrestricted.
A central theme of Levy's presentation was the concept of distortion. Levy says the commercial real estate industry is "still kicking the can down the road" to have real transaction volume, especially on the leasing front. To prevent widespread bankruptcies, the government stepped in to provide an influx of federal funds. "From a capital market standpoint, the distortion looks like we just traded a $500 million pool of assets a few weeks ago from a large German bank. Most of that pool were hotels," says Levy in a simplifying analogy. While commercial real estate investors traded that pool for 97 cents on the dollar, there was massive distortion because the fundamentals of hotels did not justify that pricing. The pricing, however, was justified because these hotels did not go bankrupt due to the success of PPP loans. Furthermore, this performance was much better than during the Great Financial Crisis, where investors would have received 50 cents on the dollar for the same pool of assets.
Distortion is also present in industrials. This is because of record pricing, massive government support, and record levels of equity chasing US deals. These occurrences of distortion may sound like cause for alarm, but Levy believes that "people waiting for the sky to fall may be waiting forever." For one, office and industrial fundamentals are better than many may think, as PPP loans were successful in doing their job. Furthermore, there is a $1.9 trillion government support package in the works, which may be followed by an additional infrastructure package.
In the last portion of Levy's presentation, he discussed trends on office occupancy and work-from-home. In New York and San Francisco, occupancy is hovering around 5%. In cities with greater freedom of movement like Dallas, Raleigh, Nashville, and Charlotte, office occupancy trends towards 30-40%. Several companies have made statements about transitioning to a part-time or full-time work-from-home model, but Levy believes these decisions were made in the heat of the moment.
CBRE does not anticipate the 25-30% drop in office demand that others are fearing for a few reasons. Efficiency, which revolves around cost consciousness and the ability to get more out of less, can improve when one works from home. According to a 2015 Stanford study, however, productivity does not. Productivity differs from efficiency because it is revenue generating and has unlimited upside. Without productivity, it becomes harder and harder to attract and retain the best talent, collaborate, cultivate a corporate culture, and learn the soft skills that are imperative in shaping the trajectory of one's career.
With these reasons in mind, CBRE's Global Head of Occupier predicts that in a post-COVID world, the average number of days in the office will decline to 3.3, down slightly from the pre-pandemic figure of 4.1 days per week. Rather than an extreme drop in demand altogether, "we are going to see de-densification, diversification, and more hub and spoke models where people go into the suburbs a couple of days a week to work, not just the central business districts. We are also going to see a rise in flex-space." With less-strict company guidelines on the number of days required to be physically in an office, CBRE predicts that the demand for flex-space will be even higher than it was before the pandemic, as it is more cost effective and efficient.
Although cities like San Francisco and New York City are currently struggling and may see a net outflow of people over the next few years, Levy remains optimistic about their recoveries. The people who drive the real estate market in these locations tend to be the most highly educated and productive in the workforce, and Levy believes they will still go to these markets after the pandemic.
In terms of hotel trends, Levy outlines three stages of comebacks. While business and international hotels will not come back until 2023 and 2024, respectively, drive-to hotels in vacation locations will see the strongest activity this year due to pent-up demand and convenience. Levy is also confident that people will return to cruise ships, which faced a public-relations nightmare during the pandemic. "People are motivated by value, by low prices, and it will change their behavior." The majority of the American economy is driven by consumer spending, and the "mother of all comebacks" will depend on how easily people can spend their money.
Levy's optimism is contagious, yet it is also grounded in research. The pandemic is a major hurdle for commercial real estate to overcome, yet with the help of government support, the sector has the ability to weather the storm while taking advantage of emerging opportunities.
Anna Sernka is a Finance student (2021) at the Leeds School of Business, and a Student Research Assistant with the Business Research Division. She may be contacted at Anna.Sernka@colorado.edu.
---
More Featured Insights and News From CUREC
In his nine years, Michael Kercheval helped connect academics to industry.