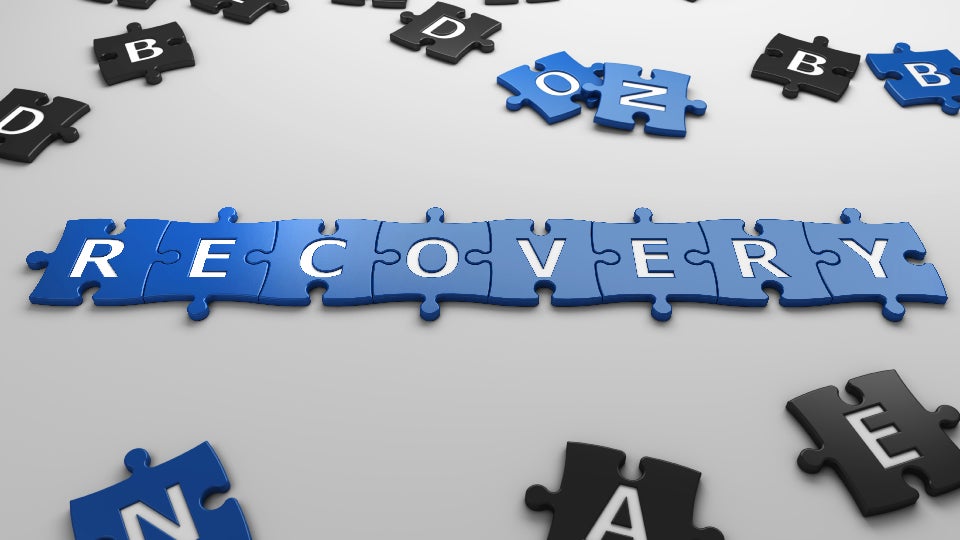 Like many people experiencing newfound free time in the midst of lockdowns and other pandemic-related restrictions, Brian Lewandowski and his family sought out a new hobby this year— puzzling. As the Executive Director of the Business Research Division at the Leeds School of Business, he could not help but find parallels between putting a puzzle together and rebuilding the economy. Lewandowski recalled the process of building a puzzle as starting off slow, but he and his family gained momentum as they neared the end. As the pieces finally started to come together, they found that they were just one piece short of a finished puzzle. Lewandowski believes the economic recovery is on a similar path: we have gained momentum after a shaky start, but there are still a few more things that need to fall into place before the recovery is complete.
Before diving into Colorado's economy, Lewandowski shared the highlights from the national economy. Real GDP fell slightly in the first quarter of 2020 as lockdowns came into effect in late March, but the second quarter faced the brunt of economic losses related to the pandemic. GDP fell 9.9% in this quarter year-over-year and 31.4% at a seasonally adjusted annual rate (had losses been sustained for four consecutive quarters). By the fourth quarter of 2020, real GDP had showed some momentum, but it was still 2.4% below the previous year. The Congressional Budget Office suggests that we could be back to our peak real GDP by the third quarter of this year, and firms including Goldman Sachs and Wells Fargo are projecting 6% growth this year, which would be the fastest recorded in decades. Regardless, the national economy will still be below potential GDP until 2024-2025 due to persistent unemployment.
On the national employment front, the U.S. lost 22.2 million jobs between February and April 2020, the greatest loss in the nation's history both in number of jobs and on a percentage basis. Record job growth was recorded as the economy reopened, but the growth slowed in each subsequent month until December when job losses were again recorded. While only 40,000 jobs were gained in January 2021, the pace picked back up again in February.
Lewandowski also spent some time looking back on past recessions as a means of comparison. In the 2001 tech bubble bust, it took about two years for employment to hit bottom then another two years to recruit those job losses and see job growth once again. During the Great Recession, the worst month was 6.3% down from total employment. As of January 2021, we were still down 6.5% from the peak, more than we ever were in the height of the previous recession. While the February unemployment rate rose to 6.2%, we are still a long way from peak employment.
Trends in economic losses and recoveries, however, vary widely based on where you are looking in the country. While Colorado used to be a model economic growth state, "the recession has taken a bite out of our rankings," according to Lewandowski. Within one year, Colorado went from the 9th to 26th highest employment growth (down 5.4% year-over-year). Colorado also went from having the 5th lowest unemployment rate to the 35th lowest in one year. Colorado is being outcompeted by other states in the region, only being ahead of New Mexico in the mid-continental Rocky Mountain region.
Variation also exists within the state of Colorado. The counties with the lowest unemployment rates tend to be on the eastern plains, where agriculture is a key industry, while the ski communities tend to currently have the highest unemployment rates. Metropolitan statistical areas (MSAs) in Colorado are also experiencing a change of pace. It used to be the metro front range that recorded the fastest employment growth with Pueblo and Grand Junction lagging behind, but this trend is now reversed. The Leeds Business Research Division forecasted growth of 40,000 jobs in Colorado in 2021 with a wide confidence bound, and Lewandowski believes this is still reasonable, although there is still lots of uncertainty surrounding mass vaccinations and herd immunity.
Further differences in job growth emerged in the nation and Colorado based on several key factors. Job losses varied widely based on the industry, with tourism experiencing the greatest decline. While tourism is anticipated to see the largest growth out of any industry in 2021, it will still be below its pre-pandemic peak. Wages were also a predictor of job declines, with the low wage cohort (wages less than $50,000 per year) experiencing the highest employment loss (down 10% as of December 2020). The high wage cohort (wages $75,000 per year and above) recorded only a 0.4% employment loss year-over-year as of December 2020. Those with higher levels of educational attainment or a higher ability to work from home were also less likely to experience unemployment during the recession. In addition, the youth as well as women were disproportionately affected by job losses early on, but gaps between their counterparts have narrowed as the recovery moves forward.
Despite grim expectations at the beginning of the pandemic, retail sales recorded extraordinary growth; as of January 2021, national retail sales increased 7.3% year-over-year. Purchases of sporting goods, building materials, and garden equipment accelerated as people spent more time in their homes and grocery stores had a banner year. Other categories of retail sales fared worse, including restaurants and bars, clothing stores, and department stores. By the end of the year, Colorado retail sales taxes were up 2.3%, but the counties that typically relied on tourists, day-commuters, or college students tended to fare worse.
Lewandowski closed his remarks with points of optimism for the Colorado economy. The state ranks 17th in the nation for small business activity, with 89% of firms having fewer than 20 employees, and 4th for young establishments, with 30% of Colorado businesses being created in the last five years. Colorado continues to be a hub for entrepreneurial ventures and maintains a strong startup culture; while new entity filings were down year-over-year during the first three months of the pandemic, activity surged throughout the rest of 2020. The positive correlation between young businesses and employment growth over the past decade warrants continued optimism for employment growth to come in Colorado.
Colorado is on the verge of a solid economic recovery with a few puzzle pieces missing. Some of these missing puzzle pieces include herd immunity achieved through widespread vaccination and lifted restrictions, as demand for tourism is present, but resort towns and other tourist hubs are unable to accommodate all visitors. While many jobs currently sit idle on the sidelines, Lewandowski is confident they will return as life slowly moves back to normal.
Rachel Long and Anna Sernka are both Finance students (2021) at the Leeds School of Business, and a Student Research Assistants with the Business Research Division. They may be contacted at Rachel.Long@colorado.edu and Anna.Sernka@colorado.edu.
---
More Featured Insights and News From CUREC
Undergraduate students have until Monday, Aug. 22 to apply. The CU Real Estate Center (CUREC) is partnering with employers and the Denver Metro Commercial Association of Realtors for the 2022 Inclusive City Builders Fellowship. In an effort to support more diverse representation within the commercial real estate industry, the fellowship...