World-class faculty, powerful networking and weeklong retreats define a premier program for today's business leaders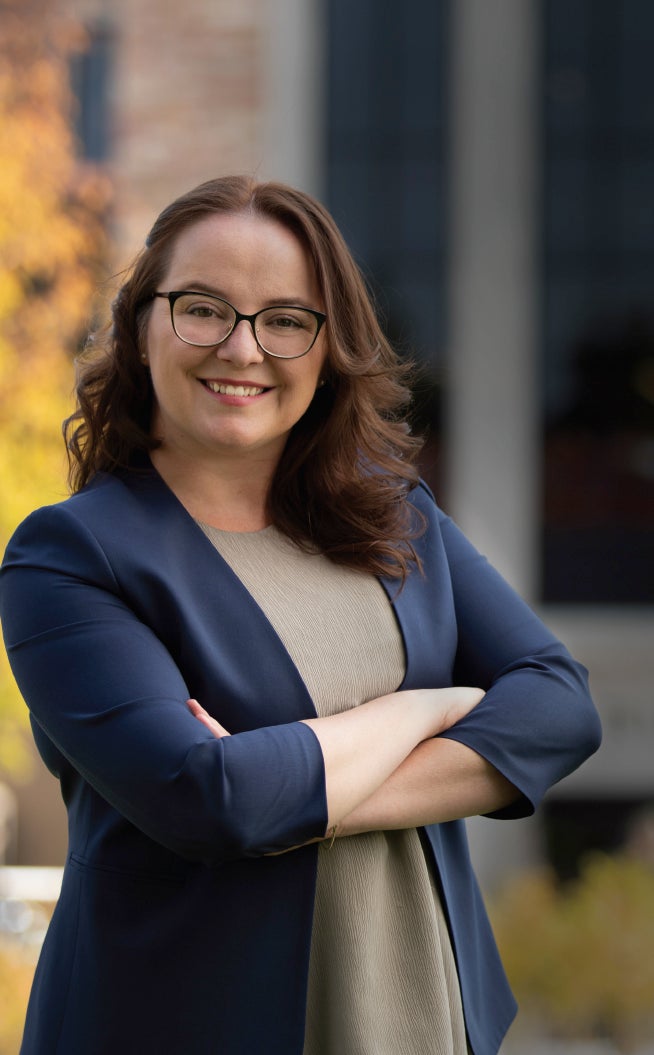 For five years, Emily Speer Ryan contemplated getting an MBA, but couldn't find her "personal why" until she entered corporate America. "I felt like I kept bumping up against the proverbial edge of the pool; it was a different lexicon, and I felt like it was time to get some formal understanding of these concepts," she said.
When she went looking for an MBA program, she wanted a cohort with the same level of experience she had. She found the right fit with Leeds' Executive MBA (EMBA) program; she could collaborate with other senior-level professionals and benefit from a deeper level of engagement at the one-week, in-person residencies.
"The thing that stands out to me the most, beyond the stellar faculty, is the care that was taken in developing our cohort and the thoughtful design of the program itself."

-Emily Ryan (EMBA'23)
Ryan is a seasoned expert in customer success operations, working with large B2B software companies to develop customer success strategies. Her fellow classmates include a VP of sales for a multinational ski apparel company, an engineer turned business development manager, a senior packaging engineer in cosmetics, and a Las Vegas entrepreneur. 
"I love to get folks in a room and benefit from all the different brains and ways of thinking—any one of us could come up with part of a solution—but having all of us together culminates in a bigger, better version of a solution," she said. 
Her classmates may not yet know they have an author in their midst, currently writing three books simultaneously: Industrious explores how corporations are grappling with "true" diversity; next is the field guide Tricks of the Trade on customer success strategy and operations; and Coming of Age is a toolkit for women exploring challenges inside and outside the workplace. 
For Ryan, the program promises a new chapter for her career story. "I'm really enthusiastic about the possibilities," she said. "The EMBA will open doors I haven't even considered."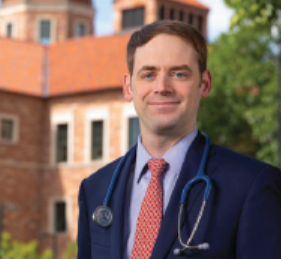 Doc wants to use business to help cure healthcare
Dr. Bradley Fehrenbach sits in a dark room most days. His work as a diagnostic radiologist in metro Denver generally takes place behind the scenes—reading imaging and writing reports.
But when it comes to seeing areas for improvement in the healthcare system, he is anything but in the dark.
"Healthcare currently lacks in technological adaptation, but there's huge potential for innovation with electronic medical records, AI, big data and measuring quality of care," he said.
With the Leeds EMBA, he hopes to be a leader in healthcare innovation, not just a participant.
"Regardless of what industry we're in, what drew a lot of us [to the program] was the focus on entrepreneurship and innovation." 

-Bradley Fehrenbach (EMBA'23)
Just Launched: The Hybrid MBA
Whether you're accelerating your career or charting a new one, the new Hybrid MBA is for busy working professionals seeking both a top-ranked education and powerful network. The unique format offers a blend of asynchronous remote coursework with a strong cohort experience and in-person classes on select Saturdays.