Report finds jobs, GDP, income all rising in Colorado, though momentum is fading.​
---
Growing, but slowing. 
That's the key takeaway from the Quarterly Business and Economic Indicators Report prepared by the Business Research Division at the University of Colorado Boulder's Leeds School of Business, in partnership with the Colorado secretary of state's office.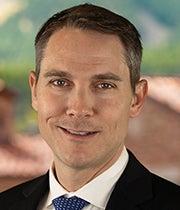 "We're seeing slower growth in jobs, GDP, personal income and retail, as well as declines in home pricing and construction," said Brian Lewandowski, BRD executive director. "All of that contributes to the idea that Colorado is in a growing, but slowing, economy." 
While Colorado has been among the national leaders in job recovery coming out of the pandemic, that rate is slowing down. Employment grew 1.2 percent year over year in March, though the state's labor force participation rate ranked fourth highest in the country in March (68.3 percent). The labor force grew 0.7 percent year over year, and Colorado's per capita personal income ranked eighth at $75,206.
A very welcoming sign for businesses and the economy is an improvement in inflation. The Consumer Price Index increased 5.7 percent year over year in the Denver-Aurora-Lakewood metro area, only slightly ahead of the national rate of 5 percent.
Other highlights from the report, which summarizes activity from the first quarter of 2023: 
New-entity filings soared 27.6 percent year over year, a record for the first quarter. Lewandowski attributed this to a fee credit that reduced limited liability filing fees to $1.
Colorado's businesses generally are healthy. Business renewals increased year over year and over the previous quarter—1.2 percent and 13.3 percent, respectively—and the list of entities considered to be in good standing increased 7.4 percent over the year.
The home price index fell for six of Colorado's seven metro areas. Only the Pueblo region recorded growth (0.5 percent).