From Wordle to workouts, streaks are powerful for connecting with customers—but they come with unexpected risks for businesses.​
---
What's the craziest thing you've ever done to keep a streak alive—like language lessons on Duolingo, steps on a Fitbit or correct guesses on Wordle?
How about the guy in a bar whose daily workout streak was in danger of breaking, so he retired to a back room and did pushups for seven minutes before ordering another round?
It turns out that a streak may have as much value as whatever activity it is you're doing, according to new research from Alix Barasch, an associate professor of marketing at the University of Colorado Boulder's Leeds School of Business. And once those streaks are broken, people often abandon the activity. 
"The log comes to represent something more important to you—it becomes a goal in and of itself. You start to value that even as much as the behavior itself," she said. 
It's true of tracking fitness and solving puzzles, but for Barasch, the genesis of this research thread came from a discussion in a brewery about the Untappd app, which allows users to log different beers they've tried. She and her co-author, both PhD candidates at the time, wondered how the activity of logging the beer could impact users' ability to persist in something they cared about.
"Clearly, drinking the beer is the more important part—but the fact that we get utility from logging the beer is really interesting," she said. "But if you miss it, if there's any disruption in your log, you fall off the wagon." 

"It's not like you stop learning when you stop logging, but people will divert their attention to new things because their record no longer represents them. That was a little crazy to us."
Professor Alix Barasch
There have been plenty of studies about goal seeking and gamification and their applications in business, but technology—a specialty of Barasch's—is putting ever more consumer data in the hands of companies, potentially changing how they can engage with their customers. Barasch's work on streaks offers enticing possibilities for marketers, but they'll need to proceed cautiously, she said, especially when those streaks expire. 
"It's a delicate balance when it comes to encouraging the right behavior," she said. "Some companies will highlight a recent failure, maybe with a nudge to get you back on track. We found that kind of messaging typically doesn't work, and that people will just drop off once their streaks are broken."
Unconventional marketing tactics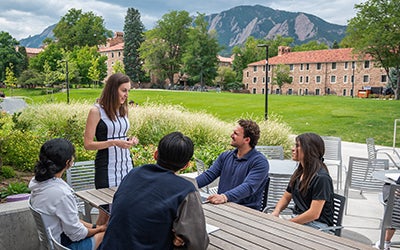 A different tactic can be nudging consumers in a different direction—like offering a new goal, such as trying out a new language when their French streak breaks—or adjusting the time periods for goals to offer more opportunities to motivate users without breaking existing streaks. 
What excites Barasch and her co-author—Jackie Silverman, of the University of Delaware—about their findings is how strong their data are. The researchers didn't settle for just surveys or hypothetical questions. They directly studied behaviors from different users—who either maintained their streak in a language learning app, broke the streak through their own behavior or had their streak reset due to a glitch—to better understand the how those streaks keep users coming back, and where they go when they end. 
"We found people would switch to a new language when their streak broke, as opposed to building a new streak with the same language," Barasch said. "It's not like you stop learning when you stop logging, but people will divert their attention to new things because their record no longer represents them. That was a little crazy to us." 
Also surprising was how far users were willing to go to maintain those streaks—and how abetting companies can be. A few will allow you to "repair" a streak by taking your money or inviting you to watch advertising in order to keep a streak alive even when you've missed a goal. 
That's at least as eyebrow-raising as the guy doing pushups in the back of the bar. 
"You're talking about a direct source of money for the company for just a digital badge that is entirely inconsequential," Barasch said. "And it's interesting because it's no longer representative of a real streak, because you missed a day, but it's still intact in the app, and that can be powerful for you." 
If you're nodding your head at that degree of obsession, Barasch can relate. In addition to logging brews on Untappd, some of her streaks have included Wordle ("until I lost") and TripAdvisor; these days, she's more into apps that log the development milestones of her young daughter.
A focus on marketing and technology 
Her research on streaks is an outgrowth of her work on technology and marketing, which started when she was on a Fulbright scholarship in Macau. During her travels, she noticed how much more she enjoyed moments that she took photos of her experiences. 
"It affected my memories afterwards, in terms of revisiting my photos, and I thought it was so interesting to see how a digital camera had the potential to change our lives," she said. "Technology changes the way we choose to engage with the world. Do I take a photo of this, or do I listen to the audio guide? That's a concrete decision that changes your experience. I love thinking about those things." 
So, too, do companies, especially as they develop a better appreciation for how to better use and monetize the attention of dedicated consumers who regularly log their behaviors. 
"I do see it as a win-win, because when consumers are engaging in logging and tracking, it's usually because when they're pushing themselves to accomplish something," Barasch said. "And for the companies, streaks get those consumers to come back, keep logging, keeping helping them do what they want to do—and that engagement means money for the business."
"On or Off Track: How (Broken) Streaks Affect Consumer Decisions" was published in the April 2023 edition of the Journal of Consumer Research. Jackie Silverman, an assistant professor at the University of Delaware, is a co-author.