Annual forum showcases state's strengths and predicts job growth will continue to outpace U.S. average. ​​
---
If the Business Research Division's 2022 economic preview was about putting the "fore!" in forecast, 2023 is a hopeful study in how Colorado's strengths can help it enjoy modest growth in the face of continued economic uncertainty.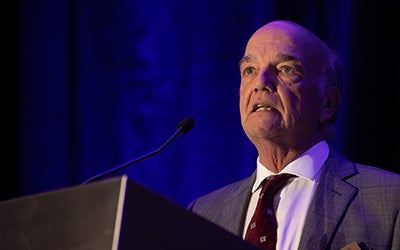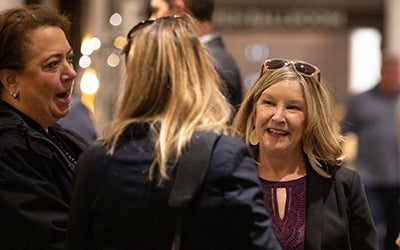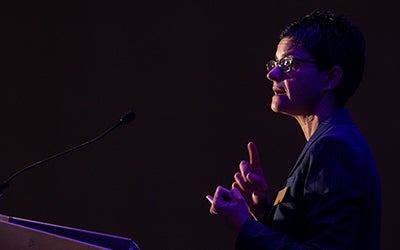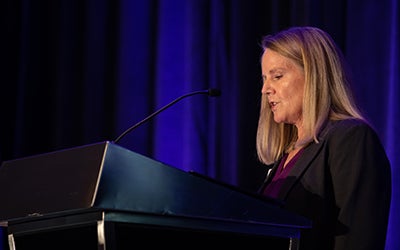 At the 2023 Business Economic Outlook Forum, the Business Research Division at the Leeds School of Business predicted 2 percent job growth for the upcoming year—comfortably besting the national average—with nine of Colorado's 11 industry categories expected to see growth. 
"Last year, we said Colorado would be somewhere between the 10th and 15th strongest economies in the country," said Richard Wobbekind, associate dean for business and government relations at Leeds and BRD faculty director. "If you put me on the spot, I'd say we'll be holding the same, in terms of overall economic performance, in 2023." 
The annual forecast is created by BRD and the State of Colorado with the assistance of 130 leaders in business, who provide detailed predictions on their industries to help industry and government plan for the near future. 
A few highlights from the forecast:
The story of the year was inflation. The story of next year will be—inflation. "But the high rate may have crested; we're seeing a slowing of price growth," Wobbekind said. And while Colorado's inflation tends to run higher than U.S. average, "we could lead the country on the downside, based on home prices moderating more quickly than national numbers." 
Speaking of home prices: Financial activities and construction are projected to lose jobs in 2023, principally because of rising interest rates as the Fed aims to curb inflation. Inflation, instability and other challenges have created increased volatility, which has eroded corporate earnings. Commercial and residential real estate are a big part of those challenges, as the housing market slows and companies remain slow to embrace fully in-person work, especially in the Denver metro area. That will continue to shift, Wobbekind said, as companies look for innovations that allow them to allow for more effective flexibility. 
"We don't think the future of office is all virtual," he said. "We don't think remote work is always productive. And there are some partners and spouses who wish their significant others spent less time at home."
Spending remains strong, though there are warning lights blinking on the dashboard, such as lower savings rates as prices rise and consumers maintain their current lifestyles.
"This is the reason we have such a slow forecast for GDP growth," Wobbekind said. "We just don't see how the consumer can continue to do this." Wobbekind said BRD's estimate of 0.6 percent GDP growth actually is optimistic among forecasters.

"Business people can lead in this era—and if you take this up, you are positioned to lead and prosper, because you bring assets to this challenge."
Professor Patricia Limerick
Demographics are posing interesting long-term challenges. The forecast was co-presented by Elizabeth Garner, state demographer, who noted 2021 offered the slowest population growth seen in three decades, though net migration and births are rebounding slightly. 
"Colorado is still one of the youngest states in the nation, but the 65-plus demographic is the fastest-growing age group in the state," she said. 
Construction is struggling when it comes to buildings—especially with the commercial and residential sectors softening—but infrastructure projects will fuel major gains, especially owing to the federal Infrastructure Investment and Jobs Act, an uptick in state spending on roads, bridges and utilities. Nonbuilding construction will spike to a $4.4 billion sector next year, a 10 percent gain on a record 2022, Garner said. 
Water, water anywhere?
The agriculture industry has a presence in every Colorado county, but it's relatively small in urban areas. However, the industry got outsized attention during the forecast. Wobbekind said the industry had a record year for prices in 2022, but also for expenses. The war in Ukraine and ongoing drought have furthered the volatility that has troubled this sector since 2020. 
Prime forecast
When you have a group of business professionals talking economic forecasting, it's hard to overshadow the foreshadowing.
But it's not impossible, and the buzz on everyone's lips was the Deion Sanders, announced as the Buffs' new head coach about a day before the forum kicked off.
"Ultimately, interest rates will be determined by the Fed, but the Prime rate is going to be determined in Boulder," Richard Wobbekind said.
"Coach Prime" also was name-checked by CU President Todd Saliman in his opening remarks, as well as Patricia Limerick during her introduction of the members of a panel on water, the economy and business.
"You can see, I had good luck there, I got my first-choice team," she said. "Which I guess has happened to the CU athletic program, as well."
Those themes carried over into a breakout panel discussion on drought and the economy, which made the case that business needs to become a leader in rethinking water use, in agriculture and beyond. The discussion quickly turned to how water is allocated, on farms and to cities, and how that needs to change in the face of intense drought. 
"There's going to be reallocations across these different sectors. It's not going to look pretty," said Robert Hobbins, a sustainability scientist and professor at CU Denver Business School. "But I think we're going have opportunities to do things in a more innovative and collaborative fashion" alongside industry.
A need for business to lead
In moderating the water panel discussion, Patricia Limerick, a history professor at CU Boulder, noted the last 150 years in the American West has been a time of improbable comfort in an unforgiving environment, thanks to engineering innovations.  
"There's plenty of evidence that era is winding down," she said. "Business people can lead in this era—and if you take this up, you are positioned to lead and prosper, because you bring assets to this challenge," including marketing and social norming tools, civic engagement and credibility, and so on.  
Water may not feel quite as urgent as inflation or supply chains, but in the forecast, Wobbekind noted that Colorado's municipalities are growing increasingly concerned about access to water. He noted that today, more than half of municipalities are at least slightly concerned about meeting water needs five years from now, "but that goes to almost 75 percent if you look 10 years out, and 80 percent if you look 20 years down the road." 
The forecast also included a keynote panel on emerging technologies—including quantum computing, aerospace and robotics—and their potential impacts on business, as well as industry breakouts on entrepreneurship and real estate and finance.