Experts from industry and academia came to Boulder for a conference assessing the challenges facing this discipline.​
---
Faculty teaching business analytics courses are responsible for teaching students the technical expertise and business depth needed to ensure they can become data analysts, scientists and engineers who can help their organizations seek competitive advantage while solving complex problems.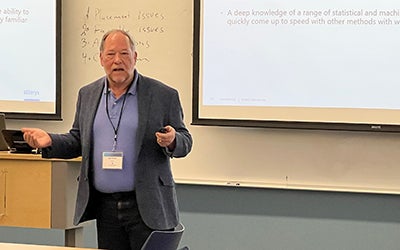 Turns out, those faculty have a lot to teach each other, as well. 
Representatives from nearly two dozen business analytics master's programs visited the Leeds School of Business at the University of Colorado Boulder for a conference designed to address some shared challenges and chart a course for what tomorrow's degrees might look like. 
"I think we facilitated some really good connections between program directors who are facing these problems head on," said Kai R. Larsen, faculty director of the master's program in business analytics at Leeds and organizer of the conference.
The list of challenges the attendees focused on was lengthy, and included questions such as how to manage limited resources in growing a small program, effective ways to involve alumni and engage industry to find meaningful capstone programs for students and, crucially, what to teach—finding the right balance of theory, coding skills, specific tools and languages, and business knowledge. 

"If you're not able to communicate your findings to the business users or management ... then where is the value add?"
Kashif Saeed, principal lecturer, University of North Texas College of Business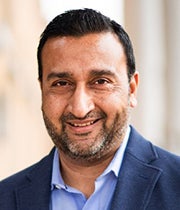 Unlike traditional academic conferences, Larsen had faculty work in groups to frame these challenges, then report back and kick off larger conversations about how they might be solved. That collaborative approach resonated with faculty like Kashif Saeed, principal lecturer in the Information Technology and Decision Sciences Department at the University of North Texas' College of Business. 
"At most conferences I've been to, about 80% of the time, you're listening to people presenting something," said Saeed, who took particular interest in how to future-proof business analytics programs. "Here, probably 80% of the time we were brainstorming together. Everybody brought their issues to the table, we all discussed them, and anybody who had suggestions was able to share their expertise with others."
Saeed's program is much larger than others—and previously, he ran an even larger program at the University of Texas Dallas—so his insights were valuable to other attendees. For instance, on capstones—a major point of discussion—he shared that he's shifted his focus toward internships, which offer industry engagement with fewer headaches for the school. 
"The end goal is to give students some exposure to the industry, and I feel like the experience they get through an internship is much more very valuable than what happens in the capstone project," he said. 
Experts from academia, but also industry
That exposure to industry was present in the conference, as well. In addition to a panel of invited industry guests, the event featured a keynote from Dan Putler, chief scientist at Alteryx, which sponsored the event alongside Leeds. 
Putler shared a seven-question approach that he said can help data analysts, scientists and engineers frame problems in ways that allow them to find workable solutions that meet business objectives. Analysts, he said, need to be able to answer questions about who the stakeholders are, what the specific business objective is and the exact information needed to inform the business decision. 
"The specific techniques or tools you're using don't show up until the end of the process," Putler said. "You need interviewing skills, business acumen, and how to find and use internal and third-party data resources."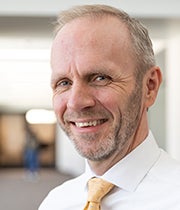 "It was interesting to hear a perspective of companies wanting employees who can interpret data, without necessarily going into high-end machine learning techniques," Larsen said. "When I talk with executives, they are always clear about wanting structured thinkers who understand business processes. However, their interview processes invariably test for technical skills such as Python or SQL literacy. So, it's interesting to consider how to balance that when designing these programs." 
At Leeds, all programs include a detailed emphasis on business skills as part of the school's Career Impact initiative. This is an important differentiator for Leeds students in its business analytics master's program, who graduate able to think critically about technology and are already well-versed in applying tools in practical ways that meet specific organizational objectives. 
Saeed, who has a long career in analytics in finance and health care, called himself "a techie at heart"—but he considers business savvy to be crucial to any program. 
"If you're not able to communicate your findings to the the business users or management, or if your analysis does not even address the problem that you were supposed to address, then where is the value add?" he said.
Why Leeds  Master's in Business Analytics  Leeds Grad Programs