'The Future Is Bright': Case Competition Gives Boulder Tech Company Valuable DEI Insights
You are here
Optera taps Leeds underclassmen in helping it attract and retain diverse talent as it grows.
---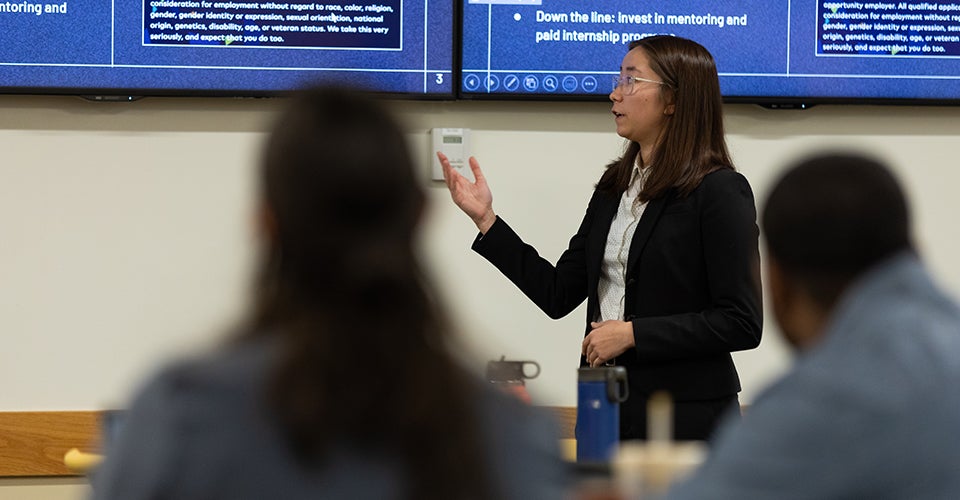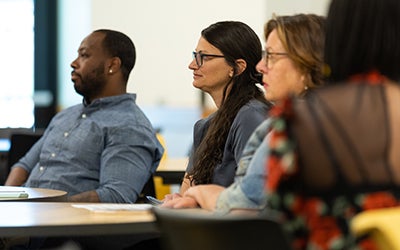 When it comes to diversity, equity and inclusion, it's easy to talk the talk. 
For Optera—a Boulder-based sustainability software company—talk isn't nearly enough. 
The growing business is interested in attracting and retaining diverse talent, along with measuring progress on its diversity initiatives and finding ways to track inclusion. To help get there, it turned to teams of undergraduates at the University of Colorado Boulder's Leeds School of Business. 
Four student teams completed in an extracurricular case competition for Optera after attending a series of workshops covering topics such as implicit bias, microaggression, sexism and racism. They then developed and pitched strategies to a panel of judges from Optera and Leeds. 
"There is such a huge value to us in listening to and learning from the students," said Nancy Schoemann (MBA'16), vice president of operations at Optera and a member of the judging panel. "These are individuals who are going to be entering the job market in a few years—they're looking at DEI from an angle we don't necessarily see. Getting their insight and perspective is so helpful to us as we decide where to focus our time and resources."
The winning team, consisting of Caroline Horn (Bus'25) and Grace Vaughn (Bus'24), drew praise for creating solutions designed with a small company like Optera in mind. Both have participated in case competitions before, "but working with a small company was a great experience," Horn said. "We were really challenged to fine-tune our recommendations to what they needed." 
For Vaughn—the lone sophomore to participate—past case competitions were hypothetical. "Being able to interact with a real company, to really research them and think about what they were doing to address these particular challenges, was so much more valuable to me," she said. 
A detailed set of recommendations
During their presentation, Horn and Vaughn walked the judges through an ambitious set of recommendations that touched on everything from better visibility of the company's commitment to DEI to restructuring its interview practices to avoid bias. They also spent considerable time walking through the feasibility of their plans—especially costs and time—against the potential risks, including drowning in survey data.
"You're a data company. You know how to do this," Vaughn said. 
Other teams also brought up the idea of surveys, often backed by incentives; cultural intelligence tests for employees; sponsoring internships and scholarships; and creating pathways for talented employees to move them up the ladder.
Kelvin Davis (CompSci'20), a software engineer at Optera, asked participating teams difficult questions, challenging the reliance on surveys to provide useful data and pushing teams to consider how they could be authentic in their approaches to DEI. 
"The future is bright," Davis said. "These are freshmen talking about some very difficult challenges we're all facing. They came up with a lot of great solutions that we can take home, discuss further and refine." 
The extracurricular project and case competition were led by Marcia Kwaramba and Stacey Edgar, both faculty in Leeds' social responsibility and sustainability area. The project, including prizes for the student teams, was supported by the Diversity and Inclusive Excellence Grant from CU's Office of Academic Affairs.
Why Leeds  Undergraduate Programs  Financial Aid and Scholarships