CDO Magazine names Leeds professor among the world's most influential academic leaders in analytics.
---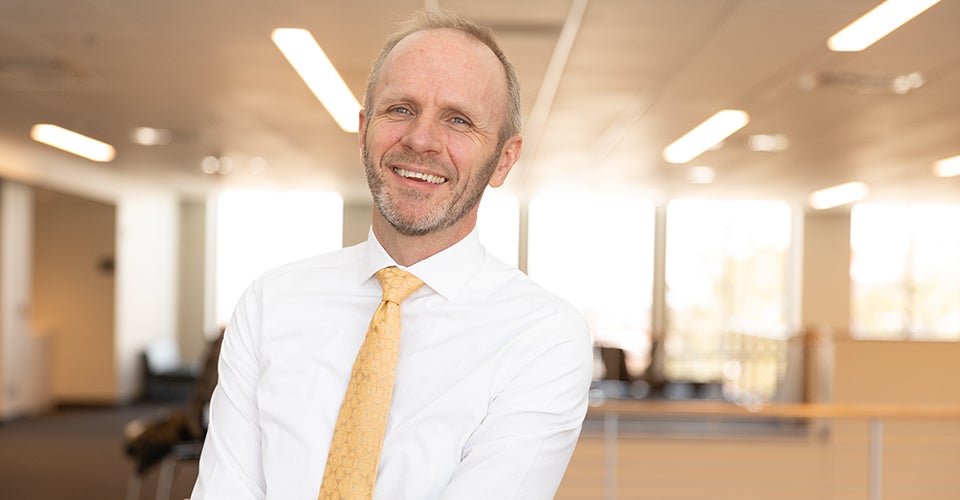 When we talk about the future of business analytics education, it's easy to focus on the speed technology brings to this space, and the reality that new tools, techniques and standards disrupt, then disappear, within months. 
Kai Larsen sees something else—a future where universities are no longer the primary drivers for preparing future generations of data analysts, scientists and engineers. 
Designing A Forward-Looking Master's Program
Leeds is hosting a two-day conference for business school faculty director of master's programs in data analytics. Participants will collaborate and share best practices on how to design cutting-edge programs and maintain innovation in this fast-moving space. The conference takes place May 16 and 17 on the CU Boulder campus.
Register here.
"We're living in a golden age of education in the analytics area right now," said Larsen, an associate professor of information systems at the University of Colorado Boulder's Leeds School of Business. "But it's also driving an existential threat to universities, as we make our educational materials more open and available online." 
The move to open-source learning is not limited to analytics, but as faculty director of the business analytics master's program at Leeds, Larsen has given this a lot of thought. His thought leadership here—in addition to his research in machine learning and natural language processing—is why he was recently named to CDO Magazine's list of the world's most influential academic leaders. 
And while he's modest about his inclusion on the list, he's also preparing to run a conference that will bring business schools together to share best practices in designing innovative programs in business analytics. 
"It's probably a bigger deal for me to be on that list than it is for some of these truly brilliant professors," he said. "But it's fun to see who else is trying to redesign education in analytics and data."
The conference, which takes place in May, is designed to share some of what Larsen has learned running a highly regarded master's in business analytics, while also stimulating conversation about what needs to be done to keep such programs on the cutting edge. It will offer a five-year outlook on where business analytics is headed.

"We have to start collaborating with other universities, to create the networks so we can supplement in-person offerings with online—and to figure out better ways of integrating those modes."
Kai Larsen, associate professor
"It's not clear that, in the future, universities will be the ones that have the advanced A.I. needed to piece together the perfect degree out of all the different open classes that exist in the world," he said. The pieces are increasingly there, he said, "for an Amazon-like company to come in and piece it all together. It is really all about credibility, and universities are transferring more and more of their credibility and knowledge to companies such as Coursera, Udacity and Udemy. 
"We have to start collaborating with other universities, to create the networks so we can supplement in-person offerings with online—and to figure out better ways of integrating those modes." 
Larsen said he's still a believer in universities because of their connections to the private sector and their research leadership, which keeps the focus on cutting-edge areas of need while helping prepare graduates for leadership roles in a workplace where data fluency is increasingly a requirement in every industry. And the stakes are clearly high: In a 2021 McKinsey survey, 85 percent of companies indicated they needed to build new digital businesses or better embed digital technologies into their existing business models. 
"There are a lot of people struggling every day to better understand this space—this has become a very complex world that we're living in," Larsen said. "Even with all this data, all this knowledge about analytics, all the options for algorithmic guidance, people still make the wrong decisions more often than not."
Bringing new perspectives back to Leeds
That's a humbling thought, but it's not unexpected from Larsen, especially as it relates to his work as an associate editor at MIS Quarterly, the most prestigious peer-reviewed journal in the information systems discipline. He said reading other researchers' insights can be an exercise in humility. 
"Any time I start reading a paper, I start with this enormous doubt about whether I'm going to be good enough to really understand it and supplement the oftentimes deep knowledge and brilliance of its authors," he said. "Luckily, most of the time, my understanding of the paper comes together after a few pages. While I hope I'm always able to help the authors create a better knowledge product, most papers can't be transformed into a contribution at the level of a journal like MISQ. So the job provides a lot of humility because I know how devastating every rejection can be, and there are simply no words I can write in my report to take the sting out of that."
"And at the same time, I hope I bring some of that learning back to my educational endeavors in thinking about new directions and collaborators as we continue to grow the business analytics program."