Leeds Business Insights offers actionable takeaways on current topics like supply chains, digital transformation and DEI.
---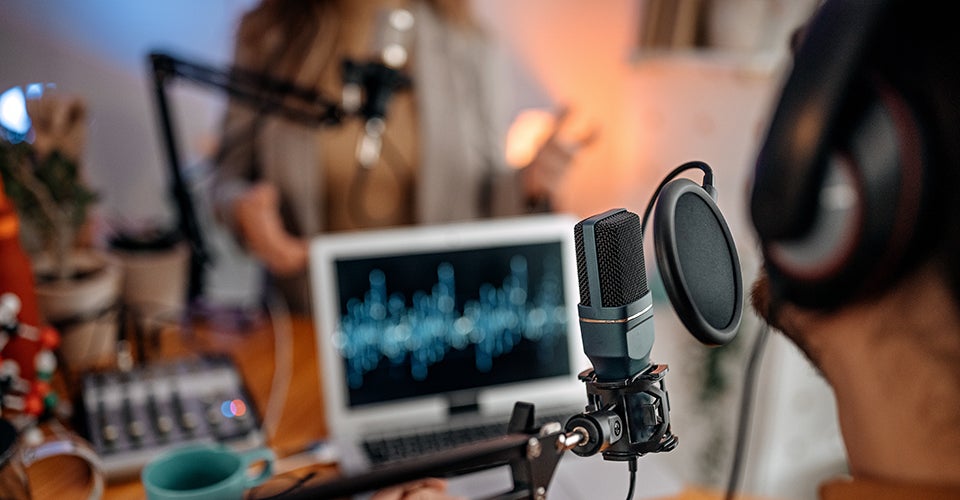 What do a Disney Resorts executive, a Lionsgate president, a successful entrepreneur and a Barnes & Noble chairman have in common?
If you guessed that they're all alumni from the Leeds School of Business at the University of Colorado Boulder, you only get partial credit. These four leaders are sharing insights from their careers and exploring paths forward as guests on the inaugural season of Leeds Business Insights, a new podcast that launches Feb. 9.
The podcast series features interviews with alumni in the business community as well as faculty publishing current research, with each episode offering an applicable takeaway for professionals confronting constant change in the workplace. 
While Leeds Business Insights will be available to the general public, it was designed specifically with Leeds' more than 40,000 global alumni in mind, Dean Sharon Matusik said. 
 
"A college education provides the opportunity to learn not just from professors, but also from peers and industry leaders," Matusik said. "By drawing on the experiences of our alumni—as well as our faculty—we continue to offer uniquely valuable educational opportunities for our listeners that transcends the traditional classroom. 
"We strive to be a source of inspiration and knowledge long after someone graduates, and hope these offerings contribute to the knowledge of our alumni and friends in a way that helps them navigate the ceaseless change around them."
Leeds Business Insights is the latest Leeds podcast, joining a lineup that includes Creative Distillation, which offers critical perspectives on entrepreneurship research at various breweries and distilleries around Colorado, and the just launched CUREC Real Estate Center Podcast.
Some highlights from the forthcoming season of Leeds Business Insights will include: 
Clark Jones (Bus'91). The travel and tourism industry was hit especially hard by quarantine and social distancing orders. Jones, a senior vice president at Disneyland, describes how the company confronted COVID, keeping bottom lines strong while creating unforgettable experiences for customers. 
Jane Miller. A mentor and Leeds board member, Miller has extensive leadership experience, having prepared Lily's Sweets for its sale to Hershey before her current endeavor, as co-founder of Haevn. She discusses the role her professional failures played in achieving success, both as a CEO and an entrepreneur. 
Sabrina Volpone. A prolific researcher in the diversity, equity and inclusion space, Volpone shares some of her insights on what DEI looks like on the individual level and how that influences the success of teams. 
Mike Huseby (Bus'76). The chairman and CEO of Barnes & Noble Education talks about digital transformation and how to keep a business on the cutting edge in times of great disruption.