Experts offer bullish outlook for Colorado's economy, but warn of significant, and continued, uncertainties ahead​.
---
If you were hoping the nation's supply-chain struggles and labor shortages would resolve themselves after the busy holiday season, you may want to think again. 
That was the theme of panel discussions at the annual Colorado Business Economic Outlook Forum on Dec. 6, which featured industry experts in manufacturing, real estate, agriculture, life sciences and other disciplines. Even the most optimistic experts said a return to normalcy isn't likely until late 2022. 
"We have solutions, but not quick fixes," said Christy Hynes, a vice president with Ball Corp. "Every solution will take at least a year before we start seeing results." 
Speakers pointed out that vulnerabilities in the global supply chain are features, not bugs, as they are part of a 30-plus-year strategy focused on "just-in-time" availability and minimal production and labor costs. The pandemic merely exposed many holes all at once, and forced businesses to get creative about meeting customer demand. 
Can-do attitude
For instance, all those cans of hard seltzer you drank to cope with being quarantined? Ball had to scramble to get materials from suppliers to make them. 
"We're the world's largest can makers, so we could afford to say, 'They'll sell to us no matter what,'" Hynes said. "Now, we have to be their customer of choice. We have to redefine how we treat and value them." 
For Ball, part of the solution was helping its suppliers build out their own backup plans to help them weather the storm while using that collaboration to build stronger relationships. Johns Manville Corp. also put renewed focus on customer relationships, said Kath Vigars, a vice president with the manufacturer. 
"We're communicating early and often, with a lot of transparency about needs versus nice-to-haves," Vigars said. "We need to know what's going to a building, or a roof or commercial job, versus just inventory." 
That's because Johns Manville, like other manufacturers, is seeing customers place the same order with multiple companies, which puts added stresses on suppliers for orders that ultimately are canceled.
"We're working hard to fulfill these orders, and when it gets canceled … you have no idea how disruptive that can be," Vigars said. "Especially when you're fighting fires every day to make sure our customers get the materials they're asking for and desperately need."
'It's hard to find talented people'
Other, broader solutions involve taking a harder look at what real estate panelists called "reshoring," or stepping back from offshoring production to faraway markets, as well as how to fix labor shortages. Tommy Dirks, a senior vice president at Trammell Crow, called labor the biggest challenge for the real estate industry. 
"It's hard to find talented people now," Dirks said. "I'd be feeling pretty good if I was a student interested in getting into real estate—because I graduated from CU at the other end of the spectrum, back in 2008, and it was a much different story."
The forum also included a panel session on entrepreneurship as an economic driver, especially in Colorado, along with a highly detailed forecast by Richard Wobbekind, faculty director of the Business Research Division at Leeds, and Elizabeth Garner, state demographer for Colorado. The forecast, which was prepared with the help of 130 business leaders across industries, was generally hopeful, with employment growth predicted for each of the state's 13 categories, and a gain of nearly 74,000 jobs, in 2022. 

"(Colorado is) outperforming the nation, but slower than the top states."
Richard Wobbekind, faculty director, Leeds Business Research Division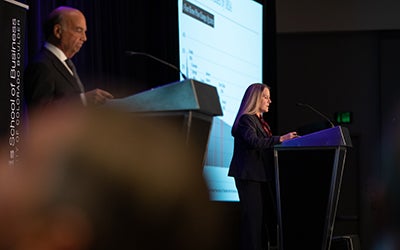 But there are warning lights blinking on the dashboard, from new COVID variants and inflation to continued supply-chain woes and—especially in recreation and farming—drought. 
"Since the recovery from the last recession, we have consistently and constantly been a top 5 to top 10 economy," Wobbekind said. "I personally do not believe the forecast we're presenting here today would keep us in a top 10 position, more like a top 15 position—outperforming the nation, but slower than the top states."
The Colorado Business Economic Outlook Forum is an annual forecast of the Leeds School of Business and its Business Research Division. For the first time, the event was presented in person at the Grand Hyatt Denver and also livestreamed; about 800 professionals registered to attend the 2022 forecast. 
Download the report  Watch the forecast  Business Research Division