Founders, Keepers: Leeds Research May Help Developing Countries Attract and Nurture Startups
You are here
New findings aim to empower entrepreneurs in becoming engines for emerging ecomonies.
---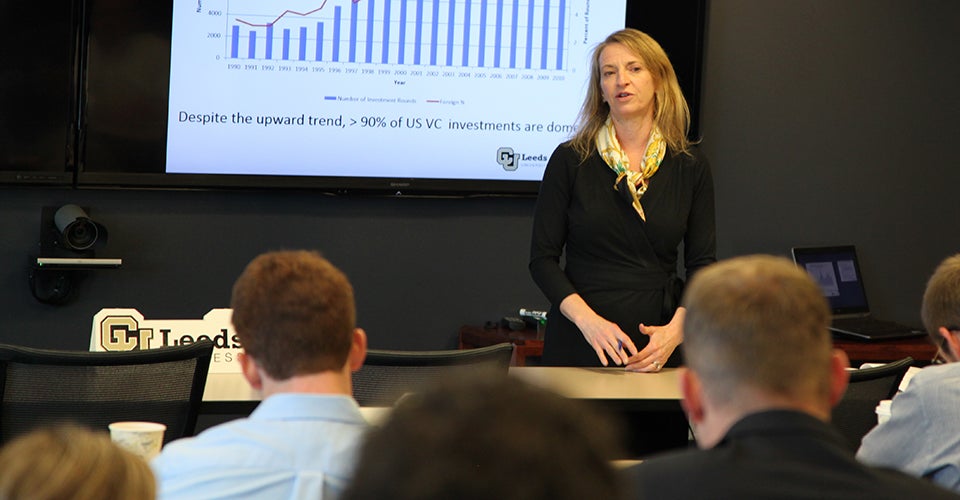 Entrepreneurs can be a very valuable asset for emerging economies striving to generate economic development, which is why many countries are interested in creating programs and entrepreneurial ecosystems to attract these individuals and their firms.
But courting founders can be an expensive and tricky enterprise. How can policymakers effectively attract and nurture entrepreneurs in ways that help their firms grow and thrive? 
New research from the Leeds School of Business at University of Colorado Boulder is challenging conventions about how to best encourage innovation. This work, which was published in the Global Strategy Journal, indicates that the biggest return may come from recruiting founders from less-developed countries. 
"It's a common assumption that firms globalizing from more developed economies—like the United States—into less-developed ones may bring greater benefits," said Leeds Dean Sharon Matusik, a co-author of the paper. "In fact, our findings suggest that attracting entrepreneurs from countries with less-developed institutions may yield the most positive results, in terms of nurturing companies that are more likely to succeed."
Dean Matusik's paper, "Location Capabilities, Institutional Distance and Startup Survival," was written alongside professors Carla Bustamante and Jose Miguel Benavente, both of the Universidad Adolfo Ibáñez. The researchers' findings were based on a dataset of startups from 65 countries that went through Start-Up Chile, a well-known accelerator based in Santiago that opened its doors in 2010. 
A leader in encouraging entrepreneurship
"Chile is an especially interesting context in which to study these issues, because the government has been working hard for decades to encourage more entrepreneurial activity, with limited success," Dean Matusik said. "Start-Up Chile is one of the programs that has been making a difference by reshaping norms around entrepreneurship in the country." 
The paper's findings are important because of how intensely governments and regions, especially in emerging economies, are focused on stimulating entrepreneurship to grow their economies.  
"We aim to create insights that help countries and regions encourage entrepreneurial success through activities that recognize the important differences in institutional contexts among nations," Dean Matusik said. For emerging economies, entrepreneurship is perceived as an important mechanism in driving economic development, especially in countries looking to diversify their economic activity into innovation and technology sectors, and away from natural resource extraction or low-cost labor. 
It's difficult to find the time to publish thought-provoking research while leading an ambitious business school, but Dean Matusik takes seriously the relationship between Leeds and Boulder's dynamic, business community—known around the world as a hub for startups, especially in tech, and home to a growing community of venture capitalists.
"This research underscores the deep investments Leeds has made in generating foundational academic research in entrepreneurship that has implications for economic development around the globe," Dean Matusik said. "This paper is an illustration of that—its findings not only can help entrepreneurs thinking about location choices and activities around the globe, in addition to offering important policy implications for those making decisions about how to stimulate entrepreneurial activity in order to create more high-value jobs."