Leeds Mourns 'Passionate Educator, Mentor and Thinker' Who Broke New Ground in Business Ethics
You are here
Students, faculty, staff recall a tireless mentor who was a global authority on sustainability.
---
When Prof. Jeff York thinks about his colleague, Mark Meaney, he remembers someone whose experiences and perspective gave him a kind of foresight into the next big things in business. 
"He wasn't someone who glibly talked about the latest trends in corporate social responsibility or ESG funds," Prof. York said. "Sustainability was Mark's interest his whole life, and he thought very deeply about what it meant to be an ethical person in a business setting." 
The sudden passing of Prof. Meaney, a scholar in residence at the University of Colorado Boulder's Leeds School of Business, has left students and colleagues mourning the loss of someone who brought an indispensable perspective to a business world that is starting to better connect the dots in understanding sustainability as a force for good in business.  
Able to see the connections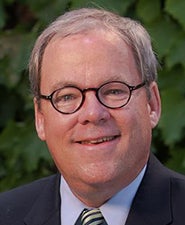 "Mark was interested in business, but he was interested in sustainability, he had a global perspective, he had an inclusive perspective and he was a gifted philosopher," said Russell Cropanzano, a professor of organizational behavior at Leeds. "When I say all those things, it sounds so scattered. But Mark was the rare person who saw the connections between those interests, and they all fit together in his larger vision for a better world."
A former director of the Center for Ethics and Social Responsibility, Prof. Meaney's scholastic contributions to Leeds were important, but so were the relationships he brought to the business school. Most notably, he held an appointment with the United Nations, serving on the international advisory council of its Principles for Responsible Management Education; he also was North American chairperson of UN PRME and was an authority on the UN's Sustainable Development Goals. Closer to home, he served on Colorado Gov. Jared Polis' COVID-19 vaccine panel, providing input on how to ethically administer vaccines to at-risk populations. 

"We've heard from so many alumni about how he mentored them and helped them find amazing opportunities in sustainability—through his classes and the connections he helped them make."
Julie Waggoner, interim director, CESR
"Mark challenged everyone he interacted with to embed ethical behavior and sustainability throughout all we do in business, and also to be creative in seeing the world not as it is, but how it could be," said Sharon Matusik, dean of the Leeds School of Business. "The Leeds community has lost a passionate educator, mentor and thinker, as well as a friend who cared deeply about others—most especially our Leeds students."
His UN work opened doors not just for his research, but for his students. Molly MacEachen Bus'21, a consultant for the UN Global Compact, first started working with the organization as an intern following an invitation from Prof. Meaney to get involved on a project. 
"When Professor Meaney brought me to the UN, I didn't know that I could do this work," MacEachen said. "He believed in me before I believed in me, and I think that's something a lot of students would say about him." 
His passion for helping students was something Julie Waggoner saw up close—they worked in neighboring offices in the Koelbel Building.  
"He was so dedicated to Leeds students," said Waggoner, interim CESR director. "We've heard from so many alumni about how he mentored them and helped them find amazing opportunities in sustainability—through his classes and the connections he helped them make."
'Lifeline to the UN'
Prof. York called Prof. Meaney "our lifeline to the UN" and the many connections that relationship created for students and researchers. He shared a story of going to a conference on the UN's Sustainable Development Goals, and being surprised to find he'd be on a panel with his colleague. 
"They told me, 'We had to have Mark on this, he's a global authority on the SDGs,'" Prof. York said. "It's comforting to see people from around the globe sending their condolences, because Mark was truly a citizen of the world." 
Prof. Meaney's latest interest was fitting for a world citizen—sustainability in space. He was starting to create the Space & Sustainability Initiative, to study the ethical questions that could teach us to be responsible actors in space. 
MacEachen, who was involved in SSI early on, said the work will go on, including a planned conference in October. 
"In 2030, when we better understand the orbital debris problem, people will ask why we weren't talking about this 10 years ago," she said. "In fact, 2020 is when SSI started, and in the two years leading up to that, Mark was figuring out how to start it and how to guide people, especially students, toward seeking answers. That was Mark's passion—it was always with a focus on students, and how to develop young people to become professionals who thought about these big challenges in responsibility and sustainability."