Organizational culture during a pandemic at heart of live case competition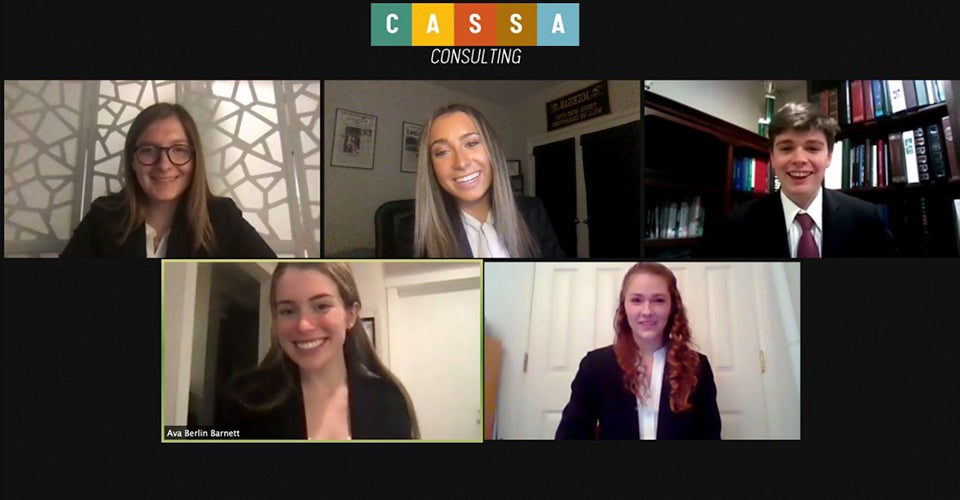 Communicating your organizational culture to your customers is tough any time, but doing it during a pandemic?
Yet that was the communication challenge faced by about 120 undergraduate student teams enrolled in Leeds' Communication Strategy class this past semester.
The business in question was the local restaurant chain Illegal Pete's, and its fun-loving, live-music, "the more the merrier" culture couldn't possibly be less COVID-amenable.
Pete Turner, the founder and owner of Illegal Pete's, is a CU Boulder alum; he and his management team ranked the top three teams by watching their 15-minute recorded video presentations and engaging the teams during a live question-and-answer session.
Team CASSA consulting, consisting  of five freshman students, took first place and a check for $300 each. Erin Lionberger was the students' professor.
"I'm inspired by and grateful for the level of thought and commitment your students brought to this challenge," said Turner.
Some of the many creative ideas proposed by the top teams included these: a TikTok campaign; a new virtual interface; a college ambassadorship program; a virtual music event series; a new low-cost entree coupled with focus on addressing food insecurity among college students and others; and a rewards program.
One team even filmed a series of TikTok ads, one of which featured the Buff football team tossing and eating a burrito!
All the participating students said they were inspired by the chance to help an actual local business--one that many of them patronize—solve an actual business problem, all while practicing vital communication skills.

"Working on this challenge--especially as a freshman--was an amazing experience!"
said Ava Barnett of the winning team.
"We learned so much through this experience--not just about communication, but about collaboration and leadership," noted Barnett's teammate Shayna Kliger.
A 2020 Duarte.com study on top soft skills noted that 68% of learning and development professionals identified communication skills as more important than ever in light of the pandemic.
The Final Challenge has been the signature event for the Communication Strategy course since the course's inception in 2015. Business communication faculty partner with local businesses to offer a live case experience to its students.
"I'm sure you will see their ideas come to life at Illegal Pete's in the near future!" said Turner. "Props to you and your team for the positive and professional impact you are having on your students during a challenging time."
The 1st place team consisted of Charlie Wells, Ali Kaiser, Sophia Nimsger, Shayna Kliger, and Ava Barnett.