How a Leeds Master's in Finance prepares you for a career in finance.
Want to discover which investment management jobs you could land with a Master's in Finance? Here we share resources to help steer your career in finance—and help you discover which educational path might work for you.  Plus, see how to refine the job search process so it matches your career and educational goals.
1. Investment Management and Other Career Opportunities in Finance.
When it comes to a finance career, investment management jobs grab all the attention. We can thank Hollywood for adding so much flavor to the ordinary lives of stockbrokers and portfolio managers. But the allure doesn't stop there, especially when investment management leaders rise to the top and claim prestigious corner office job titles like Chief Executive Officer and Chief Financial Officer. [Source: OpsDog]
No doubt, investment management jobs are popular, but that's just the tip of the iceberg. At Leeds School of Business, we offer two tracks in our Master's in Finance program—investment management and corporate finance and consulting. We encourage you to explore our curriculum page to compare both tracks.
Taking the corporate finance track offers an extensive variety of jobs that you may not have even considered. Take the non-profit sector and its reliance on financial planning and portfolio management—to roles in real estate finance, insurance, and venture capital, to lucrative careers in FinTech or international investment management & advisory.
Bottom line. The finance profession offers plenty of rewarding career options across many industry segments and with opportunities located throughout the world. [Source: CFI]
2. Sample job titles with a Master's in Finance
To save time during a job search, it helps to know which job titles recruiters post when looking for candidates with a Master's in Finance. These include jobs at banks, corporations and institutions. Here's a shortlist of job titles that match the career path of graduates with advanced finance degrees like a Master's in Finance.
Investment Banker
Equity Research Associate
Private Wealth Management
Credit Analyst
Financial Analyst
Senior Loan Officer
Financial Planner
Equity Research Associate
Analyst/Manager – Corporate FP&A
[Source: CFI and CU Career Fact Sheet]
3. Resources to prepare you for a career in finance
When comparing different graduate programs, you might wonder how well Leeds prepares its students for the real world.  From the beginning, we immerse students into cutting edge technologies and systems used by today's finance professionals.
The University of Colorado's Burridge Center for Finance is one of our Finance Department's greatest assets. That's because it connects students to our partners who are industry leaders in finance. 
Beacon's Integrated Development Environment
Bloomberg Lab
Students use these connections to build relationships while gaining valuable hands-on experience. Partnerships like this set our curriculum apart from other university finance master's programs in the United States. 
It's critical that graduate students learn valuable problem-solving skills they can bring into their next job. That's why Leeds lets students put their hands on powerful technology platforms like Beacon's Integrated Development Environment--a web-based resource for developers to build, test and deploy applications and analytics. Technology like this prepares people called to FinTech and analytics roles.[EO3] 
Leeds also provides students with access to Bloomberg Professional Services which includes the Bloomberg Lab. Here students learn about the inner workings of Bloomberg with access to Bloomberg Terminal. This is your gateway into a curriculum that teaches you how financial markets operate in real time. These innovative trading tools are used by today's  finance professionals—and students at Leeds. Plus, you will gain access to proprietary data and breaking financial news that guides successful decision making on the job.
Leeds offers Bloomberg Market Concepts (BMC), a course that prepares students to use over 70 features in the Bloomberg Terminal. Upon completion, students receive Bloomberg Certification credentials, a valuable asset for ambitious finance professionals. Why? Because it shows your demonstrated knowledge.
Take a look at our BMC offering to gain more insight on the many ways Leeds prepares you for an enduring yet rewarding profession in finance.
4. Job search timeline
HR Departments start recruiting job candidates as early as August. For this reason, it's a good idea to schedule an appointment with your Graduate Career Management advisor around the time orientation ends. Use this time to discuss job search strategies and build an individualized timeline to land your dream job.
Want to learn more about the Leeds School of Business MS in Finance and discover how we set graduates up for career success?
Alumni Success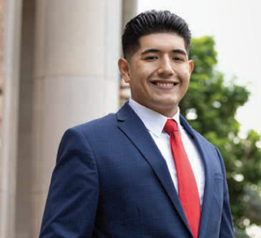 Arthur Padilla (MSFin'21)
Debt Management Analyst, Chatham Financial
"I'm inspired by the ever-changing nature of business."
Arthur received his MS in finance because he likes to create forecasting models that predict business success. He also uses data modeling software to identify areas for improvement. Arthur believes that companies with diverse teams perform much better. "I hope we will all be moved to fight for racial equity in our personal, professional and political lives," he said.