From Leeds to Lockheed: How one student is advancing her career through the Evening MBA program
You are here
Committed to getting the most out of her MBA experience, Corina Cuevas is bringing classroom concepts into her role at Lockheed Martin Space.​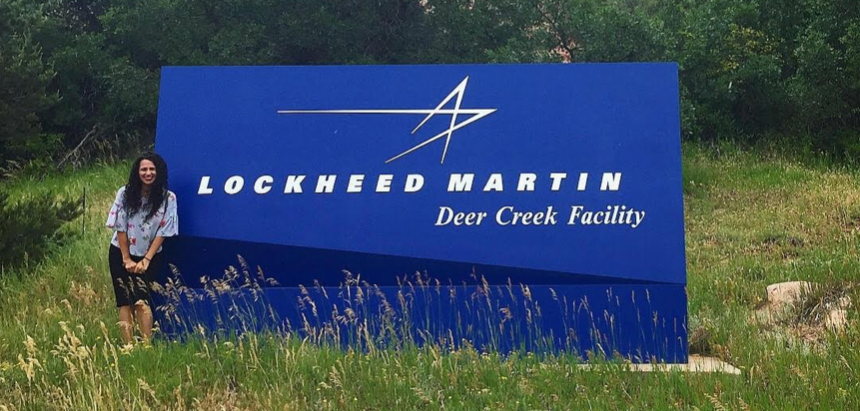 In less than one year as a graduate student, Corina Cuevas has already managed to discover new areas of professional interest and implement innovative projects at her work. Her curiosity, ambitious attitude and supportive network have enabled a symbiotic relationship to exist between her two worlds at Leeds and Lockheed Martin. 
From deciding on a master's program to balancing student and professional responsibilities, Cuevas shared insights on her experiences thus far and advice for current and prospective Evening MBA students.
Choosing the right MBA program
While earning an MBA had always been on her professional bucket list, it wasn't until Cuevas had an encouraging discussion with a mentor at work that she began to look at program options. Her desire to continue getting work experience while earning her degree meant an MBA for working professionals was the best option. 
"I wanted to choose a program that would be rigorous and challenging, but that would also help me to network," said Cuevas. "I know that networking is one of the biggest values that you can get out of your master's experience. I also loved that the professors at Leeds had real-world experience, and I wanted to be able to capitalize on their business acumen that they had from being in industry." 
The ability to learn in person, rather than online, was an important component to Cuevas when choosing an MBA program, and she has since found it to be one of the most rewarding elements of her graduate experience. 
"I think being able to meet people, learn from them, and partner with others' strengths has been really helpful. I've learned so much from networking with the people around me."
Partnering professional responsibilities with MBA teachings
Upon starting her graduate experience, Cuevas knew that her dual roles as student and professional would lend her extra learning opportunities and real-world insights. Currently a Talent and Organizational Development Consultant at Lockheed Martin Space, she's bringing her new classroom knowledge into the workplace. 
"I really wanted to discover how Lockheed uses the concepts that I was learning," shared Cuevas. "My biggest goal is to increase my business acumen."
One way Cuevas is accomplishing this is through stretch assignments in her workplace. In addition to her daily HR and consultant work, she looks for other areas of interest where she can apply what she's learning at Leeds and gain business knowledge from different capacities within Lockheed. These stretch assignments might last a couple of months and allow Cuevas to partner with and learn from other teams at the company, as well as to possibly provide value to those teams by sharing what she's learning in the Evening MBA program.  
 
"It's so different learning while you're working and being able to apply it, versus just learning without simultaneously working. In my undergrad at BYU Marriott, I learned some of these concepts but didn't really understand how it was useful. Now that I'm in the business world, I can really see how these concepts can be useful and it's shifting so many paradigms that I had."
Lockheed's supportive leadership
Getting the most out of her MBA experience would not be possible without the support of her leaders and colleagues at Lockheed, who have been nothing but encouraging of Cuevas' stretch assignments and of her ambition to learn in areas outside of her day-to-day responsibilities. 
"If I find an area that interests me, my leadership is completely supportive of me doing a stretch assignment in that area and partnering with other teams that might not directly benefit my team," said Cuevas. "That's been a real blessing that I've had from my organization. They want me to get an MBA and I do too." 
With an expected graduation date of May 2023, Cuevas is just in her second semester but has already begun implementing impactful projects at the company and finding surprising new areas of interest to her.
New data discoveries and internal partnerships
While statistics was never an area of passion for Cuevas in her undergrad, her experience with the subject at Leeds has been entirely different. Thanks to Leeds Professor Lori Seward and the relatable course content, Cuevas felt energized by her Quantitative Methods class and began connecting the teachings to real-life situations at her work. 
"So far, this course has helped me grow the most as a professional," shared Cuevas. "It's just opened up a different world for me that I never anticipated exploring."  
She asked people outside of her team at work how they use some of the class concepts, such as hypothesis testing, and was soon directed to the company's People Analytics and Technology team. Through this new internal partnership, Cuevas is learning more about the tools and platforms the company uses and the teams have started combining data in new ways. 
Thus far, their findings have shown a strong correlation between the company's talent management data and their attrition and burnout data. These data discoveries can show leadership if there is a high ROI or significant value from combining data in these different ways and can also shape future projects or decisions related to the findings. 
"We're excited about it and to get more data," said Cuevas. "I think many people don't consider HR to be very data focused. It's exciting to be able to show them from a talent management perspective just how data oriented it can be, and how we can see that it has strong correlations with different items based on the statistical analysis that I've been able to learn and apply from this class."
An education for a higher purpose
For her electives courses that she'll take later in her graduate journey, Cuevas plans to choose classes that will help prepare her for her long-term goal: serving in an executive leadership role. As a first-generation high school, college and MBA student in her family, she feels a calling to serve in a position that will enable her to give back and help others.
"When I grew up in the suburbs of Chicago, my parents saved up every penny that they could in order to get my sisters and I into a slightly different zip code so we could go to a different school district … I know that's not the case for everyone and that a lot of people get stuck in neighborhoods with minimal educational funding." 
Hoping to eventually be in executive leadership, Cuevas wants to use her skills to serve on nonprofit boards that she feels passionately about. It's an impact she wants to have that stems from her upbringing and she's grateful to her parents, who both immigrated from Mexico, for all of the sacrifices they made to help her get here. 
"I think executive leadership is going to give me the skills that I need to be able to serve really effectively and make a strong impact that way."
Balancing roles and responsibilities
Managing a dual schedule of full-time work and graduate classes is no simple feat. From her professional to her personal life, Cuevas has had a support system encouraging her endeavors. 
Her husband in particular has played a significant role in her current success with balancing work, school and life responsibilities. While she admits that commuting twice a week for classes took a toll at first and she initially struggled to find balance, she's gotten better at taking time for her mental and physical health and for her spirituality amongst her work and school responsibilities. 
"My husband has been so instrumental in helping me to stay sane and to figure it all out."
Advice for fellow MBA students
When asked what her biggest piece of advice would be for current and prospective Evening MBA students, Cuevas had one piece of wisdom that perfectly reflects her ambitious attitude and her Leeds–Lockheed relationship: 
"Your experience will be what you want to make it," said Cuevas. "You can get the most value out of your MBA as a working professional by trying to find ways to apply the content to your job as you are learning and working."
Learn more about the Leeds Evening MBA Program and how you can advance your career through this focused pathway designed specifically for working professionals.