The MBA program offers sustainability-focused electives for MBA students. As part of one of these classes, students set up tours with local businesses to learn more about sustainability in action. One of these treks was to JBS USA's headquarters in Greeley, CO. JBS USA is a worldwide leader in animal protein production, and the majority shareholder in Pilgrim's Pride Corporation, the second largest poultry company in the USA. JBS has customers in more than 105 countries on six continents and employs over 78,000 team members. 
Caleb Garrison, MBA 2018 classmate, helped set up our meeting with the team at JBS USA. We started our conversation with Kim Stackhouse, Director of Sustainability. She reviewed the highlights of JBS's just-released sustainability report for 2017. JBS defines sustainability as "responsibly meeting the needs of the present while improving the ability of future generations to responsibly meet their own needs." They focus on three traditional pillars: social responsibility, economic viability, and environmental stewardship.
JBS defined and benchmarked 30 key performance indicators across more than 60 facilities, set improvement goals, and aggregated these goals to create JBS USA consolidated 2020 goals, below: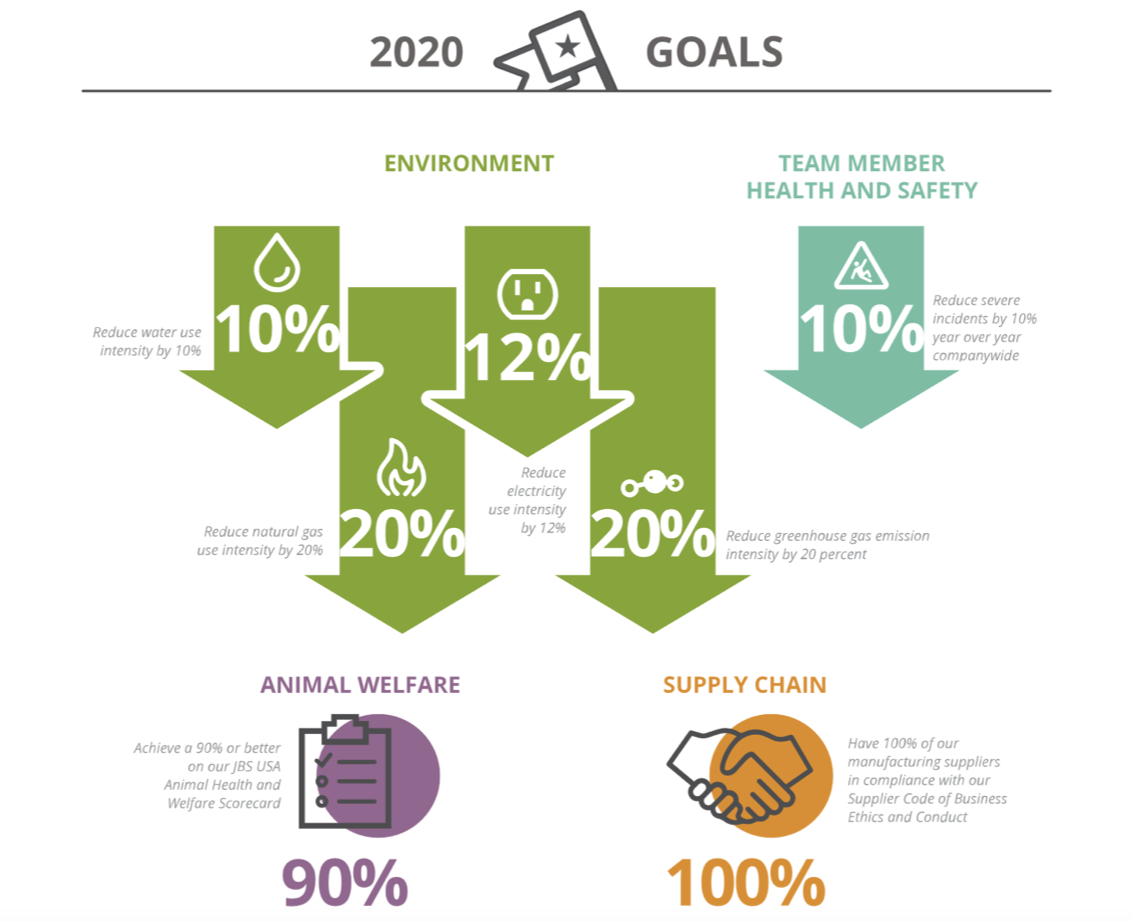 One statistic that really stuck out to me was how much impact JBS has already had in one year of reporting—they achieved a 6% reduction in water use intensity from 2016 to 2017! When you do the math across all of JBS USA's operations, this is a huge savings.
JBS is implementing change within the business in several ways. Mark Ritsema, Environmental Director of JBS USA Fed Beef, talked about how they executed capital improvements to contribute to the water savings. Upgrading, redesigning, or replacing equipment can reduce water and/or electricity use; these efficiency increases are positive for both the environment and the P&L. Last year, they redesigned a particular plant process to achieve a significant reduction in water use. Another way of enacting change is focusing on people's behaviors; JBS invested more than 93,000 hours of training in their workforce last year.
Next, we heard from Sherri Jenkins, Head of Technical Services, Regional Beef. She discussed how they are shifting culture to make food safety and animal welfare top of mind. We had a really interesting discussion about Temple Grandin, an animal science professor at CSU, livestock industry consultant (including JBS!) on animal behavior, and autism spokesperson. The company is committed to their animal welfare programs and utilize a robust auditing system to closely monitor every step of the process.
Lisa Burdick, head of Human Resources at Pilgrim's, spoke with our group next. Acquired by JBS in 2009, Pilgrim's is the second largest poultry producer in the country and has an impressive safety culture—for them, safety is a non-negotiable.
Last, we had the opportunity to talk with Jayson Penn, head of Pilgrim's Pride US. He offered valuable advice about company culture and how Pilgrim's has developed to where they are today.  He discussed the leadership strategy, which prioritizes Vision as #1 and Culture as #2.  Pilgrim's puts their people first; this is paying off in terms of business profitability. 
We learned so much from our visit to JBS headquarters and are so grateful for their time and insights!