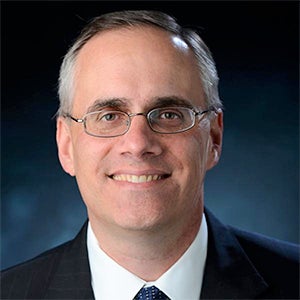 Meet Professor Jeffrey Reuer, Guggenheim Endowed Chair of Strategy, Entrepreneurship and Operations and member of the Executive MBA faculty at the Leeds School of Business.
Professor Reuer teaches courses in strategy for the Executive MBA program and has served as an Associate Editor for the Strategic Management Journal and as a Consulting Editor for the Journal of International Business Studies.
He is a founding Editor in Chief of the Strategic Management Review.  He recently co-edited a special issue of the Strategic Management Journal on the interplay between competition and cooperation, as well as a special issue of Strategy Science on strategic decisions and the integration of strategic management research. He has been a member of the editorial boards of seventeen journals and has received five best reviewer awards. He has served on the Board of Directors of the Strategic Management Society (SMS). He has also served as chair of the nomination and selection committee of the Fellows of the SMS, Chief Grants Officer of the Strategy Research Foundation, co-founder of the Cooperative Strategies Interest Group, and program chair of two SMS conferences. He is a Past Chair of the Strategic Management Division of the Academy of Management and has also served on that organization's Executive Committee and Research Committee.
Watch Professor Reuer's Executive MBA welcome video below.
Meet more of Leeds' Executive MBA program faculty here.
---
Welcome to the Executive MBA Video Transcript:
So welcome to the strategy class.
My name is Jeff writer, and I'm a professor of strategy. I've been a professor for over 20 years. And my particular area of expertise is alliances and acquisitions.
I've done a lot of work on deal structures and governance. But I've also done a lot of general strategy, consulting and executive around the world and look forward to working with you during this course.
So in this welcome message, I thought I'd start off by just talking about why I love strategy. And the answer is pretty simple. And that is I've worked with 1000s of students over the years to help them make this transition from some functional or technical specialty into general management. And if you think about it a second, those are totally different animals. So if you're a marketing specialist, or if you're an engineer, often the problems that you encounter are well specified or bounded.
You know, what the alternatives are, you know, what criteria to use? And you'll use some sort of analysis or maybe math to come up with the right answer.
Well, in strategy and management, often, you don't even know what the problem is to begin with, that needs to be framed up in the right way. You might not know what the criteria are, or the alternatives, even if you know what the problem might be. And so what you're going to see is that strategic decisions involve fundamentally different characteristics.
So I've boiled them down to three, there's strong interdependence across the different decisions in a company. Second, there's interdependence with a competitor, the decisions that you make might make could affect or be affected by those of arrival. And finally, there's interdependence across time. In other words, the decisions that I make today might open up or foreclose certain choices down the road. So strategic decisions inherently involve a lot of ambiguity and uncertainty. And rather than just kind of throwing up our hands and doing a bunch of case studies, what I want to do is give you a new set of tools that are helpful for those particular types of decisions. And that will change the way that you think about strategy.
Now, if you took this class at Harvard, say a few decades ago, you'd be exposed to swat, and you just do a whole bunch of case studies. So the philosophy at the time was we can't generalize. So business education is really about learning all these war stories and examples. Now, what we're going to do is we are going to generalize across businesses, industries and positions. And we do so by giving you a diverse set of tools that could be helpful to you.
So SWOT is a tool that's really simple, it's flexible, you can use it on pretty much any strategy assignment, it's a good communication device. But the problem is, it's not at all analytically rigorous. So my main goal in our sessions is to give you these new tools that change the way that you think, but ones that are far more analytically rigorous, while still being, you know, relevant that you can use on Monday morning. So because I'm generalizing that way, what I'd like you to do is, as we go through our sessions, I'd like you to reflect on which of the tools are the ones that are most helpful for your position and company based on the challenges that you faced? And then at the end of the course, you can think about how do you tweak or how do you tailor these tools to your needs, maybe by adding or subtracting criteria or adding weights or quantitative information.
And then the final thing I want to say at the outset here is, over the last 20 years, I've built up an article database of about 1800 strategy articles. So at the end of our sessions, if you want to go deeper on a topic or see a different application in a different industry, or maybe there's a problem that you have at work, and we didn't cover a tool to address that problem. I'm happy to stay in touch and feed you additional material that will be helpful to you and your job. So I hope you enjoy these sessions. Again, I hope they change the way that you think about strategy and I look forward to working with you during our course.