Intern, The Riverside Company
Academics, beauty and people—these were the core factors that led Trisha Tyagi to choose CU Boulder, and they continue to create her experience at the Leeds School of Business.
"There's so much beauty in Boulder," Trisha said. "Being at a state school offers you advantages you wouldn't otherwise have."
Growing up in Aurora, CO, Trisha was very involved in high school and continues to be fully engaged at Leeds. She is currently the president of Leeds Student Government and in the Leeds Scholars Program, Leeds Honors Program, Leeds Consulting Group, Alpha Kappa Psi and Diverse Scholars Program.
Despite her hectic schedule at school, she believes it's important to find time for herself and her hobbies—playing music, attending dance classes and running trails—so she can be the best version of herself for others. 
"When I look at my involvement, it's not just something I check off on a to-do list," Trisha said. "Instead of differentiating my freetime and involvement from school, I view it together and find the positives in everything."
Looking back on the last two years of business school, one class stands out among the rest: her First-Year Global Experience to Iceland.
"We're all becoming so much more globalized," she said. "There are little implicit things we don't realize we're doing in terms of how we view diversity and different perspectives—my FGX class showed me how people communicate and lead differently."

"I'm motivated to lead positive change that helps my community—that's what drives me."
Trisha Tyagi (Fin, InfoMgmt, BA'25)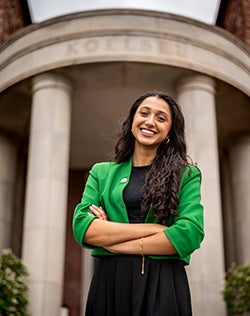 Trisha is constantly pushing herself to improve her leadership skills. From learning to accept mistakes to reading books by powerful CEOs, like "The Gift of Influence" by Tommy Spaulding, she believes all leaders need a guiding mission and vision, and that motivation can be the most powerful force for an organization.
"I'm motivated to lead positive change that helps my community—that's what drives me," she said. 
Gearing up for the next fall semester, Trisha participated in Girls Who Invest, a competitive program designed for career development in finance and consulting careers. After graduation, she hopes pursue a career in finance, and eventually end up in private equity. Inspired by her experience with Girls Who Invest, Trisha is committed to making the industry more diverse and inclusive throughout her career. 
Trisha admits there's a lot on her plate, but as long as she's making a positive impact, she's sure it's worth it. Despite setbacks or bumps in the road, she knows she'll be able to write her own success story through college and beyond.
"Life is scary, and you have to have the scary moments in order to have the beautiful ones," she said.