Co-founder and head of business development, ASANTe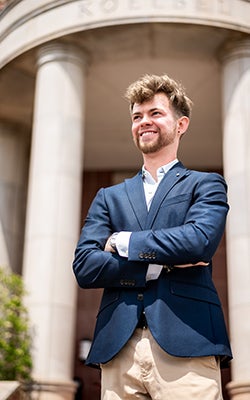 Matei Fawzy's love of skiing has had plenty of applications in business, such as perseverance, acceptance, risk and planning. 
But sometimes, it's been tough love, as he's suffered more than a few injuries on the slopes. 
And when he dislocated his shoulder while skiing just before the pandemic, it meant asking a family member to help share the long drive to his Washington, D.C., home after packing up his apartment.
On the drive, they talked about creating a kind of ethical currency that would empower consumers to support and share gratitude on social media. Matei and a co-founder created a prototype of the idea, "but once we did some market testing, we realized we missed the mark" he said. 
The skills needed for a quick pivot
But one of the reasons Matei chose Leeds over Cal Poly is the culture of entrepreneurship he saw at the school and Boulder. Instead of giving up on the idea, he spoke with his mentors and teachers and went into an accelerator. Six months later, he had pivoted to ASANTe, which he's been working to build alongside teams of graduate student interns from CU Boulder who are studying engineering and computer science. 

"I learned so much doing the business alongside my coursework, because what I was learning at Leeds, I was applying directly to my business."
Matei Fawzy (Mktg'23)
"What's been most fulfilling so far is all the interns that have worked with us, and all the people that we have met and collaborated with," Matei said, including opportunities to compete in the New Venture Challenge at CU Boulder. "I've learned so much from our interns, and I hope they can say the same about us."
It's no surprise Matei gets along so well with his more technically oriented interns. He entered CU Boulder as a mechanical engineering student, "but what stood out about CU were how many great programs it has, and I knew as an engineer that I wanted to be able to network with business people," he said. "I transferred to Leeds because the reality is, everything that's innovative is going to come from collaboration between engineering and business, and I thought that my strengths are more aligned with my entrepreneurial pursuits." 
Conscious consumership
His business courses have been instrumental in his ability to pivot ASANTe. The business aims to connect businesses with nonprofits and causes in their communities through engagement with consumers. A company can create a campaign on the platform, then attach the campaign to a product it's selling. When consumers purchase the product, they get credits through ASANTe that can be donated to a nonprofit or redeemed for use at another business in the ecosystem.
"Our vision is really trying to create a community around impact, and making the world a better place through conscious consumership," Matei said. "I wouldn't necessarily recommend everyone start a business as a student, but I learned so much doing the business alongside my coursework, because what I was learning at Leeds, I was applying directly to my business."
What's next for ASANTe? Matei will be finishing a certificate in international business over the summer in Milan, where he'll also be a marketing intern with South Garage, a manufacturer of high-end motorcycles—another hobby of his. Post internship, he plans to focus fully on getting the funding needed to ensure his startup is able to grow, even as he considers going full-time with South Garage or elsewhere, or working part-time with more focus on his business. 
"But once ASANTE gets funding, I'm going full time," he said. "For now, it's just a matter of getting the wheels rolling as we prepare to launch. And if the funding stars don't align, I will take my knowledge, skills and experience to contribute to a business aligned with my values and commitment to making a positive difference in the world."
More Faces of Leeds  Undergraduate programs  Deming Center for Entrepreneurship