Management Intern, C3 Management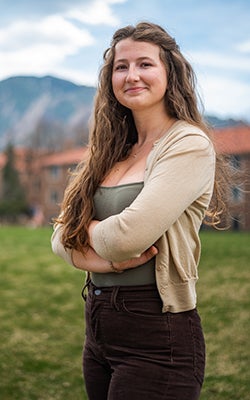 As far as pity parties go, the one Emma Kochenderfer threw for herself around Thanksgiving break of her first year at Leeds was pretty epic. 
By her own admission, Emma was disappointed that she wasn't attending an Ivy League school or a prestigious international university, and as a result, her first few months at Leeds were more solitary than she'd pictured college life.
"Finally, I just kind of told myself that sitting in my dorm room moping was only making things worse," Emma said. "I thought, 'Let me give this a chance, let me find one thing to join that I'll like.'"
That one thing—Leeds Ambassadors—helped open countless doors for Emma. As she prepares to graduate, her list of extracurricular activities—Peer2Peer mentor, Women's Empowerment Initiative, Ralphie's Closet, Alpha Kappa Psi, Kobu Foundation, study abroad in Dublin, plus part-time work and multiple internships—could fill its own résumé.
'Where I'm supposed to be'
"I have really found my community at Leeds," Emma said. "Even if I wasn't necessarily excited to be here at first, this is where I'm supposed to be." 
One of the most visible responsibilities of a Leeds Ambassador is leading tours of the Koelbel and Rustandy buildings for prospective students and their families. Her mom actually encouraged her to apply, as Emma already was leading tours for Celestial Seasonings across town. Unlike the tea factory, a Leeds tour means connecting with different audiences who want different things—for parents, to be reassured the school is safe and a good investment; for students, that it's a community they'll want to call home while preparing them for the future. 

"I have really found my community at Leeds. This is where I'm supposed to be."
Emma Kochenderfer (Mgmt'23)
"It's made me better able to connect with people on different levels," she said. "On a tour, you have to be able to quickly find out where you have similarities with people, and use that to build a relationship with them. My networking skills have grown so much, and I feel I owe a lot of that to my work with Ambassadors." 
In tune with her future 
Emma chose a fairly nontraditional course of study. When she tells people she's studying talent management, she's not talking about human resources. Rather, she's pairing that with a minor in music to one day manage a different kind of talent—artists. She's an avid concert-goer who sings and has played both piano and violin; after graduation, she'll be relocating to New York in hopes of one day managing up-and-comers and helping them make it big time. Among her internship experiences was an incredible opportunity with C3 Management's Denver team, which gave her opportunities to help with album releases and assist backstage at venues like Red Rocks and Mission Ballroom.  
"Picking my degree was hard, but I've been able to take classes in negotiation, leadership and DEI, and the concepts I've learned I know I'll be able to use in the future," she said. "The classes in my music minor have been some of my favorites at CU—they've really helped develop me creatively, which is a good match for the more practical business courses."
Now that she's graduated, Emma is preparing for a relocation to New York to search for a way to use what she's learned to build a career in the industry. She feels eager to take on the city thanks to the support she's received from her mentors, who she says gave her insights and connections that have her ready to go.
It's something she's tried to give to her mentees at Leeds, and Emma said she hopes to continue to be a mentor to others as she moves through her career. 
"We have students who rush Alpha Kappa Psi who are interested in the music industry, and they always come up to me to learn more about it," she said. "I love being a resource for others, because that person didn't exist when I was in my first year. The industry is full of people who want to help you—you just have to know how to get connected with them."
More Faces of Leeds  Undergraduate programs  Leeds Ambassadors