President, Women in Business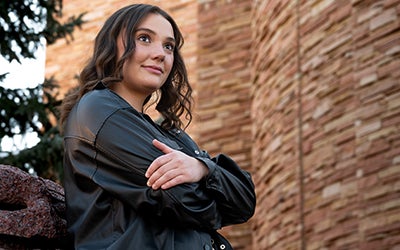 Like many other groups, the Women in Business club at Leeds lost momentum in the pandemic as the student experience shifted from fully in person to fully online and back again. In fall 2021, the club only counted 10 active members.
As its new president prepares to graduate, one of the things she's most proud of is bringing that number up to 200, even after the club lost half its executive board over the summer. Managing that meant repairing relationships with members who'd lost interest as well as finding ways to make the club more front and center for potential newcomers. 
'No job was too small'
"It was one of those things where no job was too small," said Chloe Theil, who's preparing to hand the reins to new leadership. "I was responding to emails from companies and recruiters that hadn't been answered, sending mass emails, setting up tables and handing out candy at events, rewriting executive roles—just about every job you could think of." 
It's a philosophy that's served her well, whether in rebuilding Women in Business or in her day to day at Leeds Technology Services, where she'll be continuing on a temporary basis this summer before leaving her home state to explore opportunities in a new city.

"I like being the kind of person who can be there for younger students."
Chloe Theil (RE, Mktg'23)
"Boulder was perfect for me because it's close to home without being too close to home," the Denver native said. But studying abroad in Florence, Italy, last year gave her a taste for adventure, so she's considering Chicago, San Francisco, New York and even London as she starts looking for work in marketing within the real estate agency. 
"Everything in my marketing classes brings out my creative side," Chloe said. "When we're preparing a presentation or something, I want to make the visuals and the slide decks, because I'm a very visual person. At the same time, real estate brings out my more analytical side, and knowing the ins and outs of real estate would help me stand out in a marketing role in the industry." 
Learning to resolve conflict
And those classroom experiences have helped shape her as a leader. Chloe said constant group assignments and presentations have helped her navigate the challenges of leading her executive board and speaking with the employers who she invites to give talks to Women in Business members.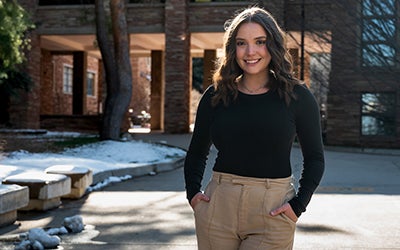 "The group work we do in classes has made me better at conflict resolution, because you learn how to work with people who aren't your friends—and if you want to lead them, you have to find ways to work together and be cohesive," she said. 
When she's not leading the club, you're likely to find Chloe at her desk in LTS, where her official title is so long—executive assistant to the associate and assistant director, director of social media and media content manager, and chief loss prevention officer—that she has to check her phone to make sure she has it right. She's also teaching herself to knit—"a friend got into it and it looked so easy to me, but she's way better than I am," Chloe said—and play guitar, and is an avid intramural volleyballer who played competitively throughout high school.
She also enjoys being a role model to younger students, especially through Women in Business.
"Being somebody that other people look up to is new to me, but I like being the kind of person who can be there for younger students, whether they're looking for career advice or asking to interview me for their first-year courses," she said. 
More Faces of Leeds  Undergraduate programs  Women in Business