Senior Manager of Sustainability, Salesforce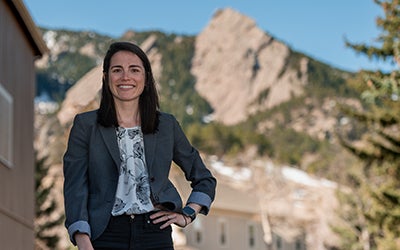 The world needs more badasses like Megan Lorenzen. 
She's energized, rather than intimidated, by the daunting challenges of decarbonization, renewable energy and sustainability. From her work expanding clean energy access globally to empowering others to confront the challenges of climate change, it's no surprise she was featured among the GreenBiz Badass Women, an annual power list of key players in environmental justice. 
In her work on sustainability at Salesforce, Megan collaborates with partners in various business units to understand needs and deliver solutions that create impact—not just for the business, but the world. 
"At Salesforce, we believe we have a responsibility to help bring the entire community with us," she said. "If we reach our company targets and get to the finish line alone, we will have failed to actually impact climate change."

"(Sustainability) is no longer a nice to have—this is a cost of business."
Megan Lorenzen (MBA'21)
One example of where she's creating impact: A first-of-its-kind contract to buy about 280,000 megawatt hours of renewable energy certificates from nations across the global South. Regions like India and sub-Saharan Africa that struggle with energy access have traditionally been excluded from corporate renewable energy procurements.
"Energy access is critical to human well-being and a country's economic development," Megan said. "There's an opportunity for these developing economies to benefit from the new, low-carbon energy sources that have been developed in the last couple decades—pursuing a much less carbon-intensive path to widespread energy access." 
That perspective, and an ability to operate across business units, is why she chose Leeds for her MBA. She was starting to make a name for herself at Salesforce after excelling at sustainability-oriented companies on the West Coast. 
Megan considered a sustainability-centric MBA, "but I really wanted to focus on finance and accounting, to better understand those drivers for my business partners, so I wound up looking for a more traditional MBA," she said. "What I liked about Leeds is there was just enough of a sustainability focus—a smattering of classes I could add on—and its location in Boulder, where there's such a strong clean energy economy." 
A quick post-degree promotion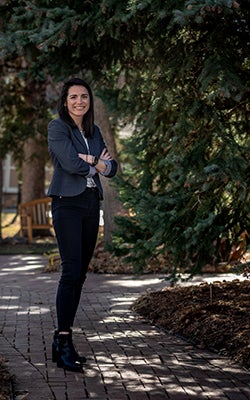 Another plus of the Leeds MBA is its robust mentorship program. Megan was paired with a local sustainability professional who was able to give her valuable guidance as a student and professional; her grad school experiences helped her secure a promotion to her current role shortly after completing her degree. 
At work, Megan focuses on power sector decarbonization—including the company's ambitious renewable energy program—and climate policy, where she works with Salesforce's government affairs team to advocate for policies that advance a just transition to a 1.5-degree future. 
An accomplishment she's most proud of, she said, was the chance to work on the company's climate action plan a couple years ago. She worked with business units across Salesforce to develop an integrated plan for decarbonization. 
"It was exciting to innovate with so many different partners throughout the business and find out how we can do business differently," Megan said. 
It's also one of the things she appreciated about being featured among the GreenBiz ranking earlier this month.
"I loved the way the list was framed—most of the time, when you think about climate justice, it's a standalone initiative," she said. "What I thought was powerful was this call to action to integrate climate justice into every decision you make—whether it's how you purchase renewable energy, the policies you advocate for or carbon offset projects you support."
An outdoors enthusiast, Megan said she considers herself fortunate to have found "a field where I can see a connection between my personal passion and a successful career." And she expects to see demand for this type of work continue to grow as more countries enact emissions-related regulations and disclosure requirements.
"This is no longer a nice to have—this is a cost of business," she said. "Soon, sustainability will be integrated into roles across every organization." 
More Faces of Leeds  Leeds MBA  Center for Ethics and Social Responsibility