Co-founder, Liberty Puzzles
Chris Wirth is in his element. 
As the co-founder of Liberty Puzzles talks about the concept behind his business and the Leeds experiences that helped him build it, a steady stream of customers wanders into his Pearl Street showroom in search of unique holiday gifts. 
"For us, 2022 has been kind of a normal year, like 2019 was," Chris said. "When we started the business, in 2005, we worked so hard just to get off the ground—like 12- and 14-hour days. Those early years were the hardest, until the pandemic hit, when we worked just as hard to stay alive. Those two periods were the biggest challenge for us."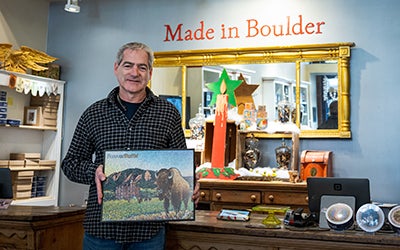 Unlike die-cut, cardboard puzzles, Liberty's are wooden and filled with so-called "whimsy" pieces, named because workers running jigsaws would cut them on a whim. Chris' work is inspired by Falls puzzles, created in Chagrin Falls, Ohio, during the Great Depression; each Falls puzzle included a signature whimsy piece of a girl falling. The Liberty signature piece is an eagle, and each puzzle includes whimsy pieces unique to each work. A Forever Buffs puzzle, for instance, shows Old Main and includes pieces of buffalo, hikers, books, even the Colorado state flag. 
Chris said he inherited about 30 Falls puzzles from his mother, and on vacations, the family would work together to solve one. 
"It got to the point where I'd call my dad before we left for a trip, asking if he picked out a puzzle yet," he said. "I finally had my a-ha moment when we were in Puerto Vallarta together. It rained all weekend so we stayed inside working on the puzzle, all having a great time. And I realized, if I could find a way to make these and sell them for $100, that would be a good business." 
His grad school experiences were helpful not only as he overcame early-stage obstacles, but as he scaled up in response to demand. 
"What I learned in studying law and business was to understand the perspective of any kind of problem you're up against," Chris said. "So, when you're finding solutions, you think, are we within the ballpark? Does this seem ethical, logical, reasonable? It gives you a level of judgment that is so helpful in running a business." 
And he never needed creative problem-solving skills more than in the pandemic. In the first weekend of lockdowns, customers placed about 15,000 online orders. 

"One of the things we've always been is entrepreneurial by necessity. We're not afraid to tear stuff down and rebuild."
Chris Wirth (MBA'97)
"We were panicking," Chris said. "We had to close our factories because of lockdown, so we had no way to fulfill those orders. In the end, we went old-school—the two highest-level officers in the company making the puzzles, along with my laser floor manager—and the three of us kicked out all the orders in two months." 
Staying innovative
By then, even more demand had built up. To keep customers satisfied, Liberty created a token system that allowed people to reserve a token, which enabled buyers to order a single puzzle on the day it was valid—designed to keep orders to a manageable 500 a day while not locking out customers who weren't tech savvy. That involved changing the company's website from a virtual storefront to a kind of Ticketmaster—especially when scalpers caught on, requiring even tighter controls. 
"One of the things we've always been is entrepreneurial by necessity," Chris said. "We're not afraid to tear stuff down and rebuild, like putting that token system in, or adding a new factory. But it's interesting because, as we get bigger, it's harder to be that. You can't pivot as fast." 
With 130 employees selling some 700 puzzle designs, along with three Boulder factory locations and the showroom, Liberty has comfortably outgrown its status as a small business—but it hasn't forgotten its roots. Chris showed off a 1,600-piece Falls puzzle of the British Isles that he has framed on his Pearl Street store, one of only two displayed designs his company didn't create. He estimated its worth at $10,000.
"In the Depression, people wanted cheap forms of entertainment, and jigsaw puzzles fit the bill," Chris said. "More than that, they created this social experience as people solved them together. That idea of bringing people together was where our initial business concept came from."
More Faces of Leeds Why Leeds Leeds MBA