Vice President of Program Management and Alliances, ArsenalBio 
While the rest of us were preparing for virtual work at the onset of the pandemic, Jennifer Bixler was welcoming everyone else aboard. 
Jennifer has been working remotely for more than a decade, but being an early adopter has helped her to better understand and appreciate the value of human connections at work.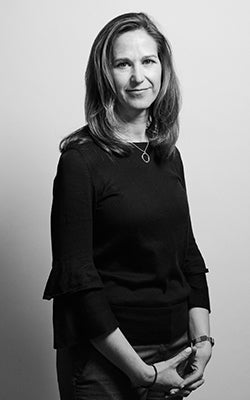 "COVID actually made things a little easier for me, because suddenly, everyone else knew what it was like to do that," she said. "And the technology advances have helped a lot, also." 
Of course, if you're a Colorado native who equally loves the outdoors and the biotech industry, you're going to have to make some compromises. Jennifer's is virtual work: She's built her leadership career remotely; for the past two years, she's worked at ArsenalBio, in the Bay Area, and has also worked in remote roles for biotech companies in the Los Angeles and Washington, D.C., areas.
But when it came time to get her MBA, she balked at studying fully online. A major standout of the Executive MBA at Leeds was the offsite residency program, where students meet for extended periods at locations in the Colorado mountains and beyond. Jennifer felt a lockstep cohort program would give her the motivation to see her degree through, "and that personal connection with the other students is part of where the value is for me," she said. "That's how I've learned to work, as someone who is remote. I work with people, I work with individuals, and being able to build those personal connections outside of the classroom—through networking events, through everybody sitting in the hotel lobby in the evening working on case studies together—that builds a level of connection that I just didn't find in the other programs."
A broader view of business
She also said taking classes alongside leaders in different disciplines has given her new perspectives on how to approach challenges and opportunities in her own work.
"Biotech is kind of its own world, and I very much value having that outside input and perspective from people in different fields—how they think about things, how they apply what they're learning," she said. "It has really added breadth to my education to have this level of connection with the other students."
At ArsenalBio, Jennifer leans on her big-picture, strategic view of the world to work with internal teams and external partnerships to transform innovative ideas into clinical breakthroughs, specifically in the realm of programmable cell therapies designed to battle cancer. 

"Leeds is giving me the language and the confidence to be able to share my perspectives, which has been a huge benefit."
Jennifer Bixler (ChemEngr'98, Exec MBA'23)
"While we have our own pipeline of products, drug development is a very long, expensive process, and for any startup to fund that itself is next to impossible," she said. "Being able to form those strategic partnerships with larger companies is a make or break, and we need to be able make good progress as a larger team coming from different company backgrounds, and being able to navigate those relationships."
Her Leeds experience is helping her further refine her talent for keeping teams aligned on long-term strategic goals. 
"When I was involved in the business discussions, I would often think, there's got to be a better way of doing this, but I don't know what it is. That's partly why I joined Leeds," Jennifer said. "What has been interesting is the MBA has actually validated that I knew a lot of these answers, but I didn't know that I knew them. Leeds is giving me the language and the confidence to be able to share my perspectives, which has been a huge benefit." 
When she's not sharing her perspectives at work or spending time with her teenage kids, she's either at the gym or on a mountain.  Whether hiking, skiing, or participating in group fitness classes, Jennifer said physical fitness is an important part of her life: "I don't have a lot of free time, but exercise is key to overall physical and mental health. It helps me find balance."