Associate Wealth Advisor, Mercer Advisors
It's not uncommon to hear stories of mom and dad waiting for their kids to finish high school and start college before moving away.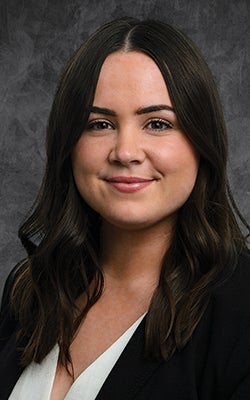 It's lesson common for the kids to follow them. But that's basically how Maeve Schmid went from California's Napa Valley to Boulder. 
"My family was looking for a more central location, because my stepdad traveled a lot," said Maeve, who was an active student in Pi Beta Phi, the CoLab initiative and elsewhere. "So they made plans to move to Denver the same time I was moving to Boulder."
And while she loved California, Maeve today lives in downtown Denver, giving her opportunities not just to explore the local restaurant and pickleball scenes, but also to stay connected with Leeds, especially the personal financial planning program. 
"I really do love meeting the students and sharing the different levels of the business," said Maeve, who was among the first students to complete the PFP program—securing a high-profile internship at Charles Schwab on the way. "Sometimes, being a financial advisor has this reputation where you have to figure everything out yourself. I love sharing what Mercer does with them, because I know coming out of college that I didn't know all these things."

"Learning their life stories and appreciating where they came from … is my favorite part of the job."
Maeve Schmid (Fin'18)
Maeve was recently promoted to her current role at Mercer, where she takes seriously her responsibilities of building relationships, and trust, with her clients. 
"People want to share who they are with you, and they want to answer your questions and have you understand who they are," she said. "Learning their life stories and appreciating where they came from, and what money and investing means to them, is my favorite part of the job."
She's now working to instill that passion in future generations, through active involvement in Leeds' Young Alumni Mentors program and continued involvement with the PFP program, including regular speaking events and networking sessions. "I love having those relationships with Leeds students," she said. "I remember being in that position where you have questions—like, what's the etiquette for email or sending calendar invites—that you maybe don't want to ask a parent or professor."
Maeve also is working as a mentor at Mercer, where she's involved in the company's InvestHers initiative, which helps empower female clients and employees. That's something she wants to continue to do as her career advances—"to give new employees the kind of great experience Mercer gave me when I started."