Associate, Boston Consulting Group and Founder, Sea the Change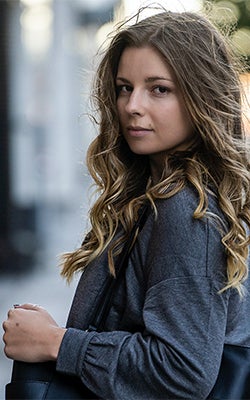 How does a girl growing up in landlocked Colorado become a passionate ocean conservationist and enthusiastic scuba diver?
Emma Pearson said it's a case of too many National Geographic specials. 
"It's just one of those passion projects that has slowly evolved as I've gotten older, and one I feel lucky to be able to continue to pursue," she said. 
Pearson, who was honored with the Student Leader of the Year Award this spring, is keen on marine conservation—but also business, and she hopes her full-time role with Boston Consulting Group, where she interned last summer, allows her to connect those passions in a way that creates positive change. 
Pearson didn't originally plan to study business at CU Boulder—she called checking the box for Leeds when she was applying "the best last-minute decision of my life."
"Having a business background is so essential to figuring out solutions to major environmental issues," she said. "That's something that I'm excited to work on early in my career."
That's not just at Boston Consulting. Pearson also completed internships at the National Oceanic and Atmospheric Administration, where she was able to conduct research on whales alongside colleagues around the country; she also defended her honors thesis on the topic as part of her CU studies. 
Part of what interested her in Boston Consulting is its work in the sustainability space, especially with the World Wildlife Fund. As an intern, she cold-contacted the CEO to see if she could learn more about the company's commitment to sustainability, and was rewarded with a one-on-one conversation. 

"Having a business background is so essential to figuring out solutions to major environmental issues."
Emma Pearson (Fin, EBio'22)
"I think I gained a little bold confidence from my experience at Leeds, and from all the mentorship I've received," Pearson said.
Some of that confidence also came from a First-Year Global Experience trip. In her freshman year, she did consulting work with a company in South Africa, then visited to present her suggestions and findings to the business. That was her first taste of consulting, and led to her joining the Leeds Consulting Group. 
She also credited her scholarships—including the Leeds Honors and Scholars programs—with helping her find her path. 
"The scholarship programs at Leeds haven't just helped me develop as a leader and as an individual—they've helped me define where I want my career to go, which is incredibly powerful," she said.