Intern, Early HR Solutions
Lily Combs is a Binghamton, N.Y., native, but it was through a connection in Denver that she got to work at this year's New York Fashion Week.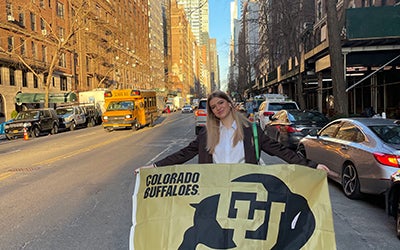 She was introduced to Colorado while taking vacations there to visit family during the summer—and once she started attending CU Boulder, one of those relatives connected her to a friend in the fashion industry. 
"I reached out and asked about an internship, and he said, 'I have no idea what the summer is going to hold, but I do need help at Fashion Week,'" Combs said. "That's been the dream for me. I told him if he was joking, it was a cruel joke."
It was no joke, and Combs, who has been interested in a fashion career all her life, said working as an assistant to the casting director validated an idea she's been chasing since she drew sketches of different looks and took sewing classes as a girl. 
"I got to see all the different components that go into a show, and it was so rewarding to be a part of that and know this is what I'd like as a career," she said. 

"It was so rewarding to be a part of (Fashion Week) and know this is what I'd like as a career."
Lily Combs (Mktg'24)
She's also counting on her Leeds education to help her get there. Combs transferred to the business school "because I really liked the reputation, the networking opportunities and the community at Leeds," she said. "I'm seeing a lot of ties between what I'm learning in class and the work I'm doing on my internship." 
Her internship, a virtual position with a startup HR solutions company, involves supporting its marketing and social media efforts. "I've learned a lot—especially on LinkedIn, in terms of how businesses communicate there," she said. 
Combs also works part-time at the Dushanbe Teahouse, a Boulder institution, and gives tours of the business school as a Leeds student ambassador. When she's not working, you're likely to find her skiing or catching a show in Denver; "having a city nearby was a big selling point in coming to CU," she said. 
Given her interests and skills, it's not hard to picture Combs in a fashion marketing role someday; she's also studying entrepreneurship and global business at Leeds. 
"I don't think about tours as 'selling Leeds,'" she said. "I remember the stress of figuring out where to go to school, and I want people to be happy if they decide to come here."