Founder, Luxury Redesigned
You might not expect an aspiring accountant to have a flair for fashion, but Megan Griffith can count stitches as well as beans.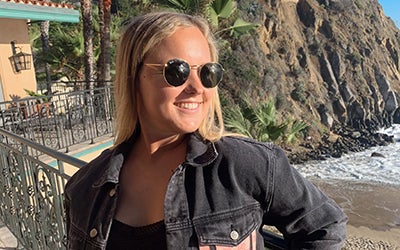 Griffith got her accounting sense from her parents, who both studied the discipline, but her fashion sense comes from her grandmother, who had a beautiful collection of handbags. Scrolling through her social media feed on her phone one day last summer, she saw a denim jacket that had bits of designer bags sewn into it. 
The price was out of her reach. The concept was not.
"The more I looked into it and researched the idea, the more I saw an opportunity not only to repurpose designer bags, but to take unusable ones and give them a second life as part of a unique design," Griffith said. "So the bags I buy have broken zippers or handles, but they become part of a jacket or keychain that becomes a designer item at a lower price point." 
An assist from social media
She worked with a professional seamstress to create her first item, a jacket, for herself. With her leftover material, she was able to create a second, which sold instantly online. Since then, her jackets and keychains have sold incredibly well through social media campaigns; in late April, the Boulder boutique Madison Riley began carrying her Luxury Redesigned merchandise. 
Griffith, a California native, wanted to study in Colorado to be close to family — she's the eldest of four siblings — while exploring the area her father grew up in. She credits the unique Leeds ecosystem with helping her advance Luxury Redesigned, even as she serves as a peer mentor, holds a leadership role in Pi Beta Phi and is part of the selective Leeds Scholars Program.
"Leeds gives you all the resources you need to have the confidence to take the first step into something you want to do, and not be afraid to fail," she said.
And while she expects her future to focus on accounting, Griffith is happy she's at least found a fun side hustle. 
"Finding such a love for entrepreneurship has been a big surprise," she said. "The more I learn, the more it seems like a great opportunity for me to grow. Whether that's with Luxury Redesigned or something else, it's definitely a possible route for my future."