Spotlight: Creative Distillation Is Changing Things Up! Season 4 Airs on Thursday, December 22, 2022
You are here
Creative Distillation is back for its fourth season and is better than ever! For those new to our podcast, each episode of Creative Distillation is hosted by the Deming Center for Entrepreneurship's Research Director Jeff York and Faculty Director Brad Werner, who distill entrepreneurship research into actionable insights while enjoying the craft beverages of artisans and entrepreneurs.
"I continue to be inspired by the creativity and craft of the entrepreneurs we meet and the insights researchers are producing. It's always interesting to hear Brad's take on the research and how it might apply to real entrepreneurs. I think he's been surprised by how passionate professors are about their research, and the many interesting problems they are tackling," says co-host Jeff York.
This season, we visit several breweries in our home, Boulder, Colorado, then take a road trip to Los Angeles, to bring you guests from across the globe to discuss their stories and the latest research. But that's not all! Last season, Creative Distillation surpassed 10,000 listens! To thank our amazing listeners, we are bringing a new format, cover, theme song, intro, and best of all … weekly releases for you to enjoy.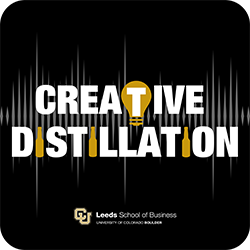 Tune in Thursday, December 22nd for Camp Christmas & Season 4 Preview, the first episode of the season, with an extra shot of holiday cheer as we join Lonnie Hanzon at Denver's Camp Christmas. Then join us every Thursday for new episodes that alternate between field research with local brews and the latest entrepreneurship research with our guests.
This season is packed with crazy adventures, including dancing professors, rat attacks, an extra cheery Christmas tree, and guest appearances from the Deming Center's staff. You won't want to miss this!
For an extra helping of holiday cheer this year, Jeff and Brad have released a trailer for the new season. Listen below or go to pod.link/creativedistillation to listen on all your favorite podcast platforms.
See you next Thursday!
Interested in Supporting the Show?
Subscribe to Creative Distillation wherever you get your podcasts and leave a review. You can also support us by sharing your favorite episode with a friend or sharing it on social media and tagging the Deming Center for Entrepreneurship or @demingpulse.