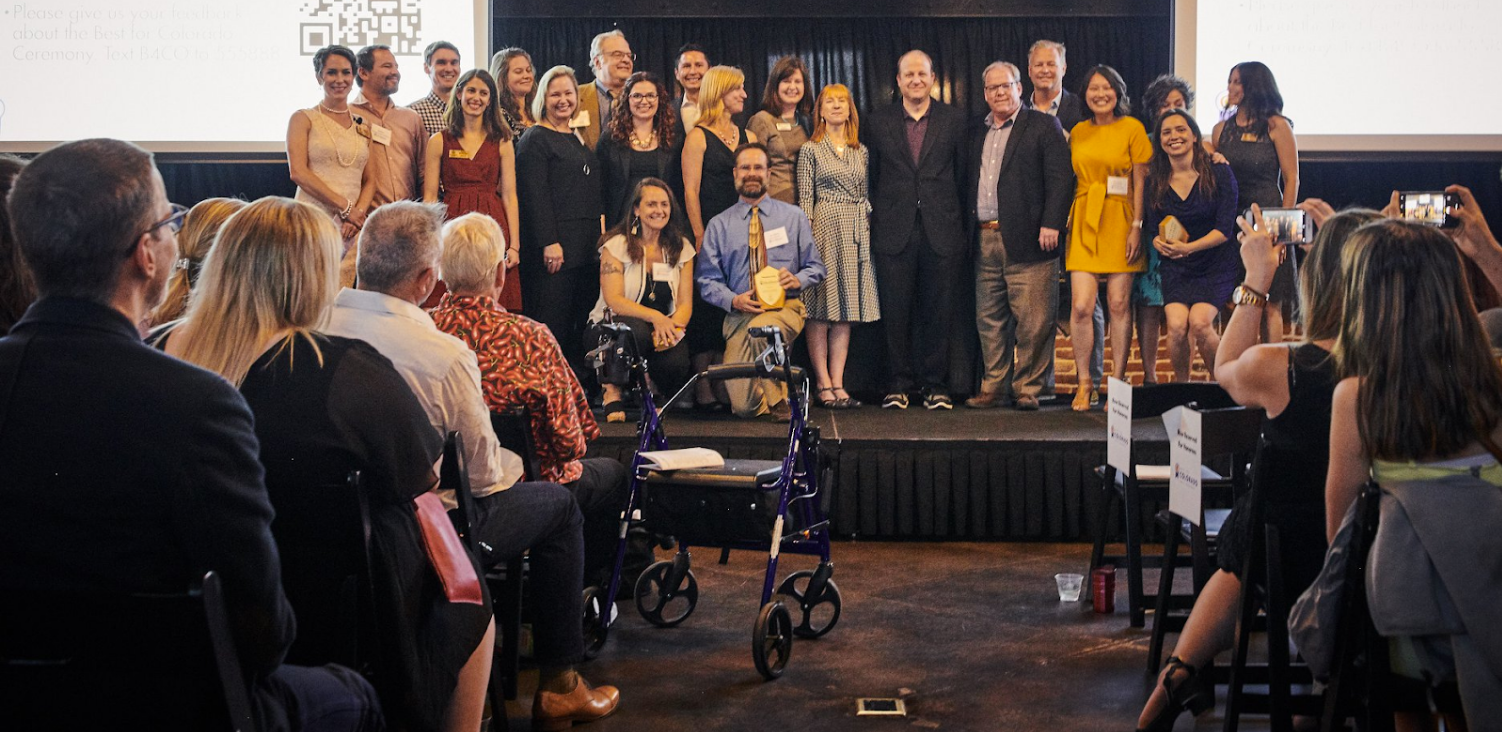 The Center for Ethics and Social Responsibility (CESR) was honored on June 6th with the first ever Collaborative Award from the Best for Colorado program for their partnership with B Lab on the SDG Navigator project, and ongoing support of the B Corp movement.
"We are immensely proud to partner with Colorado's thriving community of B Corporations, and to help passionate students learn about this way of building care for workers, community and the environment into the very core of a business," said CESR's assistant director Julie Waggoner. CESR staff received the award at the annual Best for Colorado Gala, which featured speeches from leaders of the B Corp community, and Governor Jared Polis.
The Alliance Center, a Denver nonprofit that manages the Best for Colorado program, recognized CESR along with B Local Colorado, Gary Community Investments and B Lab for work that has lead to Colorado having one of the highest concentrations of certified B Corporations in the world. This includes incorporating the B Impact Assessment into course curriculum, engaging with B Local Colorado and the pioneering work of Impact Catalyst (also known as Sustainable Business Partners), an MBA club that pairs students with companies going through the B Impact Assessment. Thanks to this organization's work, Leeds MBA students have contributed to half of the certifications of Colorado's more than 100 B Corps.
U.N. Sustainable Development Goals
The Alliance Center, B Lab and CESR are just a few of the thousands of global organizations that are working toward achieving the U.N. Sustainable Development Goals (SDGs), which set targets for addressing global issues such as poverty, climate change and societal inequalities by 2030. Many businesses are shifting their sustainability programs to ensure that they contribute to the SDGs, and B Lab is developing a new tool (set to launch in 2020) that will facilitate this process.
CESR performed the foundational research and analysis for B Lab's SDG Navigator project during the fall of 2018. This tool has the goal of making it easier for companies to measure and manage their impact on the SDGs.
"This partnership with B Lab will create a tool to help companies positively impact some of the world's biggest problems," said CESR executive director Mark Meaney. "We cannot accomplish the ambitious aims of the U.N. Sustainable Development Goals without business."
By aligning the B Impact Assessment with the SDGs, CESR and B Lab's work will connect businesses and organizations with impact-oriented objectives that allow them to better address the major issues outlined by the UN in their pursuit of B Corp status.
"Many businesses and NGOs find the breadth and magnitude of the SDGs daunting, and hold back from acting on them," said Kimberly Kosmenko, project director for CESR's contribution to the SDG Navigator and co-chair of B Local Colorado. "This project helps to change that by bringing together the UN's global vision with B Lab's well honed management tool for ethical, sustainable business."
What is Best for Colorado?
The Best for Colorado program, lead by The Alliance Center in partnership with B Lab, recognizes Colorado companies and leaders who have committed to using business as a force for good. Those that are honored have established practices that go far beyond profit with the intention of making a greater impact on the world.
Keep in touch
Sign up for our bi-weekly newsletter and stay up-to-date on the latest sustainable business news from CESR including research, events, jobs, internships and more.