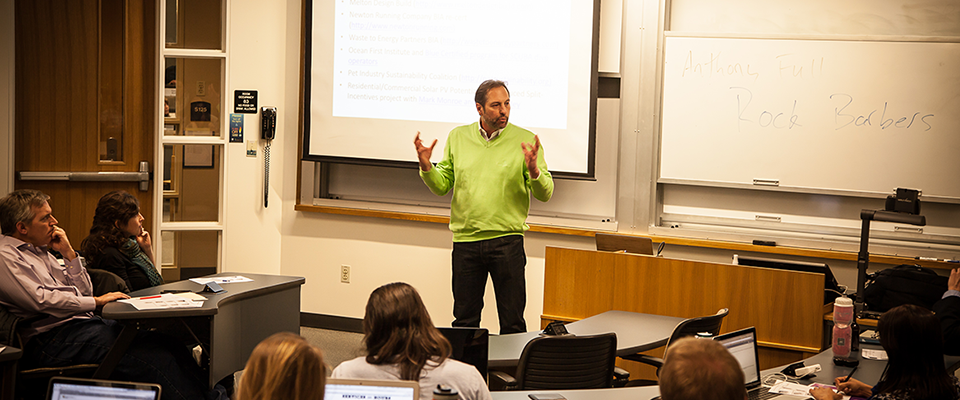 January 26 – CESR Instructor, David Payne, and the MBA students of Topics in Sustainable Business host representatives from twelve local businesses for this year's Sustainability Marketplace.
A requirement of Topics in Sustainable Business is a consulting-style project where MBAs select a company to advise and assist in a sustainability-based pursuit, although Payne is quick to make clear that this "isn't just another academic deliverable. I want you guys to get psyched about this project and love what you choose to work on."
Sustainably-minded companies, and those aspiring to be, visit and pitch their projects and ideas. Often, a number of these companies seek to become B-Certified to display their hard work in developing more responsible business operations. Other companies propose projects in construction, product development, and market analysis. In recent years over 32 B-Impact Assessments have been completed by members of the Leeds Social Impact Consultants (LSIC) and MBAs from Payne's class.
Students aren't beholden to the projects pitched by these business, however. The opportunity for MBAs to design their own projects is available to those who already have business ideas or areas of interest to explore further. Among this year's individual projects are rescue hydration for refugees, the growing industry of cricket farming for human consumption, sustainable and efficient beer production, hydrogen as an energy/fuel source, and resolving split-incentive issues in the commercial solar industry.
This year's Sustainability Marketplace companies are:
Aurora Public Schools
Colorado Carbon Fund
Cultivation Center
RODIN olio lusso
Melton Design Build
Newton Running Company
Waste to Energy Partners
Ocean First Institute
PACT Apparel
Pet Industry Sustainability Coalition
Point 380
Rock Barbers
Learn More about CESR's work with B-Corps
Keep up with CESR events and news: CESR Newsletter