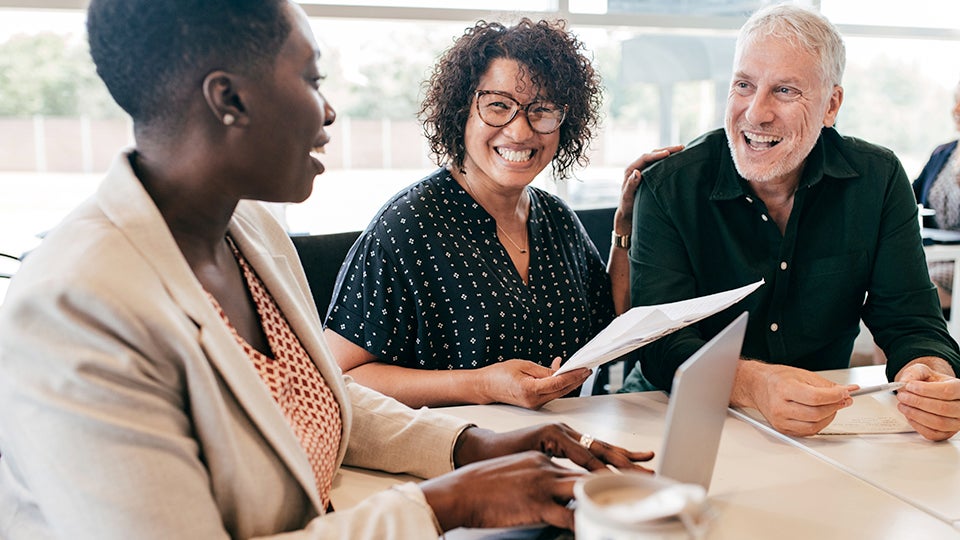 The explosive growth in the variety of MBA programs, including Executive MBA or EMBA, can be confusing for professionals exploring opportunities to earn an advanced degree. All of the different offerings and programs have left many graduate-degree seekers wondering which MBA program is right for them.
The answer can vary depending on a variety of reasons including personal and professional factors. Factors such as: years of professional experience; the desire to attend full-time or part-time while working; and in-person or hybrid delivery are considerations to be weighed.
And what about programs for seasoned professionals and leaders still growing within their organization? These are the professionals that are ready for an advanced degree but still not sure which program will expand their knowledge and help them make an even greater impact at their current organization.
In the past the decision was simply based on finding the right college and deciding whether you wanted to go full-time or try to work while attending classes at night or on the weekends.
Today, with the variety of offerings, understanding how Executive MBA programs are designed and are different from other MBA programs is an important first step when looking at programs and colleges.
What is an Executive MBA or EMBA?
An Executive MBA is designed for working professionals interested in increasing their business acumen and leadership skills while growing their professional network.
These professionals are traditionally experienced business professionals that are already managers or leaders in their organization. And they often want to stay with their organization and make a greater impact by adding to their business knowledge and leadership experience.
The academic rigor of an EMBA program often mirrors other part-time programs. However, Executive MBA programs are tailored to the needs of experienced business professionals and often include periodic, in-person experiences designed to immerse the students in a learning experience with others from their cohort.
How many years of work experience is required for an Executive MBA?
Professionals in the program typically have at least eight years of work experience. Through these years of experience the Executive MBA student understands the value of business knowledge and has a desire to improve their leadership skills.
For example, the Executive MBA program here at the Leeds School of Business has a minimum work-experience requirement. The minimum is eight years, a full five-years more than the Full-Time MBA, Evening MBA and Hybrid MBA programs.
What is the EMBA curriculum like?
The Executive MBA core curriculum is designed to give professionals a solid business foundation with courses focused on leadership.
At Leeds, classes are taught from a leadership decision-making standpoint and everything learned is immediately applicable to the workplace. In addition, the classroom discussions are distinctly different from Full-Time MBA courses as these seasoned professionals have more real-world business experience to contribute.
Executive MBA course schedules are designed to accommodate demanding jobs and busy lifestyles, blending both remote and in-person classroom experiences. A unique delivery format, featuring residency periods in Boulder and the Colorado mountains, allows you to build strong relationships with your cohort and faculty while you gain sophisticated business skills.
Is my EMBA different from a Full-Time MBA?
The academic diploma that Executive MBA students receive from the Leeds School of Business is identical to the credential granted to Full-Time MBA students – a Master of Business Administration degree. 
What does an Executive MBA cost?
Cost for an Executive MBA will vary by the school, area and method of delivery.
In the article titled "What It Now Costs To Get An Executive MBA" Poets & Quants identified that top business schools expect the EMBA total cost to be more than $150,000. In a follow-up piece titled "What It Now Costs To Get A Top-25 MBA Degree" Poets & Quants reported that the cost for an MBA at an elite school is exceeding $200,000.
You can find our more information about Executive MBA tuition and costs at the Leeds School of Business here.
What is the value of an Executive MBA?
The value of an Executive MBA includes a return on investment (ROI) as well as impact on the graduate's career and life.
In regards to ROI, the average Executive MBA graduate received a 14.1% increase in compensation - combined, both salary and bonuses - after program completion. This was reported in the 2020 EMBAC Student Exit Survey. Moreover, during their EMBA education, 39% of students received a promotion and 53% reported increased responsibilities during the program.
The impact of the EMBA on graduates often includes the growing network gained from the experience.

Laura Borgelt (ExecMBA'18)
Associate Vice Chancellor of Strategic Initiatives, University of Colorado Anschutz Medical Campus
The Executive MBA program transformed the way I think about and work within our organization. As someone trained in the health professions, I gained more holistic perspectives of finance, strategy, marketing and leadership. The program inspired strong friendships and expanded my professional network, which has created new opportunities and significant and meaningful career growth."
Questions about the Executive MBA Program?
Selecting the right MBA program is critical and understanding the differences between each program can still be confusing. To help clarify what MBA program offered by the Leeds School of Business is right for you we suggest that you review the MBA Program Comparison Chart.
The chart will help detail the different start times for each program, delivery method, aspects/core elements of each program and the tuition.
To help make an informed decision you can attend a virtual information session. Each session provides details about the program, student experience, faculty and the opportunity to connect with faculty members and admissions professionals. Information sessions for the Executive MBA Program at Leeds can be found here.
You can also contact our admissions team to schedule a 1-on-1 session to learn more about the program and admissions process at https://leeds.apply.colorado.edu/portal/exec-calls