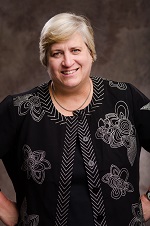 Denise DeForest
Director for Academic Support
Office: # 446
Email: denise.deforest@colorado.edu
(303) 735-7467
Office Hours: T and Th, 10:30 - noon, or by appointment.
Academic Success 
Students at Colorado Law receive personalized academic support throughout their law school journey. Before the start of their first year, students have the opportunity to attend Wolf Week, a course designed to offer a supplemental orientation week for new students. Wolf Week is beneficial to many, including first-generation law students and those who have been out of school for some time. During Wolf Week, students learn about fundamental concepts related to the legal system that sometimes get left out of other discussions. 
The academic support program is designed to provide students with expertise in building the skills necessary for a successful law student and a young lawyer, particularly as it relates to legal analysis and learning. In the fall semester of 1L year, students take supplemental workshops on outlining and other skill-based topics. The program also provides one-on-one assistance for any law student who wants additional training in skill areas. In the spring semester, first years have access to a class with additional focus on legal writing and legal analysis. Picking up again in the 3L year and even after graduation, students are provided specialized bar prep through multiple bar-specific classes in addition to supplemental workshops and materials.