The Colorado Law Admissions office is happy to answer any questions via email Monday-Friday, 9:00 am - 5:00 pm MT at law.admissions@colorado.edu or by phone at 303-492-7203. We are currently offering in-person tours and class observations during the school year at the law school with a limited number of guests per tour. All tours require registration at the link below.
Colorado Law Tours
For Spring 2023, we are offering both in-person tours and class observations. On Mondays, tours begin at 1:00 pm MT and on Tuesdays and Thursdays, tours begin at 1:15 pm MT and take place prior to a first year class that prospective students will have the opportunity to join. On Wednesdays and Fridays, tours begin at 10:00 am MT. This schedule runs from January 17 - April 28. You must register for spring semester tours and/or class observations here. Our tours are limited to a maximum of 10 people (students and guests combined). Please note that only prospective students may visit classes.
Important Note:  During the Spring Break (March 27-31) we are offering 2 tours.  They will be on Tuesday, March 28 and Thursday, March 30 at 10:00 am. Class observations are not available for these tours.
Please be sure to register for a tour at least 2 business days prior to your visit. Please carefully review the specific date availability at the registration link. You will receive a confirmation email when your request is received and it is confirmed that space is available. Please be sure to carefully read your confirmation email as it will have recommended arrival times.
Office of Admissions and Financial Aid Virtual Office Hours
We look forward to connecting with prospective students. We are offering virtual office hours for you to join at your convenience. To join, visit the Law Admissions Zoom room. No reservation is needed. There will be no virtual office hours on December 23 - January 2 or other days campus is closed.
Monday (Admissions Counselor) 11:00 -11:30 am MT
Wednesday (Admissions Counselor and Financial Aid Counselor) 11:00 - 11:30 am MT
Visitor Parking 
Parking is limited on campus and generally restricted. Permits are required for Lots 470 and 402 seven days a week from 7:00 am - 10:00 pm. There is metered parking available along the south side of Kittredge Loop Road (Lot 415) immediately after the roundabout in front of the Fleming Building. If Lot 415 is full, use Lot 406 or Lot 306. All parking highlighted in pink indicates visitor parking. All parking highlighted in dark blue is ADA-accessible parking. Please see the map below for more detailed parking around the Wolf Law Building.
 
Driving Directions
Physical address: Wolf Law Building : 2450 Kittredge Loop Road, Boulder, CO 80309
From Denver International Airport
If you are arriving at Denver International Airport (DIA), the drive to Boulder takes between 45-90 minutes, depending on route and traffic. There are two primary routes. First, the common route is to exit the airport and follow the access road (Pena Boulevard) approximately 10 miles south to I-70. Take I-70 West to I-270 West. I-270 then merges onto U.S. Route 36 West. This takes you approximately 23 miles to Boulder. Exit Route 36 at Baseline Road; turn left (West towards the mountains), proceed to Broadway, turn right onto Broadway (North). The campus is on the right. You will turn right onto Regent Drive, and right again onto Kittredge Loop Drive. This will take you to the Wolf Law Building. Below is a detailed map from the Baseline Road exit to the law school.
The second option from Denver International Airport is quicker and involves far less traffic, but it requires using a toll road. As you exit DIA, you will pass the Rental Car agencies on Pena Boulevard. Shortly after that you should exit onto route E-470. This is a toll road. Toll charges can be found here. Proceed on E-470 until it merges straight into the "Northwest Parkway." Continue on this road until it terminates, at which point you take a right to enter onto Route 36 West toward Boulder. Then follow directions above.
Directions from the Denver Area and South
To get to Boulder from the Denver area, go west on U.S. 36 (from I-25 or I-270) and exit at Baseline Road. Turn left (west) on Baseline Road, then right (north) on Broadway to campus.
Directions from the North
From the north, take U.S. 287 south to Highway 119 (Diagonal Highway). Highway 119 becomes Highway 157 (Foothills Parkway) just north of Boulder. Turn right (west) from Foothills Parkway onto Baseline Road. Drive west on Baseline to Broadway, then turn right (north) on Broadway to campus.
Directions from the West
Take I-70 east to U.S. 6. Go east on U.S. 6 to CO. 58. Turn right (east) on CO. 58 to CO. 93. Make a left (north) onto CO. 93 toward Boulder. CO. 93 will turn into Broadway once in Boulder. Continue on Broadway (west) and you will see the campus on the right shortly after you pass Baseline Rd.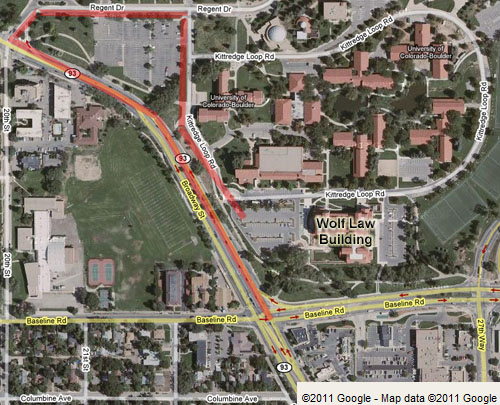 (click image for larger map)
For personalized driving directions, go to http://maps.google.com and use the following address for the Wolf Law Building:
2450 Kittredge Loop Road
Boulder, CO 80309
Campus Map
You may click the image below for an interactive map of the CU campus