Professor Ahmed White's recent publication, Under the Iron Heel: The Wobblies and the Capitalist War on Radical Workers, has won the International Labor History Association award for Book of the Year for 2022, shared with another publication.
In "Under the Iron Heel", Professor White documents the torrent of legal persecution and extralegal, sometimes lethal violence that shattered the Industrial Workers of the World (IWW). In so doing, he reveals the remarkable courage of those who faced this campaign, lays bare the origins of the profoundly unequal and conflicted nation we know today, and uncovers disturbing truths about the law, political repression, and the limits of free speech and association in class society.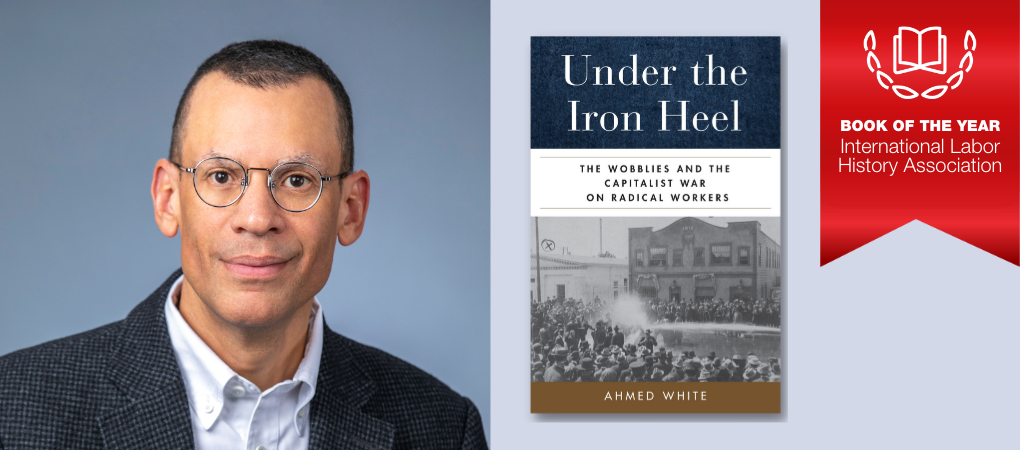 Ahmed White is the Nicholas Rosenbaum Professor of Law. Before arriving at the University of Colorado, he was a visitor at Northwestern University in 1999. He has also taught at Villanova Law School. Earlier in his career, Professor White's research focused heavily on the fate of rule of law norms and the rule of law concept in capitalist society, and on the role of criminal law and punishment as mechanisms of social control of the working class. He is one of the country's leading experts on the history of labor repression, which is a major subject of his two acclaimed books, The Last Great Strike: Little Steel, the CIO, and the Struggle for Labor Rights in New Deal America (Oakland: University of California, 2016) and Under the Iron Heel: The Wobblies and the Capitalist War on Radical Workers (Oakland, University of California, 2022). He is currently working on two new book projects, one about radical farmers in the 1930s and the other about sedition laws and communist unions.
Since 1988, the International Labor History Association (ILHA) has periodically recognized authors with a "Book of the Year" award. Past award-wining authors include Toni Gilpin, Stephen Meyer, Craig Heron, Mildred Beik, Joel Beinin, Carolyn Brown, Dana Frank, James Green, Darryl Holter, Tera Hunter, Peter Linebaugh, Zachary Lockman, Elizabeth Perry, and Marcus Rediker. Books recognized contribute new and engaging research on labor history matters.
Learn more about Professor White's internationally renowned publication directly from the author in this exclusive Q&A with Colorado Law.