In a new book, Privacy at the Margins, Associate Professor Scott Skinner-Thompson explores how limited legal protections for privacy lead directly to concrete, material harms for many marginalized communities, including discrimination, harassment, and violence.
Skinner-Thompson's interest in constitutional privacy rights originated in a project with the American Civil Liberties Union, where he researched whether state constitutional privacy law provided a means to challenge laws limiting peoples' ability to change their gender markers on government identification documents, thereby "outing" transgender people who could not obtain accurate IDs. He began to notice and examine the multiple ways diminished privacy rights impacted many intersectional, marginalized groups.
"What I found is that privacy violations are used to push minority groups from the public square, thereby stymieing their ability to influence and shape democratic governance," he said.
The book, published by Cambridge University Press this fall, explains how privacy can further equality goals by serving as a form of expressive resistance to government and corporate surveillance, and demonstrates why efforts undertaken by vulnerable groups to protect their privacy should be entitled to constitutional protection under the First Amendment and related equality provisions.
"The government continues to take advantage of weak legal privacy rights to surveil marginalized individuals, and, as I argue, privacy can begin to gain greater legal protection once we understand that those who try to protect their privacy are engaging in expressive statements of resistance to surveillance regimes, entitling their privacy efforts to protection under the First Amendment," he said. "Recent diverse protests around the globe where people have worn masks (for health protection but also privacy) highlight the expressive power of privacy as a tool of resistance."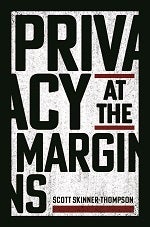 By examining the ways even limited privacy can enrich and enhance lives at the margins in material ways, the book demonstrates how privacy can be transformed from a liberal affectation to a legal tool of liberation from oppression.
"My hope is that readers begin to see privacy not merely as some luxury right that can be surrendered or traded away, but that it is a key bulwark against a host of other harms," he said.
Skinner-Thompson, who joined the faculty in 2017, focuses his research and teaching in the areas of constitutional law, civil rights, and privacy law, with a particular focus on LGBTQ and HIV issues.
Privacy at the Margins was a co-recipient of Colorado Law's 2020 Gamm Justice Award, given annually by the law school for outstanding scholarship addressing critical issues in justice.